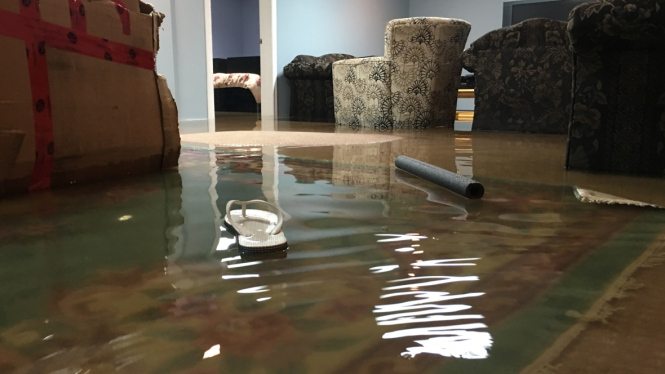 One day, as you head down into your basement with arms full of dirty laundry or a box to store, you reach the bottom of the stairs and step into…water! With a scream or a curse, you jump back to the steps with a feeling of dread, wondering what possibly could have happened. What do you do now?
First of all, don't panic! Water seepage is one of the most commonplace issues related to basements. Statistics from insurance claims tell us that 98% of basements experience some sort of water damage eventually. But it must be handled immediately, otherwise, it can lead to a profusion of problems that can eventually damage your home's foundation, create breeding areas for mold, and cost you a lot of money to repair.
How to Prevent a Wet Basement
Before water in your Chicagoland basement becomes a problem, you need to do what you can to preempt it from happening in the first place. So even if you're only seeing a little seepage now and then, you need to call a waterproof sealant company that can handle the job of making a basement impervious to moisture. Here are some ways they do that:
Interior waterproofing – this includes sealing foundation cracks, covering walls with waterproof epoxy and paint, or installing French drains around the edges of the basement floor.
Exterior waterproofing – this can mean excavating and installing drainage along the outside walls, installing gutters, coating your foundation with a waterproof polyurethane membrane, and more.
Better waterproofing companies can also help you with dehumidification and sump pumps.
When Your Basement is Wet or Flooded
When you discover standing water in your basement, the first thing you need to do is shut off the power to that area. Otherwise, you may end up getting electrocuted when you go into your basement.
The cause of a wet basement could be anything from a sump pump problem to an appliance failure or even a broken pipe. So your next step is to immediately call a plumber because cutting off the source of the water is vital. But once that's done, the standing water needs to be removed as quickly as possible to minimize structural damage and keep your home from becoming a breeding ground for mold.
Basement flooding can also be caused by extreme situations such as a sewer backup or localized flooding produced by heavy rainfalls we sometimes get in the Chicago area. Either situation means that the water is highly contaminated and should only be handled by professionals who have the equipment and know-how to safely remove it and can clean and sanitize your home afterward.
So whether the source of the water is a broken pipe or a local flood, your wet basement needs to be dried as soon as possible.  Smaller problems like water seepage will encourage mold growth and thus need mold remediation. Larger issues like standing water may mean that thousands of gallons of water will need to be removed before the drying process begins. In either case, the experts at Chicago's ServiceMaster By Simons can handle it.
ServiceMaster By Simons uses extraction tools such as powerful truck-mounted vacuums, pumps, and wet/dry vacs to remove standing water. Afterward, we run powerful fans to circulate basement air to speed up the drying process. In the meantime, our industrial-grade dehumidifiers help pull moisture out of the air. All this is done to ensure that when we're done your basement will be clean and dry once more.
About Us: ServiceMaster Restoration By Simons, is a SB100 Best of Small Business Award Winner 2021, Bronze Stevie® Award in the Female Entrepreneur of the Year category in the 18th annual Stevie Awards for Women in Business, recipient of the 2020 Better Business Bureau's Torch Award for Marketplace Ethics, and recipient of the 2020 Skokie Business of the Year Award, Honorable Mention Category. ServiceMaster Restoration By Simons (MBE/WBE) is a family operated, IICRC & OSHA Certified company serving Chicago, Oak Park, River Forest, and the North Shore. We provide commercial disaster restoration services including Water & Flood Damage Restoration, Fire & Smoke Damage Restoration, Mold Remediation and a wide range of interior specialty cleaning including COVID-19 Cleaning Services, Hoarder & Clutter Cleaning, Post-Construction Cleaning, Carpet & Upholstery Cleaning to residential and commercial customers. For more information, call 773-839-5542 or visit www.servicemasterbysimons.com or info@servicemaster-rbs.com