Chicago Commercial Water Damage Restoration Services
Faulty sprinkler systems, aging infrastructure, and more can cause water damage. Whatever the cause, water damage to your commercial property can lead to losses in time and business.
When faced with commercial water damage or sewage damage, don't panic. We are the #1 restoration company trusted by business owners and commercial property managers in Chicago. Call ServiceMaster Restoration By Simons for professional, fast, and effective service available 24/7/365.
What To Do If You Have Commercial Water or Sewage Damage
When your business or other commercial properties experience water damage, it is important mitigate the current damage and stop the water from causing further damage. If you find your business has been affected you must:
1. Identify The Source
ServiceMaster Restoration By Simons handles all forms of commercial water damage, from roof leaks, appliance malfunction, to sewer backups. We have experience in effectively tackling water and sewage crises.
2. Act Quickly
Our analysis and evaluation minimize disruptions. Get you back in business, and ensure satisfaction for you, tenants, or customers.
Common Causes of Commercial Water Damage We Solve
Burst Pipes and Plumbing Issues: Often, water damage occurs due to burst pipes or plumbing failures, causing flooding in offices, warehouses, or manufacturing facilities.
HVAC System Leaks: Poorly maintained or faulty HVAC systems can lead to water damage in commercial buildings, affecting both structure and indoor air quality.
Sprinkler System Activation: Sometimes a fire sprinkler system can activate without fire, causing water damage throughout the building.
Roof Leaks: Water leakage from a damaged or poorly maintained roof can result in significant water damage, particularly in multi-story commercial buildings.
Sewage Backups: One of the more hazardous forms of water damage, sewage backups need to be addressed immediately to prevent health risks and further contamination.
Natural Disasters: Hurricanes, heavy rains, and floods can cause severe water damage that can disrupt the operations of any commercial establishment.
Appliance Malfunctions: Commercial appliances like dishwashers or washing machines can leak and cause water damage if they are not well-maintained or if they malfunction.
Underground Water Leaks: These are particularly difficult to detect and can result in extensive damage to the foundation and lower levels of a commercial property.
Our trained and certified technicians will follow IICRC guidelines to effectively address these and other commercial water damage scenarios. They are equipped with the latest technology for quick and safe water removal and cleanup . We aim to minimize your downtime and get your business back up and running as quickly as possible.
For any of these common commercial property water damage issues, don't hesitate to reach out to ServiceMaster Restoration By Simons. We are available 24/7/365 for emergency services and will handle your water damage issues promptly and with care.
Stop losing business. Get in touch with our water damage experts to restore your commercial property back to pre-loss condition
Our Process: Comprehensive Cleanup and Restoration
Our IICRC Certified project managers will arrive on-site quickly to assess the damage. Utilizing advanced thermal imaging equipment, we create a tailored plan, ensuring the most effective drying and restoration process.
Commercial water damage restoration is the specialized process of repairing and restoring water-damaged areas in commercial properties. Unlike residential restoration, commercial water damage deals with larger spaces and often more complex structural components, such as drying commercial large-scale water damage, HVAC systems, and specialized industrial equipment. The restoration process typically involves several steps:
Step 1: Find the Cause or Source of the Water Damage to Your Business
Our team of water damage restoration specialists will conduct a thorough inspection of your property. Using thermal imaging equipment, they will find the source of the water and its path through your business.
Step 2: Contain and Mitigate
The top priority is to stop further damage and losses to your business. We will contain and stop the current water flow and establish a safe environment for our team to work. This might include shutting off the water and electricity.
Step 3: Determine the Damage
Find which areas in the property affected by the water damage such as ceilings, walls, flooring, fixtures, mechanical damage, etc.
Step 4: Plan of Attack
We will walk you through the process and equipment we will use to dry your property. We will also discuss whether reconstruction will be needed.
Step 5: Water Extraction and Drying
We use state-of-the-art equipment and technology to get your property's structure dry. This includes truck-mounted water extraction units, vacuums, pumps and more to remove the excess water. Once the water is removed, our team will use air movers, desiccants, negative air fans and dehumidifiers to ensure your property is dry.
Step 6: Remove Damaged Contents
Items that cannot be restored will be collected, packed and removed.
Step 7: Deep Clean and Sanitize
Once everything in your commercial property is dry, our team will begin the cleanup process. We will use specialized cleaning methods and top-of-the-line antimicrobial solutions to sanitize all surfaces and ensure that all salvageable items and equipment are in top shape.
Step 8: Property Restoration
Our main goal is to restore your commercial property to pre-damage condition. We will fix and replace flooring, repair drywall, and even work on reconstruction. No matter the extent of the water damage, we will make sure your commercial property is back to business in no time!
Industries We Serve
We can restore water damage in various places, like factories, temples, tall buildings, and large stores. We have solutions for multi-family housing, military, municipal, hospitality, and educational facilities that are customized for your needs. And if cost is a concern, don't worry. Give us a call and our team will set up a free inspection to assess the damage, the best course of action, and estimate the cost of the repair.
We work with:
Insurance Considerations
Typically, property insurance covers 100% of emergency services, excluding your policy's deductible. It is always a good idea to confirm details with your insurance agent.
We can help guide you through the process to ensure this will not be a financial burden upon your business.
Cost of Commercial Water Damage Restoration
The average cost of water damage repair in Chicago and surrounding areas tends to range between $3,000 and $30,000.
The cost varies based on the extent of the damage, the type of water involved, and other factors, including:
Amount of water needing to be extracted
Extent of the damage
Materials involved
Size of the affected area
For a thorough breakdown, contact us for a commercial water damage restoration assessment and estimate.
Why Choose ServiceMaster Restoration by Simons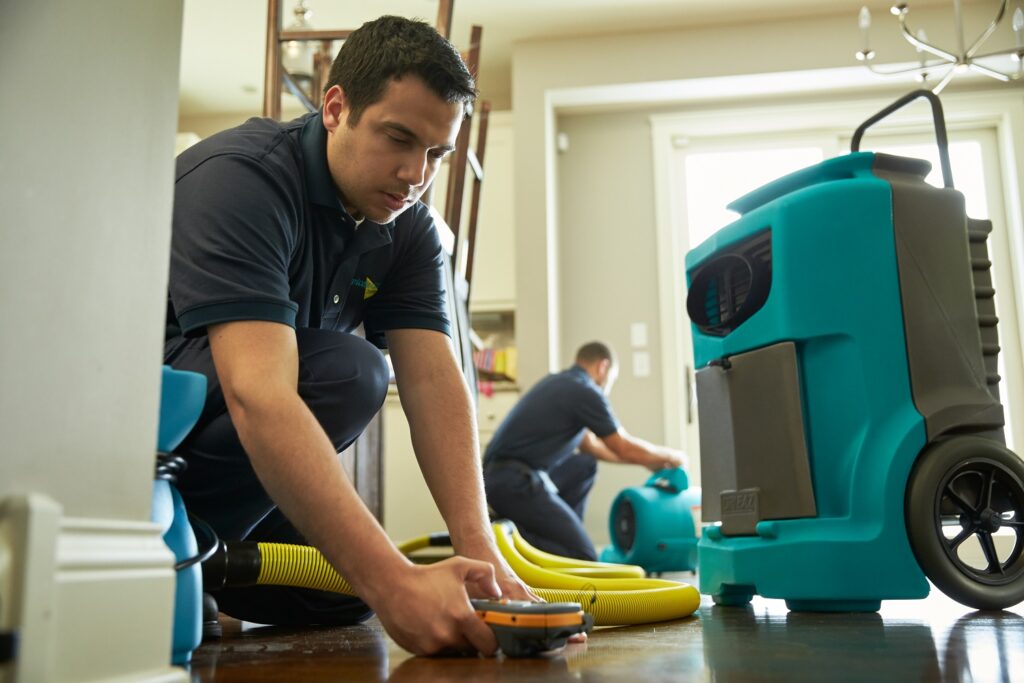 Expert Insurance Guidance: As a Quality Restoration Vendor, we coordinate directly with your insurance company.
Quick Response: Our 24/7 service reduces stress and saves money.
IICRC Certified: Our team is certified by the Institute of Inspection, Cleaning and Restoration Certification.
Top-Quality Service: Our seasoned professionals use the latest equipment and techniques for effective restoration.
When faced with commercial water damage or sewage damage, don't panic. Call ServiceMaster Restoration By Simons for professional, fast, and effective service available 24/7/365.
Contact Us Today