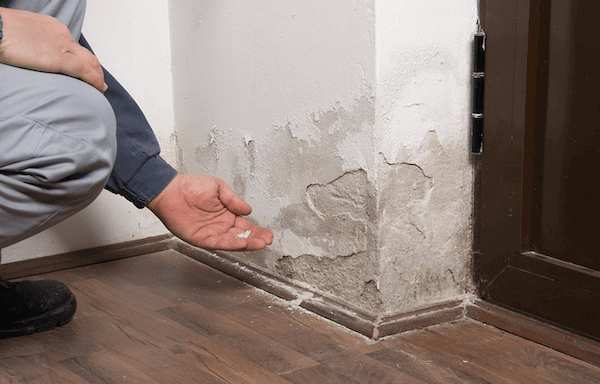 If your Chicagoland property experiences some water damage but it's small — then it's no big deal, right? Wrong. Even though it's only a little bit of water, ignoring water damage in your home can lead to massive structural damage in the long run. 
If you're thinking about ignoring water damage that seems minor, keep in mind: water is known as the universal solvent for a good reason – because it dissolves more substances than any other liquid. That includes major structural parts of your home or business. And that's just the tip of the iceberg. 
In other words, ignoring water damage could leave you and your Chicagoland home vulnerable to structure integrity breakdowns that cost far more money to fix than simple water cleanup. Not yet convinced? Here are seven things that can happen if you go on ignoring water damage in your home: 
The signs of water damage are difficult to hide. They'll usually reveal themselves to any appraiser even if you attempt to paint over the stains. Also, when water's left untreated, a repellent smell can linger which will probably turn buyers away.  Your home is likely one of your biggest financial assets — if this isn't enough to make you stop ignoring water damage, then we don't know what is!
Structural damage occurs depending on the amount of water surrounding the affected area. Drywall begins to deteriorate and the subfloor can easily warp or even split, meaning you'll end up replacing and restoring the affected areas. Even solid materials that foundations are made of, whether masonry, concrete or stone, can soak up small amounts of water through their cracks and pores. Unless these pockets of water are removed, they can create defects in the building foundation that eventually weaken the entire structure.
If you continue on ignoring water damage in your home, the liquid build up can cause mold to begin growing in as quickly as 48 hours. Once mold is present, it can be very difficult and expensive to treat and remove. Also, if mold is left untreated it can spread and can cause health effects.
Once electrical systems are damaged by moisture, wiring, outlets, and electrical boxes become unsafe to use until they're professionally inspected. Electrical water damage usually occurs to kitchen appliances, washing machines, dryers, hot water tanks, furnaces, and low mounted electrical outlets.
A home or business exposed to contaminated water from drain backups and floodwaters are susceptible to harmful bacteria and other microbes. If not treated correctly, toxins will linger on your affected furniture, carpets, and inside your HVAC system long after the water has dried. Those bacteria and microbes can cause serious respiratory issues and other health issues.
The same water that causes structural damage can destroy many personal items including, photographs, books, electronics, and personal documents, among other items. However, if you quit ignoring water damage and instead, act quickly and call ServiceMaster Restoration By Simons — we can help save and restore many of your personal items.
Bugs love moisture and water damage creates the perfect breeding ground for mosquitoes, beetles, fleas, ticks, spiders, and more. And the hatching eggs and dying bugs will attract even more insects to the area as well as spread bacteria.
As you can see, when water damage occurs, immediate action is needed as it helps to minimize the damage and cleaning and restoration costs. This is why you should absolutely never plan on ignoring water damage — the best time to call in professionals for cleanup is immediately after you notice the problem! ServiceMaster Restoration By Simons is strategically positioned to quickly help you restore your Chicagoland home or business. We're here to help you rectify water damage so you nerve have to experience the wrath of its dangerous impact!
ServiceMaster Restoration By Simons is an MBE/WBE certified firm and family-run company serving Chicago, Oak Park/River Forest, and the North Shore.  ServiceMaster Restoration By Simons provides Disaster Restoration Services including  COVID-19 Cleaning Services, Water & Flood Damage Restoration, Fire & Smoke Damage Restoration,  Mold Remediation, and a wide range of interior specialty cleaning including Hoarder & Clutter Cleaning,  Post-Construction Cleaning,  Carpet Cleaning, and Upholstery Cleaning to residential and commercial customers. ServiceMaster Cleaning By Simons provides Specialty Cleaning Services For Chicago, Oak Park-River Forest, and the North Shore.  For more information, give us a call at 773-376-1110 or visit servicemasterbysimons.com.