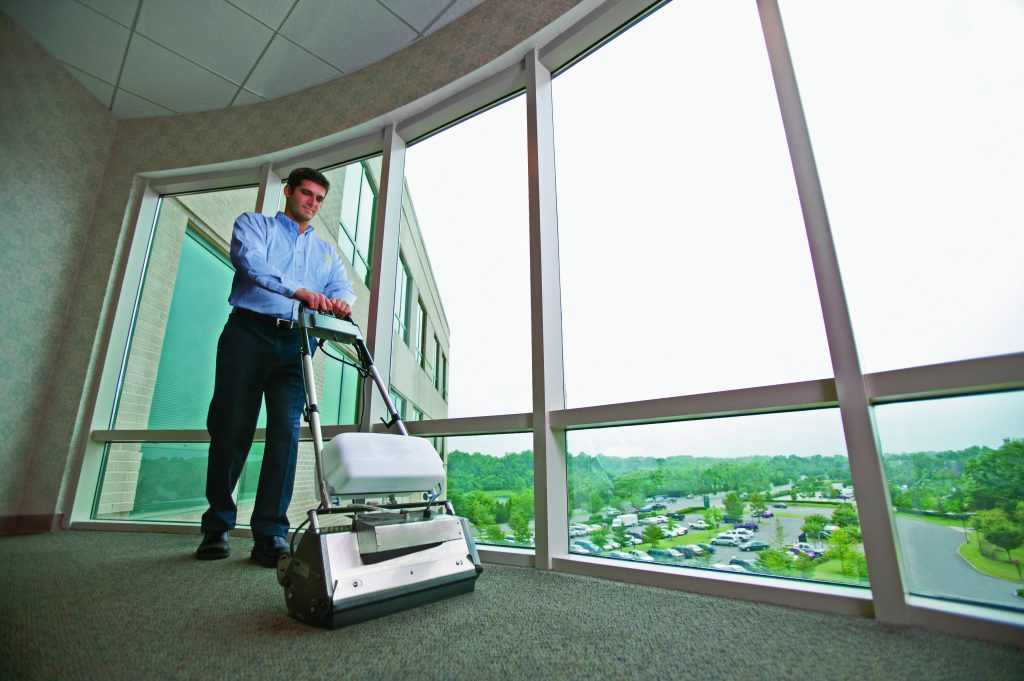 Commercial carpet cleaning plays a pivotal role in maintaining a conducive and professional environment for your Chicagoland business. While often overlooked, the state of your office carpets can significantly impact your company's image, employee well-being, and overall success.
Regular and thorough carpet cleaning not only enhances the aesthetics of your workspace but also contributes to a healthier and more productive work atmosphere.
First Impressions Matter
The humorist Will Rogers once said, "You never get a second chance to make a first impression." That's especially true in the business world. The aesthetics of your office space play a crucial role in reflecting your brand identity and values. When clients, partners, or potential investors step into your office, their initial perception of your company is influenced by the overall appearance of the space.
Clean and well-maintained carpets reflect attention to detail and professionalism. On the other hand, dirty or stained carpets can convey a sense of neglect and undermine your credibility. Regular commercial carpet cleaning ensures that your office makes a positive and lasting first impression on anyone who walks through the door.
Employee Morale and Productivity
Your employees spend a significant portion of their day within the office premises. The condition of the environment they work in directly affects their morale and productivity. Clean carpets contribute to a more pleasant and comfortable workspace that helps to boost employee satisfaction and engagement.
On the contrary, dingy and unkempt carpets can create a negative atmosphere, leading to decreased motivation and efficiency. A clean and well-maintained office, including its carpets, fosters a sense of pride among employees and encourages them to perform at their best.
Air Quality and Health
Carpets are known to trap allergens, dust, dirt, and other pollutants over time. Poor indoor air quality can lead to various health issues, including respiratory problems and allergies, which can result in increased absenteeism among employees.
Regular carpet cleaning eliminates these contaminants, creating a healthier indoor environment. This, in turn, lowers the number of sick days taken. Having your carpets regularly cleaned demonstrates to your workforce that their health and well-being are important to your company.
Prolonged Carpet Lifespan
Commercial carpets are a significant investment for any business. For example, for an average-sized office to replace carpets, the cost could be over $100,000. Regular cleaning by professionals helps extend the lifespan of your carpets by preventing the buildup of dirt, grime, and stains that can cause fibers to deteriorate over time. By including routine carpet maintenance in your business strategy, you can save money in the long run by avoiding premature carpet replacement.
Compliance and Hygiene Standards
Depending on your industry, there might be specific hygiene and cleanliness standards that your business is required to adhere to. Failing to meet these standards can lead to legal issues, fines, or reputational damage. Commercial carpet cleaning ensures that your office environment meets or exceeds the necessary hygiene requirements, helping you avoid potential legal complications and maintain a positive business image.
Expertise and Advanced Techniques
Commercial carpet cleaning companies possess the expertise, experience, and specialized equipment to effectively clean and maintain carpets in high-traffic areas. Their advanced techniques, such as hot water extraction and steam cleaning, ensure a thorough and deep clean that standard vacuuming cannot achieve. Entrusting professionals with your carpet cleaning needs guarantees optimal results and peace of mind.
To sum up, commercial carpet cleaning is a crucial investment for your Chicago area business that yields both tangible and intangible benefits. From creating a positive first impression and boosting employee morale to promoting a healthier environment and adhering to industry standards, the advantages of regular carpet maintenance are undeniable. By prioritizing the cleanliness and condition of your office carpets, you contribute to the overall success and prosperity of your business.
That's where ServiceMaster Restoration By Simons comes in. We're a certified MBE/WBE firm that Chicago relies on for top-notch carpet cleaning services. Whether you require routine maintenance or find yourself in need of urgent assistance, rest assured that you're reaching out to the finest experts in the field. Contact ServiceMaster Restoration By Simons today at 773-376-1110 or toll-free at 855-9-SIMONS (855-974-6667) to address all your carpet cleaning requirements.
Choose a Trustworthy Company
ServiceMaster by Simons is a reputable disaster restoration company you can rely on. We've been in business for many years and take great pride in serving the expansive Chicago metropolitan area and its surrounding suburbs. Our company stands as the preferred choice in Chicagoland for both commercial and residential disaster restoration services. Our expertise encompasses Fire Damage Restoration, Water Damage Restoration, Mold Remediation, and Smoke Odor Removal. With a team of highly skilled professionals who are certified by the IICRC, we're equipped to handle insurance claims of any size. Call 773-249-2328 or contact us online.