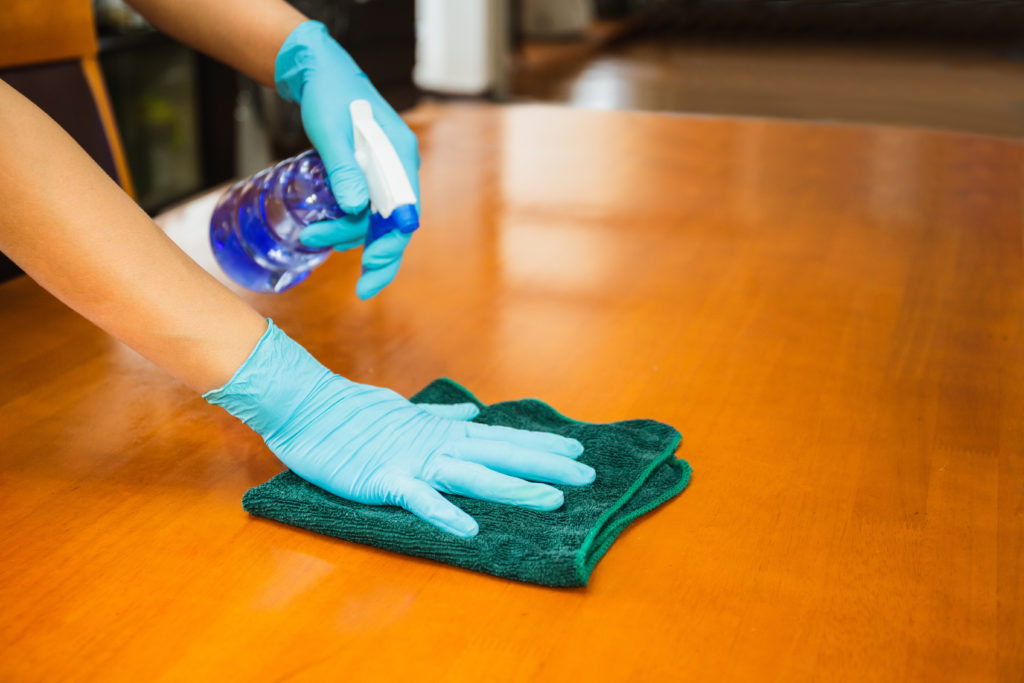 Each year as the northern hemisphere tilts toward the sun, trees and plants begin to bloom and the air smells fresher. Around that time we feel the need to throw open the windows and let that freshness in – and maybe vacuum under a rug or two. This "feeling" is part of a global occurrence known as spring cleaning.
Spring, of course, isn't the only time of the year we clean. Otherwise, we'd be up to our armpits in dirt and garbage. But if you're only performing a thorough cleaning once a year in your Chicagoland home, you're doing yourself a disservice, especially if you suffer from allergies.
Seasonal Pollen and Mold Spores
Depending on where you live, allergies can affect you almost year-round. For example, some people are allergic to pollen from trees; others to pollen from grasses. Pollen mixes with household dust and may be the true cause of a dust allergy.
In the Chicago area, these are the allergies you're most like to suffer from and their peak seasons:
Grass pollen – May to June
Tree pollen – March to May
Weed and Ragweed – Mid-August to the first freeze
Mold – spring and fall
But sometimes plants pollinate early as a result of mild winter temperatures. And a wet spring can boost rapid plant growth and add to an increase in mold, causing symptoms that may last far into the fall. So deep cleaning seasonally is the best way to improve the air quality in your home.
Don't Kick Up the Dust
Allergy symptoms are usually worse during or immediately after you vacuum, sweep, and dust. The cleaning process can stir up dust particles, making them easier to breathe in. Therefore, the more frequently you clean, the fewer of these particles will be around to trigger allergies. Using a vacuum cleaner that contains a HEPA filter can keep those particles from escaping. And wet mopping after sweeping will pick up and trap pollen, allowing you to safely wash it down the drain.
When you dust, your best bet is to use a microfiber cloth. They're made with a microscopically tiny weave that holds ten times more dirt per square inch than cotton cloths, so you'll collect more dust and keep it from redepositing when you clean the next surface. If you don't currently have any microfiber cloths, use a soft cloth dampened with water that also won't release dust and pollen into the air.
Professionally Improve Your Indoor Air Quality
One way to improve your home's indoor air quality is to have the air ducts cleaned. Indoor air pollutants like pollen are pulled into the HVAC system and re-circulated up to 5 to 7 times a day. Over time, this re-circulation produces a build-up of pollutants in the ductwork.
If you're too busy or your health doesn't allow strenuous activity, you may need help with seasonal cleaning. That's why ServiceMaster By Simons offers House-Wide General Cleaning packages. Our team of professionals will give your home a thorough cleaning to your specifications to ensure that you experience fewer allergies and better indoor air quality.
About Us: ServiceMaster Restoration By Simons, is a SB100 Best of Small Business Award Winner 2021, Bronze Stevie® Award in the Female Entrepreneur of the Year category in the 18th annual Stevie Awards for Women in Business, recipient of the 2020 Better Business Bureau's Torch Award for Marketplace Ethics, and recipient of the 2020 Skokie Business of the Year Award, Honorable Mention Category. ServiceMaster Restoration By Simons (MBE/WBE) is a family operated, IICRC & OSHA Certified company serving Chicago, Oak Park, River Forest, and the North Shore. We provide commercial disaster restoration services including Water & Flood Damage Restoration, Fire & Smoke Damage Restoration, Mold Remediation and a wide range of interior specialty cleaning including COVID-19 Cleaning Services, Hoarder & Clutter Cleaning, Post-Construction Cleaning, Carpet & Upholstery Cleaning to residential and commercial customers. For more information, call 773-839-5542 or visit www.servicemasterbysimons.com or info@servicemaster-rbs.com