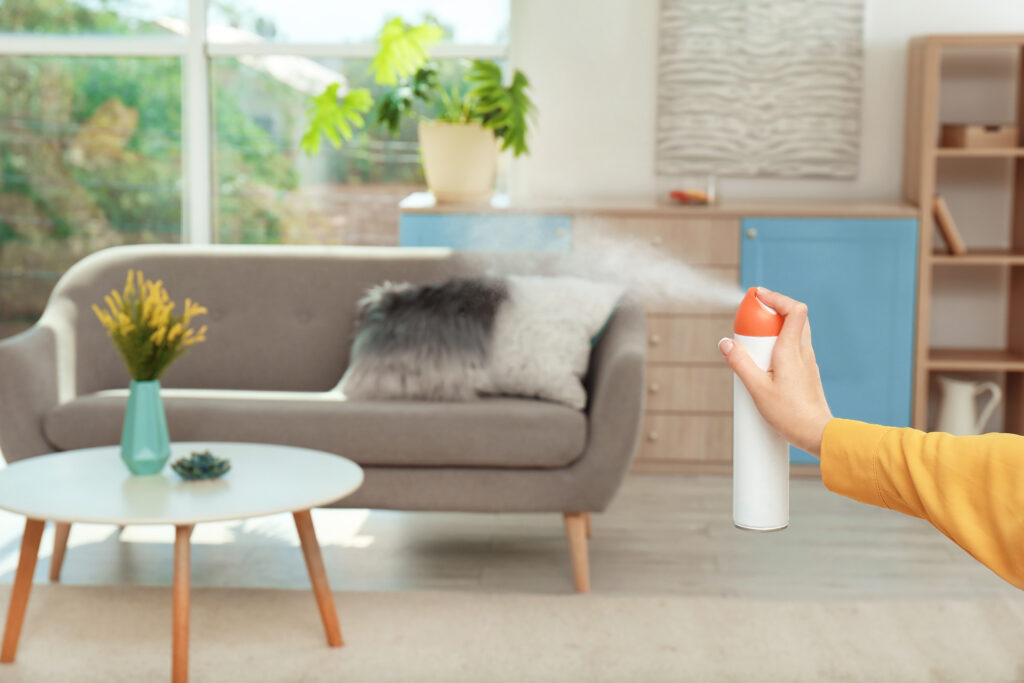 When we're able to spend time out in the country, whether we're hiking, camping, or just riding around with the windows down, the fresh air invigorates us. Unfortunately, most of us spend the majority of our time indoors, whether we're home or at work. In fact, the EPA reports that "Americans, on average, spend approximately 90 percent of their time indoors, where the concentrations of some pollutants are often 2 to 5 times higher than typical outdoor concentrations." Because of that, sometimes inside air is not nearly as fresh smelling due to unpleasant odors. So what's the best way to handle them?
Air Fresheners Don't Always Do The Trick
While air fresheners and deodorizers will cover odors adequately in your Chicagoland home, they do little to remove them altogether. That's when you've got to pull out the big guns. It's a good idea to always have an odor-neutralizer on hand. They're made with neutralizing components that form a bond with diverse molecules, including the ones that carry potent odors linked with sulfur (skunk) and nitrogen (nicotine and rotten seafood).
But before you attempt to clean any area, always remember the first rule of deodorization: remove the source of the odor first! Afterward, thoroughly scrub the area of all contamination before applying any deodorizer. Otherwise, those odors may come back to haunt you.
Try This Experiment
Pour a cup of household ammonia (nitrogen) or purchase "liquid skunk" (sulfur) at a hardware or hunting supply store. In another cup, mix the odor neutralizer as directed. Dip a cotton swab in the ammonia, take it out and smell it. Once you've picked yourself off of the floor, immerse the swab into the odor neutralizer and you'll find that the ammonia smell has disappeared. This is because the neutralizer forms a complex with the nitrogen that is part of the ammonia molecule. Once this complex is formed, the new molecule is no longer perceived by the brain as it moves through your nose, thus no bad odor. This demonstration shows what a big difference there is between masking (covering up) odors and neutralizing (destroying) them.
The majority of odor neutralizers can be used by themselves or added to a water-based deodorizer to enhance odor removal. If you use a concentrated odor neutralizer, don't add much to a deodorizer, otherwise, you might get a heavy residue that will have to be cleaned up afterward.
Serious Odor Problems May Require Professional Help
If you have a widespread odor issue, call Chicago's ServiceMaster By Simons. When removing odors from large areas, we apply neutralizers by using a ULV (Ultra Low Volume) fogger. As it's being dispersed, we mist the product through air ducts as well. We also cover any water-sensitive furniture or remove it from the area being treated. Additionally, we always wear a respirator when using a ULV fogger as the micron-sized particles emitted from it could cause coughing and choking. Because of this, once we're finished, we block off and leave the area for about two hours to allow the mist to settle.
When possible, we may use ozone generators to take care of the odor issue. These machines change the chemical makeup of odor molecules so they no longer smell and are gone forever. No matter the source of your odor problem, whether from fire, skunk, or anything else, when it's extreme, it's likely to evade every nook and cranny of your home. ServiceMaster By Simons has the technology to remove it all.
About Us: Co-Authors RESTORE your complete guide to protecting your home as your most valuable asset from water and fire disasters  https://www.amazon.com/dp/1952779529. Recipient of 2022 award for Daily Herald Entrepreneurial Excellence. ServiceMaster Restoration By Simons, is a SB100 Best of Small Business Award Winner 2021, Bronze Stevie® Award in the Female Entrepreneur of the Year category in the 18th annual Stevie Awards for Women in Business, recipient of the 2020 Better Business Bureau's Torch Award for Marketplace Ethics, and recipient of the 2020 Skokie Business of the Year Award, Honorable Mention Category. ServiceMaster Restoration By Simons (MBE/WBE) is a family operated, IICRC & OSHA Certified company serving Chicago, Oak Park, River Forest, and the North Shore. We provide commercial disaster restoration services including Water & Flood Damage Restoration, Fire & Smoke Damage Restoration, Mold Remediation and a wide range of interior specialty cleaning including COVID-19 Cleaning Services, Hoarder & Clutter Cleaning, Post-Construction Cleaning, Carpet & Upholstery Cleaning to residential and commercial customers.