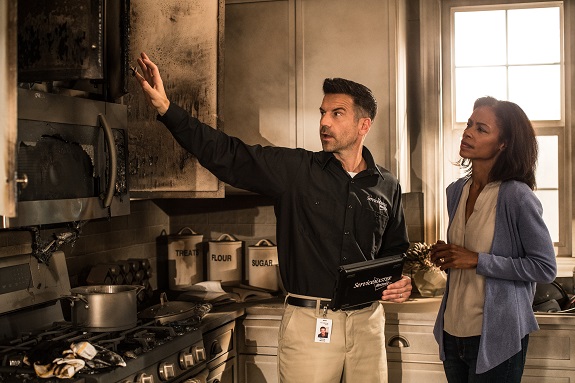 Fires can cause severe damage to buildings, leaving behind extensive soot, smoke residues, and structural issues. Structural cleaning after a fire is a complex and challenging task that requires expertise, specialized equipment, and proper techniques.
This article highlights the significance of entrusting structural cleaning to the professionals at ServiceMaster By Simons after a fire, emphasizing the benefits of their knowledge, experience, and resources in restoring your Chicagoland property safely and effectively.
Ensuring Safety and Compliance
Professional handling of structural cleaning after a fire is essential to ensure safety and compliance with Chicago area codes and regulations. Fire-damaged structures may have compromised structural integrity, electrical hazards, and other safety risks.
ServiceMaster-trained professionals have the expertise to assess and address these risks appropriately. They follow safety protocols and use personal protective equipment to minimize their exposure to hazardous substances. Additionally, we're familiar with Chicago area building codes, environmental regulations, and insurance requirements, ensuring that the cleaning process meets all necessary standards.
Proper Assessment and Planning
Professional restoration teams at ServiceMaster By Simons begin by conducting a thorough assessment of the fire damage. We evaluate the extent of structural damage, identify areas requiring immediate attention, and determine the appropriate cleaning techniques.
This comprehensive evaluation helps us to develop a detailed restoration plan tailored to the specific needs of your property. We have the experience and knowledge to prioritize tasks, use the appropriate equipment and cleaners, and anticipate potential challenges that may arise during the cleaning process.
Specialized Equipment and Techniques
ServiceMaster By Simons has specialized equipment and uses advanced techniques for structural cleaning after a fire. We have access to industrial-grade cleaning agents, HEPA-filtered vacuums, high-pressure washers, and thermal fogging machines, among other tools.
Our equipment and techniques are designed to effectively remove soot, smoke residues, and odors from various surfaces, including walls, ceilings, floors, and HVAC systems. We ensure that the right equipment is used in each scenario, preventing further damage to the property and achieving the best cleaning results.
Mitigating Health Hazards
Structural cleaning after a fire involves the removal of harmful contaminants such as soot, ash, and smoke residues, which can pose serious health risks if not properly addressed. ServiceMaster By Simons uses proper containment procedures to prevent the spread of contaminants during the cleaning process.
We also employ effective cleaning agents and techniques to eliminate or minimize the presence of toxic substances. By ensuring thorough and proper cleaning, our professionals significantly reduce the risk of respiratory issues, allergies, and other health problems associated with post-fire contaminants.
Efficient Restoration and Time Savings
Professional handling of structural cleaning speeds up the restoration process after a fire. ServiceMaster By Simons has trained teams who work efficiently to clean and restore the property promptly. We understand the time-sensitive nature of the restoration process and aim to minimize business or personal disruptions.
We have the resources and manpower to complete the cleaning and restoration tasks promptly, allowing you to return to your normal routines and businesses to resume operations sooner, thereby reducing financial losses and the emotional toll on those affected by the fire.
Your Local Cleaning Specialists
ServiceMaster By Simons possesses the necessary expertise, proficiency, state-of-the-art equipment, and personal protective equipment (PPE) to carry out a comprehensive and secure structural cleaning and restoration process for your residential or commercial property.
As smoke and soot can impact both the structure and belongings of your Chicagoland property, we prioritize the painstaking cleaning and sanitization of salvageable items before their return. Rest assured, we are committed to delivering thorough restoration services that ensure your property is restored to its pre-fire condition, promoting a clean and healthy environment.
Choose a Trustworthy Company
ServiceMaster By Simons is a reputable disaster restoration company you can rely on. We've been in business for many years and take great pride in serving the expansive Chicago metropolitan area and its surrounding suburbs. Our company stands as the preferred choice in Chicagoland for both commercial and residential disaster restoration services. Our expertise includes Fire Damage Restoration, Water Damage Restoration, Mold Remediation, and Smoke Odor Removal. With a team of highly skilled professionals who are certified by the IICRC, we're equipped to handle insurance claims of any size. Call 773-376-1110 or contact us online.