Fire Dangers Don't End When the Flames are Dowsed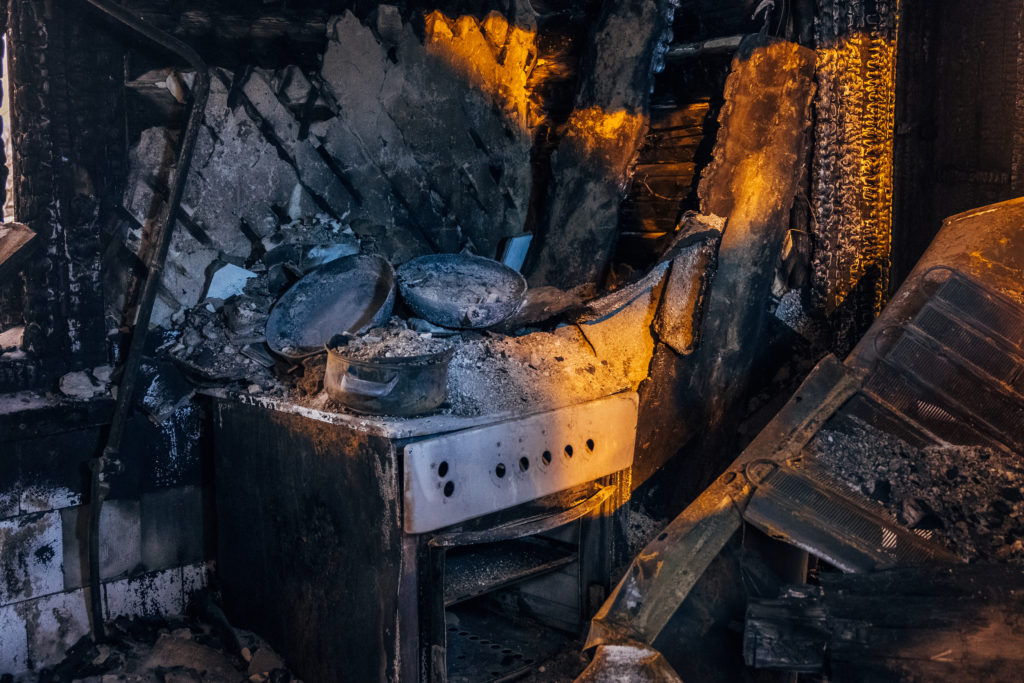 One of your worst nightmares has occurred. You've experienced a fire at your Chicagoland home or business. So, once the firemen leave, your first inclination may be to go inside the structure to see what you can salvage and start the cleaning process. But cleaning up after a fire is much more complicated than regular cleaning. It's also very dangerous. Because once the last flame has been snuffed out, the dangers from a fire continue.
Soot Hazards
Since fire destroys all materials, the soot that covers everything you touch and that you kick up in the air after a blaze is full of toxic substances. That's why the highly trained professionals at ServiceMaster Restoration By Simons wear heavy duty personal protection equipment (PPE) on fire mitigation jobs until all the soot is removed.
Here are some of the poisons found in the soot and ashes of a building fire:
Mesothelioma (cancer) causing asbestos fibers from building materials
Carbon materials can produce carbon monoxide, ammonia, and nitrogen oxides
PVC can create hydrogen chloride, phosgene (used as a chemical weapon during World War I), dioxin, Refrigerant-40, bromomethane (a pesticide), etc.
Hydrogen sulfide and sulfur dioxide (poisonous gasses)
Petroleum based items can produce formaldehyde, acrolein, furfural, cresols, and other harmful chemicals
Even wood smoke releases more than 100 chemicals also found in cigarette smoke
Children, the elderly, and those with weakened immune systems are predominantly at risk when exposed to smoke and soot. Its adverse effects have been known since the 19th century when the British Parliament passed the Chimney Sweepers Act 1875, partly in response to its association with cancer – the first ever occupational health legislation.
Professionals Not Immune
A study conducted by the National Institutes of Health has found that firefighters have higher rates of cancer than the general population due to exposure to smoke and toxic soot because many did not wear the proper gear. In fact, The International Association of Firefighters says cancer is now the leading cause of death among firefighters.
"It was never really something we thought about when I first started 32 years ago. It was a badge of honor to come out with all your gear dirty," said Peter Silva Jr., a former firefighter. "If you didn't wear your mask in there you were a strong, aggressive firefighter, and if you went in with your mask on, you were kind of ridiculed at times."
Because of these dangers, incident commanders are now ordering firefighters to keep their masks on until they're away from the smoke and soot and washed down by decontamination teams on the scene. Once back at the station, they're being told to change into a second set of turnout gear while industrial washing machines clean the dirty outfits.
If fire professionals take this issue seriously, shouldn't you? The advice of Boston Fire Commissioner Joseph Finn is priceless. He says, "I've buried way too many friends over my 33 years. Too many friends … so I tell them, 'Think about your wife, your husband, your boyfriend, your girlfriend before you take that mask off your face."
Because of these dangers, only fire remediation experts like those at ServiceMaster Restoration By Simons should be in charge of cleaning up after a fire. We have the experience, knowledge, equipment and PPE needed to safely and thoroughly clean and repair your home or business. We also make sure there are no lingering odors. And since smoke and soot affects not only the structure of your Chicagoland home or business but also your belongings, we will ensure that those items that are salvageable will be returned only after being meticulously cleaned and sanitized.
About Us: ServiceMaster Restoration By Simons, is a 2020 recipient of the Better Business Bureau's Torch Award for Marketplace Ethics, and recipient of the 2020 Skokie Business of the Year Award, Honorable Mention Category. ServiceMaster Restoration By Simons (MBE/WBE) is a family operated, IICRC & OSHA Certified company serving Chicago, Oak Park, River Forest, and the North Shore. We provide commercial disaster restoration services including Water & Flood Damage Restoration, Fire & Smoke Damage Restoration, Mold Remediation and a wide range of interior specialty cleaning including COVID-19 Cleaning Services, Hoarder & Clutter Cleaning, Post-Construction Cleaning, Carpet & Upholstery Cleaning to residential and commercial customers. For more information, call 773-376-1110 or visit www.servicemasterbysimons.com or info@servicemaster-rbs.com