ServiceMaster Restoration by Simons President Receives Women in Business Award
ServiceMaster Restoration by Simons is thrilled to announce that our president, Nasutsa Mabwa, was honored at The Business Ledger's 20th Annual Influential Women in Business Awards and Recognition Event last Friday.  Nasutsa joins over 350 women who have been recognized at the event over the past 20 years as she was presented with an award for the outstanding work she's done in the suburban Chicago area as a female executive here at ServiceMaster.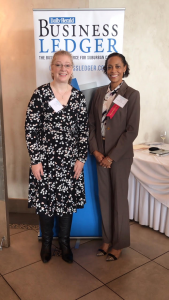 In addition to Nasutsa, the awards ceremony honored 20 other local women who "excel in business, civic and personal arenas," according to a press release from The Business Ledger.  With Rebecca Darr, CEO of WINGS, as the keynote speaker and no shortage of inspirational stories from some of the honorees, the event was a breeding ground for female empowerment.
Nasutsa was nominated for the award by someone unknown. She's proud to have been chosen with other "strong women business owners in the area who are balancing running their businesses and their personal lives and trying to succeed in the marketplace." She added that as women, "We're trying to handle all those things at the same time."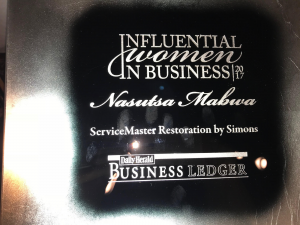 The award is an affirmation of Nasutsa's accomplishments since she started ServiceMaster in 2013. "We're getting notice for all the hard work that we're doing and the fact that we're one of the few local women-owned disaster restoration companies in the area — and the only black-owned one," she said.
And she's excited about what it means for the company moving forward, too: "It gets our name out there in a broader sense and helps with our brand awareness and our exposure and lets the metropolitan area region know what our company offers in the marketplace."
The awards were presented in partnership with the Chicago area chapter of the National Association of Women Business Owners.  They were sponsored in part by Focus Capital Advisors, B. Gunther & Company Inc., KPMG/Women's PGA Championship and Northern Illinois University College of Business.
ServiceMaster Restoration by Simons is a women-owned and family run company serving Chicago, Oak Park, River Forest, and the North Shore. The business provides disaster restoration services for damages caused by water, fire, flooding, mold remediation, and a wide range of interior specialty cleaning (hoarder/clutter, post construction, carpet & upholstery) to residential and commercial customers residing in Chicago, Oak Park, River Forest and the North Shore. For more information, visit www.servicemaster-restorationbysimons.com/.