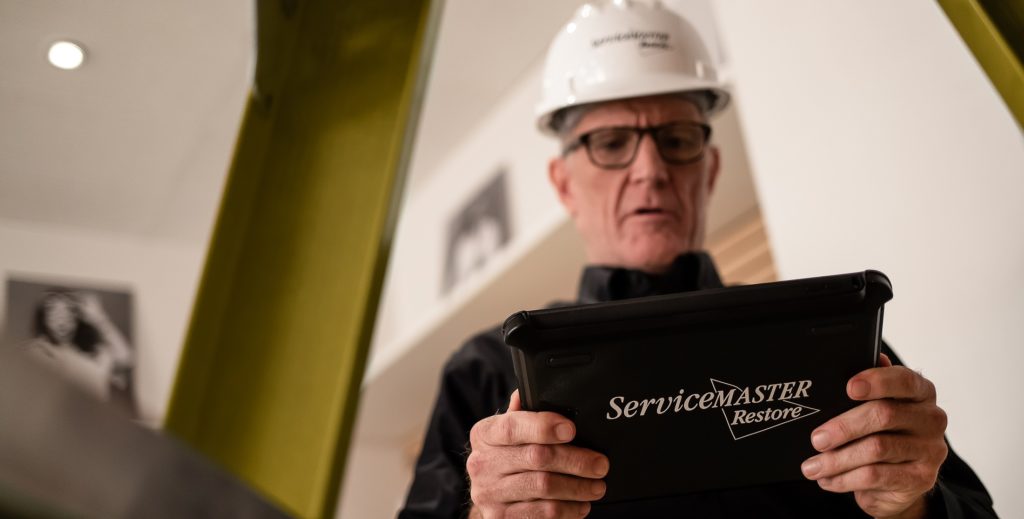 In various industries, specialized jargon is commonly used, containing technical language that's understood primarily by those involved in specific trades or professions.
The disaster restoration field is no exception. However, if you find yourself in need of the services provided by Chicago's own ServiceMaster by Simons, it's crucial that you comprehend our terminology.
As a public service, we have compiled twelve of the most frequently encountered disaster restoration terms:
Assessment: The initial step taken by our restoration team upon arrival involves the evaluation of a request for assistance. It includes determining the necessary resources (equipment, labor, etc.) and outlining any safety concerns. A written scope of work is then produced, detailing the project and estimating the time of completion.

Air Mover: An industrial-strength fan used to blow air at high velocity, accelerating the evaporation of moisture from wet surfaces and materials in the event of water damage.

Air Scrubber: A high-capacity air mover connected to a HEPA or carbon filter, designed to eliminate particulate materials, contaminants, and odors from the air. It facilitates the purification of indoor air.

Dehumidifier: Employed in water damage and flood situations, this device removes excess moisture from the air, restoring the interior air of the property to a dry condition while also helping to dry out the structure.

Extraction: The initial step in water damage restoration involves the removal of excess water using pumping equipment – anything from portable wet vacs to powerful truck-mounted vacuums. Physical extraction is the most efficient method for water removal.

Indoor Air Quality (IAQ): Refers to the quality of air within and around buildings, particularly concerning the health and comfort of occupants. By understanding and managing common indoor pollutants, the risk of indoor health issues can be minimized.

Demolition: The removal and proper disposal of damaged materials (e.g., carpet, drywall, wood, and building materials) during the restoration process, preparing the property for reconstruction. ServiceMaster by Simons strives to minimize the extent of demolition by restoring as much of your property as possible.

Containment Area: A segregated section within a building that's contaminated, intended to prevent the spread of hazardous materials (such as mold, lead, or asbestos). This is achieved by constructing barriers made of plastic sheeting or similar materials.

Pre and Post-Testing: A testing process that involves collecting air and surface samples from a site and sending them to a lab for analysis. The lab identifies mold species, fungal growth, bacteria, asbestos fibers, and other potentially harmful contaminants.

Biohazard: This term is used when biological waste is present at a disaster site, which can originate from trauma incidents, sewage backups, chemical spills, hoarding, or other biohazards posing health risks. Proper handling by trained and certified experts such as those at ServiceMaster by Simons is required for biohazardous materials.

Pack-Out: The process of moving contents out of a damaged property to an off-site facility during restoration. This allows for thorough cleaning and safe storage of your contents until they can be returned to you.

Remediation: The reversal and cessation of environmental damage typically associated with water damage, lead, mold, and asbestos.
Facing a disaster can be overwhelming, especially when unfamiliar with the associated terminology. Moreover, dealing with the language of insurance companies can compound the stress of the situation. At ServiceMaster by Simons, we excel at guiding you through complex disaster recovery projects. We're well-versed in the language of insurance adjusters and can assure you that the work we perform at your Chicagoland home or business will meet all necessary steps, regulations, and guidelines.
Choose a Trustworthy Company
ServiceMaster By Simons is a reputable disaster restoration company you can rely on. We've been in business for many years and take great pride in serving the expansive Chicago metropolitan area and its surrounding suburbs. Our company stands as the preferred choice in Chicagoland for both commercial and residential disaster restoration services. Our expertise includes Fire Damage Restoration, Water Damage Restoration, Mold Remediation, and Smoke Odor Removal. With a team of highly skilled professionals who are certified by the IICRC, we're equipped to handle insurance claims of any size. Call 773-376-1110 or contact us online.