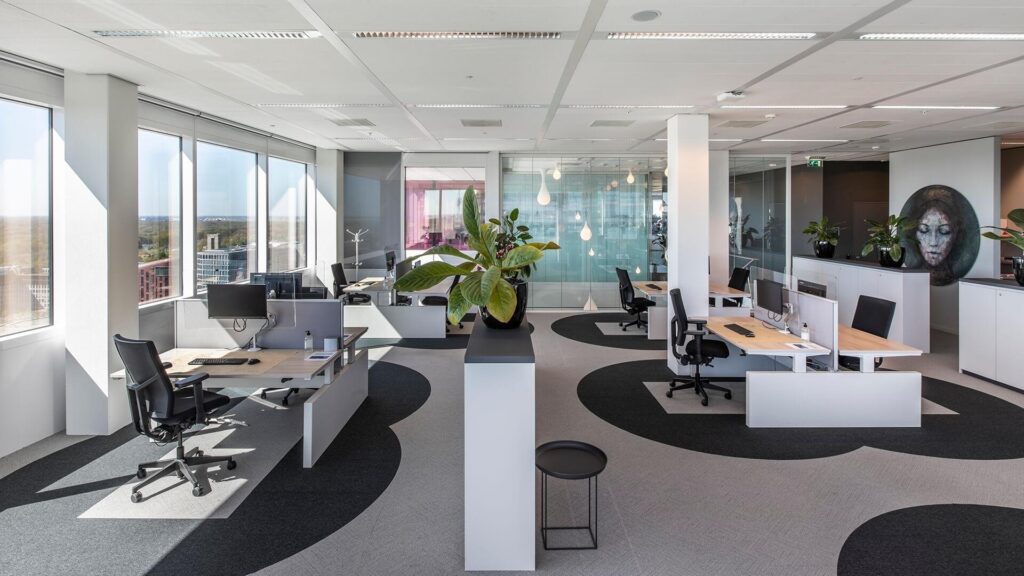 Stay-at-home orders are lifting across the nation, and offices are preparing to welcome employees back. However, with a global pandemic still looming, it's ultra-important for businesses to ensure they are ready to reopen safely after coronavirus closures. In doing so, there are specific steps business owners need to take to prevent the spread of COVID-19 as employees return to the office.  
As they return to work, employees are looking to their employers to establish reentry procedures, as well as to ensure a clean, disinfected and healthy work environment. From coronavirus disinfection services, to reentry cleaning, to empowering employees via protective gear and extended WFH — here are some strategies you can use to promote employee safety and ensure proper cleaning and disinfection: 
Opt for professional cleaning and disinfection services
Before reopening your office, make sure you undergo a thorough coronavirus reentry cleaning. The best way to do this is to hire a professional cleaning or restoration company that can provide expert coronavirus cleaning and disinfection services. Look out for services that include fogging and the proper disinfecting products. While we always recommend DIY-ing it where you can, we cannot stress enough that your initial cleaning and disinfection before reopening should be left to professionals. 
Maintain workplace cleaning and disinfection 
Once your office reopens, you should ensure employee safety by conducting professional coronavirus cleaning services on a daily basis. Because so many people with coronavirus go unnoticed as they are asymptomatic, it is crucial to be better safe than sorry. The best way to prevent the spread of coronavirus in your office is to make sure every surface is properly wiped down each day, with fogging services every week or two. Additionally, you can encourage employees to maintain their own safety and disinfection by providing every workstation with ample hand sanitizer and disinfectant wipes. Instruct employees to sanitize every few hours and to wipe down surfaces like office computers, desks and chairs after they are done using them for the day. 
Implement temperature checks 
Aside from commercial coronavirus cleaning services, the next best way to prevent the spread of COVID-19 in your office is to keep blatantly sick employees out of the space. The CDC recommends implementing pre-checks and continuous monitoring, as well as encouraging sick employees to stay home. Before reopening the office to employees after coronavirus, survey employees to find out if anyone is having symptoms currently. Make sure you monitor those symptoms as offices reopen — and strongly discourage anyone who simply doesn't "feel well" from coming to the office if work can be done from home. Once the office reopens, implement temperature checks just outside of the office's front doors and send those who are running a fever home.
Encourage distancing and protective wear
Just because the office reopens, that doesn't mean social distancing is over. As a country, we will likely be responsible for maintaining some semblance of distancing until a vaccine is discovered. Encouraging distancing within your office will help prevent the spread of COVID-19 in the office, in the building and in your greater city or township area. Make sure all desks are placed at least six feet apart, and use email communications, announcements and workplace signs to remind people not to touch one another in the workspace. This includes handshakes and hugs. You also want to remind them not to touch one another's things. This includes sharing pens and office supplies. Finally, institute a mandatory mask company policy. Experts say that masks may reduce the spread of viral materials by blocking droplets that would otherwise travel through the air. 
Stagger your workforce
With social distancing at the office and on public transportation, it's simply not realistic to expect everyone in a once-full office to come back to work immediately. Instead, authorities recommend that you stagger your workforce when reopening after coronavirus. One way to do this is by alternating weeks or days for different portions of the workforce. Allow one department to come into the office for one week, another department the next and so on. Another way to safely return to the office is by implementing off-hour shifts for some employees so that some work mornings in the office, and other work at nights. If you go this route, you'll need to be sure you are cleaning and disinfecting the office in between shifts to promote employee health. 
Empower employees to protect themselves
A lot of employees are very anxious about the return to the office. Many people are fearful of getting sick, which makes them resistant to returning to a shared space where coronavirus could easily spread. Empower them to stay safe within their own comfort level and consider postponing your office's reopen. It's not a bad idea to send out a survey far in advance of announcing plans to reopen in order to gather insights about your employees' biggest concerns. That way, you can tailor your reopen plans (or postpone them) if it will cause more stress than it's worth. This is especially true in instances where employees are managing their workloads well at home and it is not essential to have them back in the office. 
Stay current on government guidelines
News and updates about coronavirus and its disinfection is coming out on a daily, if not hourly, basis. You don't want to miss anything important that may impact your employees' return to the office. Businesses everywhere should be following the CDC's resource pages to ensure safety when reopening after coronavirus. The CDC has also released specific guidelines for coronavirus cleaning and disinfection in work places. Furthermore, business owners in Illinois and the Chicagoland area should be familiar with the ins and outs of Pritzker's Restore Illinois plan, which provides specific information about how Chicago workplaces will need to promote safety as they reopen phase-by-phase. 
Above all else, offices need to reopen safely, thoughtfully and with a commitment to their employees in mind. These strategies are not an exhaustive list, and with a virus as contagious and deadly as COVID-19, every precaution needs to be taken. The most successful and safe office reopenings after coronavirus will combine all of these strategies and tailor their reentry plans to employee concerns. 
Experts suggest that professional COVID-19 cleanings with a staggered workforce, extended WFH and increased personal disinfectants and protective gear are the best ways to prevent the spread of coronavirus in your office. While we can't supply disinfectants or advise your workforce strategy, our experts can provide the expert coronavirus cleaning and disinfecting services that you need to keep employees safe and healthy. We utilize fogging and surface disinfection to be sure that your office stops any potential coronavirus outbreak before it begins. Learn more about our coronavirus cleaning services and facility reopening cleaning services. Or, call us at 773-376-1110 to schedule your reentry cleaning today. We are standing by to help you in these unusual times. 
ServiceMaster Restoration By Simons is an MBE/WBE certified firm and family-run company serving Chicago, Oak Park/River Forest, and the North Shore.  ServiceMaster Restoration By Simons provides Disaster Restoration Services including  COVID-19 Cleaning Services, Water & Flood Damage Restoration, Fire & Smoke Damage Restoration,  Mold Remediation, and a wide range of interior specialty cleaning including Hoarder & Clutter Cleaning,  Post-Construction Cleaning,  Carpet Cleaning, and Upholstery Cleaning to residential and commercial customers. ServiceMaster Cleaning By Simons provides Specialty Cleaning Services For Chicago, Oak Park-River Forest, and the North Shore.  For more information, give us a call at 773-376-1110 or visitservicemasterbysimons.com.