Prepare Your Commercial Property for Tornado Season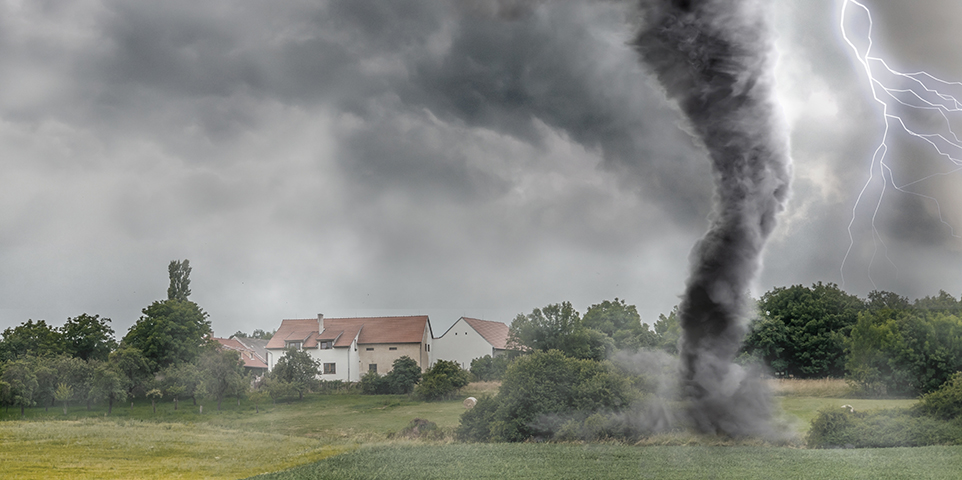 The US is in the throes of tornado season, but Dorothy and Toto and their fellow Kansan's aren't the only ones who need to worry!
Tornadoes take a toll on many US states, especially in the Midwest. With all the rain Chicago's been weathering this spring, we at ServiceMaster Restoration by Simons know many people probably aren't thinking of tornadoes as the real threat.  However, NOAA data revealed that Midwestern tornadoes in March 2017 cost $2.1 billion in damages alone!
Don't let your property contribute to these statistics.  Commercial business owners should take the necessary steps to protect their business from tornado woes.  Here are a few tips from our professionals to help keep your commercial property safe during storm season:
1. If your company has outdoor fixtures (like satellites, garden statues, signs, etc.), make sure they are secured.  Otherwise, they might be at risk for going airborne in the event of a tornado. If your company regularly showcases or displays products outside, ensure you have space indoors for them in case a tornado warning is issued.  

2. Reinforce weak parts of your building with extra support to help your infrastructure stand up against tornadoes.  

3. Make sure important equipment, electronics, and servers are kept in a secure area.

4. Whenever undergoing construction, always use high wind-rated products.

5. Determine communication flows to enhance productivity in the face of an emergency.

6. Create a contingency plan for how your business operations will continue even in the aftermath of building damage.

7. Determine how you might restore any lost data or create back-up storage systems.

8. Make sure you have insurance coverage- not just for natural disasters like tornadoes, but also for contingent business interruptions in case you have to temporarily slow or shut down operations.

9. Make sure you always monitor the weather and heed emergency warnings.

10. Last, it's important that you know the safest areas in your building where employees can take shelter in the event of a tornado. It's also helpful to give everyone a designated emergency role and to periodically run shelter in place drills.
Sometimes all the preparation in the world still isn't enough to mitigate a tornado's fury. But while you may not be able to wish away tornado damage with three clicks of your heels, you can always contact the professionals at ServiceMaster Restoration by Simons at 773-376-1110 for your disaster restoration needs. We are standing by for all your restoration-related questions and concerns!
ServiceMaster Restoration By Simons is a MBE/WBE certified minority and women-owned and family run company serving Chicago, Oak Park, River Forest, and the North Shore. The business provides disaster restoration services for damages caused by tornadoes, water, fire, flooding, mold remediation, and a wide range of interior specialty cleaning (hoarder/clutter, post construction, carpet & upholstery) to residential and commercial customers residing in Chicago, Oak Park, River Forest and the North Shore. For more information, give us a call at 773-376-1110 or visit servicemasterbysimons.com.