Top Tips for Preventing Basement Seepage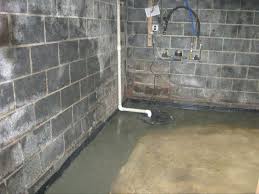 Even though it may not feel like it to a homeowner experiencing water damage in the lower level of their home, leaking basements are common occurrences in homes throughout the country. After all, any type of foundation can spring a leak, especially as the weather continues to worsen throughout this holiday season.
Leaky basements experience something called basement seepage, which is when water finds ways to enter your basement and pool on your floor, causing it to flood and damage your property.
What causes it? Essentially, water or moisture in basements come from two major sources: indoor humidity that condenses on cold surfaces or water that comes from outside. Rainwater, melting snow or groundwater can saturate the soil around your foundation and leak into your home. Water can leak through cracks or it can even penetrate basement walls in the form of water vapor.
How do you fix it? Though several solutions are available to reduce the amount of water that enters your basement, there is no foolproof answer to resolve the problem.
STEP ONE
The first thing you should do once you notice basement seepage is to check the walls where the water is entering. Try to determine if the water is entering along a single wall entirely underground, along multiple walls or on one side of the house only.
To figure out what's causing the problem, tape aluminum foil to your basement wall and inspect it a few days later. Moisture on the outside surface of the foil indicates high indoor humidity. Moisture behind the foil means moisture is leaking through the walls.
STEP TWO
Once you determine the source of the water, start looking for cracks in the affected area. Apply an epoxy during the months when the walls remain dry to seal up cracks. Make sure you squeeze the epoxy well into the walls to make sure that a tight bond is created.
STEP THREE
Start working to remove excess humidity from the area. This will help you dry out your basement. Seal leaky dryer vents with foil tape to prevent unwanted humid air from entering your basement. After doing this you can remove any excess water that has started to pool on your floors.
You can also add a vent fan to your basement bathroom and make sure your family turns it on during showers. Keep your basement windows closed during humid weather. And if you're still getting condensation on cool surfaces, you can run a dehumidifier to lower the indoor humidity.
How do you prevent this from happening in the first place? Make sure that any damaged gutters are repaired or replaced to ensure that no more water enters your basement. Gutters are generally the cause of basement seepage since they are prone to drainage issues. You can place cement splash pads along the gutter in order to carry water away from your house foundations.
Another way you can continue to prevent water from entering your basement is by creating a slope away from the outside foundation of your home. Add dirt next to the outside basement wall so that it slopes down two inches for every foot. This will help from water pooling around your home.
You should also apply a layer of waterproofing on the inside of your basement walls. Make sure you spray the waterproofing in an even application. Hold the spray at least 10 inches away from the basement walls and spray from side-to-side until the wall is covered. Spray one wall at a time. Allow it to dry completely for two to three days before spraying another wall to ensure the proper application.
Finally, it's important to note that condensation dripping from cold pipes can also contribute to basement water problems. Cover cold water pipes with foam pipe insulation to stop condensation.
You can also hire the professionals from our ServiceMaster family to inject an external waterproofing solution around the surface of your foundation if you are at a loss and would rather have the problem resolved quickly and without doing any dirty work! This waterproofing will seal up areas underground that normally allow water to seep into your basement.