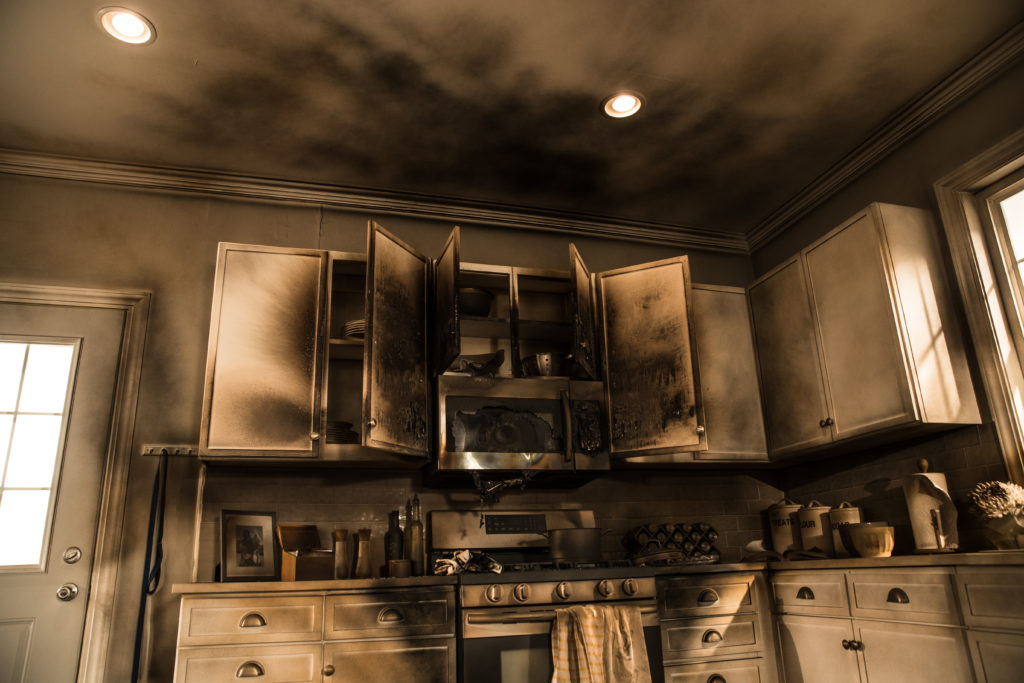 Visualize this scenario: You experience a fire in your kitchen. It's small and you're able to quickly extinguish it. But the horrible smoke odor is overpowering! You clean and you clean, but the smell won't go away. It seems to have permeated the whole house! So that's when homeowners in the Chicagoland area call the expert smoke damage restoration specialists at ServiceMaster By Simons. But why can't you get rid of that smoke smell?
All fires are different, with characteristics and obstacles that can try even the most experienced fire disaster restoration companies. These include the materials burned, the size of the fire, its strength, burn rate, and the floor plan of the building.
When a fire has enough combustible materials and oxygen, it becomes all-consuming. The more explosive the fuel supply, the more completely it incinerates materials. Products of Incomplete Combustion (PICs) are sometimes known as soot tags. These are deposits and what's left of materials that weren't burned up completely by fire. Several characteristics of soot impact the amount of it, how far it reached, and how concentrated it is.
How Heat Affects Smoke Damage Restoration
The hotter the fire, the faster materials burn. These fires also usually have a high oxygen level. Fire and smoke damage professionals allude to these conflagrations as "dry" fires. They consume materials almost totally and the severe heat changes a solid mass to energy—hot gasses. They alter materials into dry soot (primarily the element "carbon") that's easier to clean up than other fire deposits.
These PICs are thereafter cleaned up by a fire restoration tech using dry soot elimination methods, like vacuuming and scrubbing hard surfaces with natural rubber sponges.
Air Circulation Means Widespread Soot
Smoke and soot don't need an HVAC unit to move through a structure. Fires produce high vapor pressure that propels soot residue into areas that you may think of as sealed, such as inside a refrigerator.
As air flows, it distributes PICs and odor-saturated molecules. That's the reason cleaning and deodorizing also needs to be done away from the fire. As petroleum/synthetic-based sources burn, the soot particles follow the air into colder areas with low circulation and are able to concentrate. Some who have witnessed the aftermath of a fire believe that soot bonded itself to spider webs. That's how it looks! But actually, soot tags are chains of soot that have gathered together.
The Amount of Oxygen Affects Fire Consumption
Fires that are starved of oxygen, like in a closed room, start to subside. When this happens, a high percentage of PICs are generated. But those PICs are "oilier" and more difficult to clean up. If the burned material isn't a natural product, the quantity of PICs multiplies, causing an elevated intensity of soot. Fire remediation experts designate these as "wet fires."
Odors Also Vary
When materials burn, odors link up with oxygen molecules. Undeniably, PICs generate odors, but at times the smell is extremely intense, even when PICs can't be found.
For instance, if a fire started because a turkey was left in an oven for too long, the odor of burnt turkey could permeate a home, but there wouldn't be much soot, though the 16-pound bird is now a pile of ash. The reason for that is it was a protein fire and they're some of the most difficult to mitigate because their odors are inescapable and carry all over a home, even into closets and drawers!
ServiceMaster Restoration By Simons can get into and clean every nook and cranny of a fire-damaged home in the Chicagoland area. We ensure that smoke particles and soot are removed and will afterward clean and deodorize all surfaces. ServiceMaster Restoration By Simons has qualified technicians, high-tech specialized equipment, and the appropriate EPA products to provide outstanding cleaning and odor control.
About Us: ServiceMaster Restoration By Simons, is a SB100 Best of Small Business Award Winner 2021, Bronze Stevie® Award in the Female Entrepreneur of the Year category in the 18th annual Stevie Awards for Women in Business, recipient of the 2020 Better Business Bureau's Torch Award for Marketplace Ethics, and recipient of the 2020 Skokie Business of the Year Award, Honorable Mention Category. ServiceMaster Restoration By Simons (MBE/WBE) is a family operated, IICRC & OSHA Certified company serving Chicago, Oak Park, River Forest, and the North Shore. We provide commercial disaster restoration services including Water & Flood Damage Restoration, Fire & Smoke Damage Restoration, Mold Remediation and a wide range of interior specialty cleaning including COVID-19 Cleaning Services, Hoarder & Clutter Cleaning, Post-Construction Cleaning, Carpet & Upholstery Cleaning to residential and commercial customers. For more information, call 773-839-5542 or visit www.servicemasterbysimons.com or info@servicemaster-rbs.com