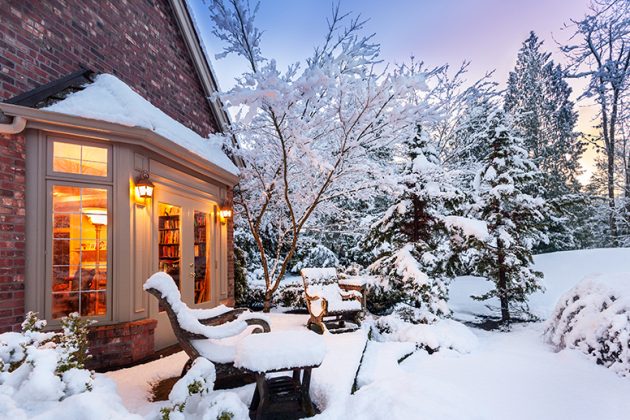 Fall has officially started in Chicagoland, bringing shorter days and colder weather. And while the leaves are changing colors and summer cookouts have turned into afternoons of apple picking, this also means that lower temperatures and inclement weather are on their way. As hard as it can be to face, it's time to start preparing for the winter and winterize your home. 
When it comes to emergency preparedness, Chicago families should prioritize staying one step ahead of inclement weather by ensuring their homes are ready for winter as soon as possible. While it might not feel "cold enough" yet (something we hear all the time from customers!), it's important to complete repairs and winterization measures that will increase the comfort of your family before the weather gets too cold, windy and snowy to get them done. Plus, winterizing your home now could save you money on your heating bills when the temperatures become frigid. 
We understand that homeowners may want to winterize their home, but find it confusing. It's a topic we often get questions about, usually in the form of "What should I do to winterize my home?" The good news is, the professionals here at ServiceMaster Restoration by Simons have seen it all — and when it comes to winterizing, we understand what works, what doesn't work, the must-do's and the nice-to-do's. Here are our top 10 hacks to winterizing your home to increase comfort and save more money: 
Close up your fireplace:
Before snow accumulates on the roof, check to see that your fireplace flue fully closes. You shouldn't be able to feel any cool air blowing in when the flue is closed. If it can't fully close, make sure you complete necessary repairs before the winter — or try installing glass doors around your fireplace to keep unwanted cold air out. 
Replace weather-stripping around doors:
Weather-stripping is worn down every year by inclement weather. Check that you cannot see any light coming in at the bottom, sides or top of doors that lead outside. If you can see light, you need to replace the weather-stripping — which is quite easy and affordable compared to the cost of your heating bill if hot air is escaping around your doors. 
Invest in heavier drapes and rugs:
Replacing light summer drapes and rugs for heavier alternatives is a good way to increase the insulation on your floors and windows. Opting for something heavier will keep the heat in a contained space better, negating the need for a blasting heater all the time.
Get an energy audit:
Many utilities companies will provide customers with free basic energy audits to identify where hot air is leaking from their home. They can also suggest improvements that will increase energy efficiency in the colder months. 
Identify areas where insulation can be improved:
Check your attic and crawl spaces for insulation deterioration (this is normal, natural and common). Make sure you add more insulation material before the cold hits if you notice any deterioration to properly winterize your home. 
Install a programmable thermostat:
Save money on your heating bill by investing in a newer, programmable thermostat that can automatically set the temperature lower when your family is not home. 
Lower your water heater temperature:
You can save money on hot water by lowering the water heater baseline temperature with little effect on your hot water supply. Most water heaters are set much higher than the recommended 120 degrees Fahrenheit. Check to see if yours is — and if so, drop the temperature settings to 120 degrees and save money and energy with no negative impacts on your hot water. 
Cover your water heater:
You may be losing money on the heat escaping from your hot water tank. Try buying a water heating blanket from your local hardware store and covering the tank with it to keep the heat in. 
Change furnace filters:
When your filters are dirty, your furnace has to work harder. Experts recommend that homeowners change their filters monthly when the furnace is in use. 
Add caulking around windows:
If the area around your windows has cracks, cold air can easily enter the home, while warm air can easily escape. Take some time this fall to check for cracks, and patch or replace the caulking if necessary.
As always, if you have any questions or concerns about completing any of the above guidelines, our professionals are standing by to help. We know it's not necessarily fun to think about the arrival of inclement weather, but a little bit of diligent preparation now can save you time, energy and stress later on. By following our top ten actionable recommendations to winterize your home this fall, you'll increase your family's comfort and save money on your heating bills this winter. 
About Us: Co-Authors RESTORE your complete guide to protecting your home as your most valuable asset from water and fire disasters  https://www.amazon.com/dp/1952779529. Recipient of 2022 award for Daily Herald Entrepreneurial Excellence. ServiceMaster Restoration By Simons, is a SB100 Best of Small Business Award Winner 2021, Bronze Stevie® Award in the Female Entrepreneur of the Year category in the 18th annual Stevie Awards for Women in Business, recipient of the 2020 Better Business Bureau's Torch Award for Marketplace Ethics, and recipient of the 2020 Skokie Business of the Year Award, Honorable Mention Category. ServiceMaster Restoration By Simons (MBE/WBE) is a family operated, IICRC & OSHA Certified company serving Chicago, Oak Park, River Forest, and the North Shore. We provide commercial disaster restoration services including Water & Flood Damage Restoration, Fire & Smoke Damage Restoration, Mold Remediation and a wide range of interior specialty cleaning including COVID-19 Cleaning Services, Hoarder & Clutter Cleaning, Post-Construction Cleaning, Carpet & Upholstery Cleaning to residential and commercial customers.