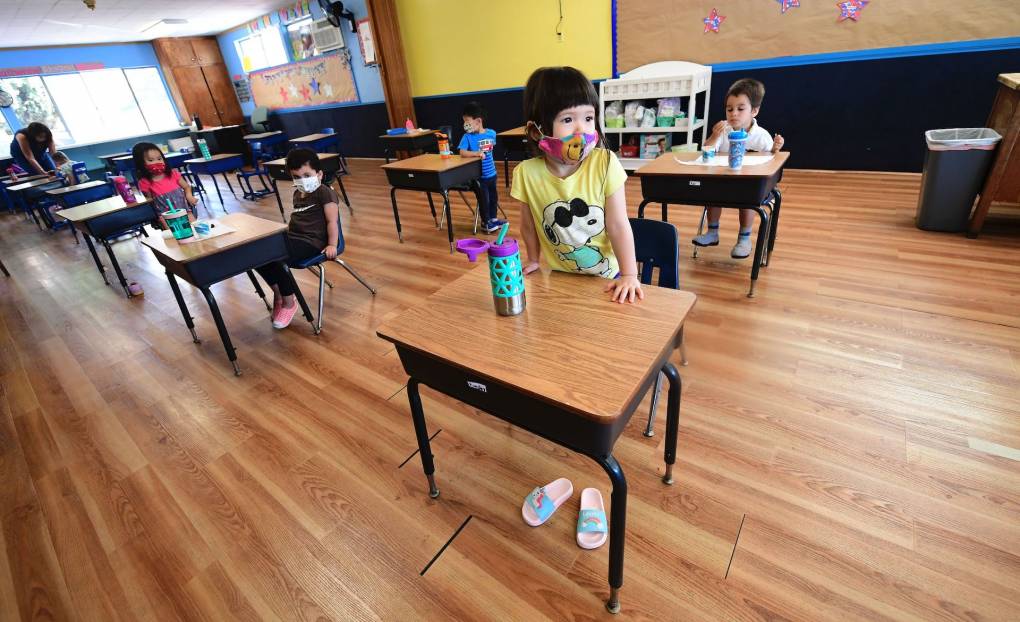 Cities and states across the country are grappling with how to reopen schools safely even as coronavirus cases continue to climb in many places. Already, we've seen reports of hundreds of kids getting COVID-19 at school in certain southern states and cities. In Chicago, Mayor Lori Lightfoot announced that schools will remain closed beginning September 8 through at least the end of the first quarter (November 6). With a deadly pandemic raging, officials and families alike are worried about how to keep kids safe at school during COVID-19. With lots of people in one indoor place, the fear is that reopening schools could lead to an increase in infection rates and deaths, although many issues influence the specific risks for any given school. Once schools do open, it'll be up to each family to evaluate the risks of sending their children back to school. If you do choose to, you'll want to make sure you're sending them back to school safely. Here are some ways to protect your kids against COVID-19 at school.
Precautions Children Can Take to Protect Against COVID-19 at School
Parents can take steps to help reduce the risk of their kids getting COVID-19 at school. Dr. Dyan Hes, a pediatrician in New York City, offered the following tips for parents: 
Have your child wear a mask to prevent them from getting COVID-19 at school – "If your child can tolerate wearing a mask, you should really have them go to school with a mask," she said. But she admitted that this may be difficult for young children especially. Parents should stock up on the washable variety, as children shouldn't wear the same dirty mask day after day, according to the American Academy of Pediatrics (AAP). 
Supply them with disinfectant wipes so they can disinfect against COVID-19 at school – "I really think that you should send your child to school with Clorox wipes or Wet Ones and teach them how they can clean their desk," she said. Unfortunately, these have been in short supply. But you can make your own using either bleach or alcohol. 
Use washable backpacks – Hes said it may be a good idea to wash your child's backpack every day because it's possible droplets from an infected individual could land on them.
Wash hands frequently – To ensure your kid doesn't get COVID-19 at school, make sure they know how to wash their hands correctly and frequently. Be sure they have hand sanitizer, as well: "I always say that the little kids — when they learn to wash their hands in school, sometimes they wash them so much that they get irritated and eczema, so checking your kids' skin to make sure there's no cracks from washing so frequently and moisturizing well, maybe putting Vaseline on their hands at night," Hes said. 
Precautions to Take When Children Return Home From School
Thankfully, it's rare that school age children are adversely affected by COVID-19. But if they get COVID-19 at school, the biggest concern is they might then carry it home and transmit it to parents, grandparents, or anyone who may have a suppressed immune system. "The priority is to keep a decontaminated home environment because that's where we worry about the spread to older individuals who are definitely going to be at risk for more severe disease than kids," said Dr. Sandra Kesh, Deputy Medical Director and Infectious Disease Specialist at Westmed Medical Group.
So, what actions should Chicagoland kids take one they get home to prevent spreading COVID-19 after school? Here are some suggestions:
Change clothes immediately so they don't spread COVID-19 they may have gotten at school. "When your kids come home from school, you should have them undress at the door and wash all their clothes as best as you can," Dr. Hes said. She also suggested leaving their shoes outside.

Any electronic devices they're carrying, like phones or tablets, should be wiped down with  disinfectant wipes each day. Keep them in protective cases so they can be easily cleaned. But be careful to read the directions on the cleaning supplies so you don't harm the device.

In case your kid was exposed to COVID-19 at school, have your kids remove whatever supplies they need for homework but leave backpacks in the car or at the door when they get home. Wash backpacks at least once a week and spray them with a disinfectant daily.

Any books or other supplies brought home for homework should be wiped down before being used.

If your kids take a lunchbox to school, be sure to give them a good wipe down or wash in the sink at the end of each day.
As kids go back to school, it's important to protect your family against COVID-19. If you're concerned that you may not be getting your home as clean or disinfected for your family as you would like it to be, let ServiceMaster Cleaning By Simons help you. We've been provided Specialty Cleaning Services for Chicago's homes and businesses for over 65 years. Additionally, ServiceMaster Cleaning By Simons utilizes CDC approved and EPA registered industrial-strength disinfectants with a broad spectrum kill claim for our Coronavirus Cleaning Service.
ServiceMaster Restoration By Simons is an MBE/WBE certified firm and family-run company serving Chicago, Oak Park/River Forest, and the North Shore.  ServiceMaster Restoration By Simons provides Disaster Restoration Services including  COVID-19 Cleaning Services, Water & Flood Damage Restoration, Fire & Smoke Damage Restoration,  Mold Remediation, and a wide range of interior specialty cleaning including Hoarder & Clutter Cleaning,  Post-Construction Cleaning,  Carpet Cleaning, and Upholstery Cleaning to residential and commercial customers. ServiceMaster Cleaning By Simons provides Specialty Cleaning Services For Chicago, Oak Park-River Forest, and the North Shore.  For more information, give us a call at 773-376-1110 or visit servicemasterbysimons.com.