How to Reduce Condensation in Your Home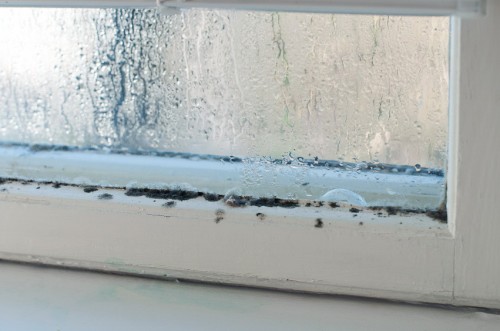 Have you ever noticed a thin layer of water droplets on the inside of your home's windows? In-home moisture problems caused by condensation are especially noticeable on the chilly spring days that break up the warmer weather, and while those droplets may seem innocent, they could mean that you have a major problem on your hands.  
Modern homes have many features that improve your energy efficiency, but they also stop natural air ventilation. If you have moisture inside the house, this air has no way to get outside. Water vapor occurs naturally from everyday living (showering, boiling water….and of course, breathing!), but when the humidity gets too high, you'll see water showing up on the inside of your windows.  Eventually, you may also notice the effects of in-home condensation via peeling wallpaper or other structural damage.
Here at ServiceMaster Restoration by Simons, our professionals frequently deal with in-home condensation problems. When a client approaches us with a short-term bout of moisture, we have a list of condensation-reducing tips and tricks ready to go:
1. Check the washer/dryer to make sure it is properly vented.  Up to two liters of vapor can be emitted into the air from one load of laundry.
2. When cooking, boiling water or taking a shower, ensure your kitchen or bathroom door is closed to prevent moisture from going into colder rooms where it can create condensation.
3. When possible, dry your clothes outside to prevent moisture build-up in the air. Leaving your laundry room windows open is a good alternative if you cannot move the clothes outside.
4. Avoid using portable gas bottles and paraffin heaters.
5. If you have potted plants that require watering, you might notice damp spots on the wallpaper behind them. If this occurs, try moving the plants outside or closer to the center of the room.
6. Be mindful of how full your wardrobe and cabinets are.  Overly filled cabinets trap and breed moisture. If the clothes in your drawers or closet seem damp or smell musty, try dispersing the volume of clothes over various storage spaces.
7. If there's a room in your home that you use more often than others, try opening a window when the weather is warm outside.  This will help ventilate the room.
8. If you have an extractor fan in your bathroom and/or kitchen, make sure it's turned on when you cook or shower.  
9. Make sure furniture is at least 50mm away from surrounding walls to ensure better air flow and ventilation in every room.
10. After you shower, you'll notice beads of moisture on the mirror or sink counter. Wipe down those surfaces so mold cannot form. This way you can avoid having to invest in mold cleanup services in the future. 
If none of these solutions work for your home or if your battle with in-home condensation and mold has been long-term, you may want to consider professional, permanent solutions.  For example, the installation of energy-efficient extractor fans can help remove extra moisture, while double glazing, loft insulation and draft proofing can reduce the amount of heat lost from a property. For further help combatting mold in your home, don't hesitate to call the professionals at ServiceMaster Restoration by Simons today!
ServiceMaster Restoration By Simons is a MBE/WBE certified minority and women-owned and family run company serving Chicago, Oak Park, River Forest, and the North Shore. The business provides disaster restoration services for damages caused by water, fire, flooding, mold remediation, and a wide range of interior specialty cleaning (hoarder/clutter, post construction, carpet cleaning & upholstery cleaning) to residential and commercial customers residing in Chicago, Oak Park, River Forest and the North Shore. For more information, give us a call at 773-376-1110 or visit servicemasterbysimons.com.