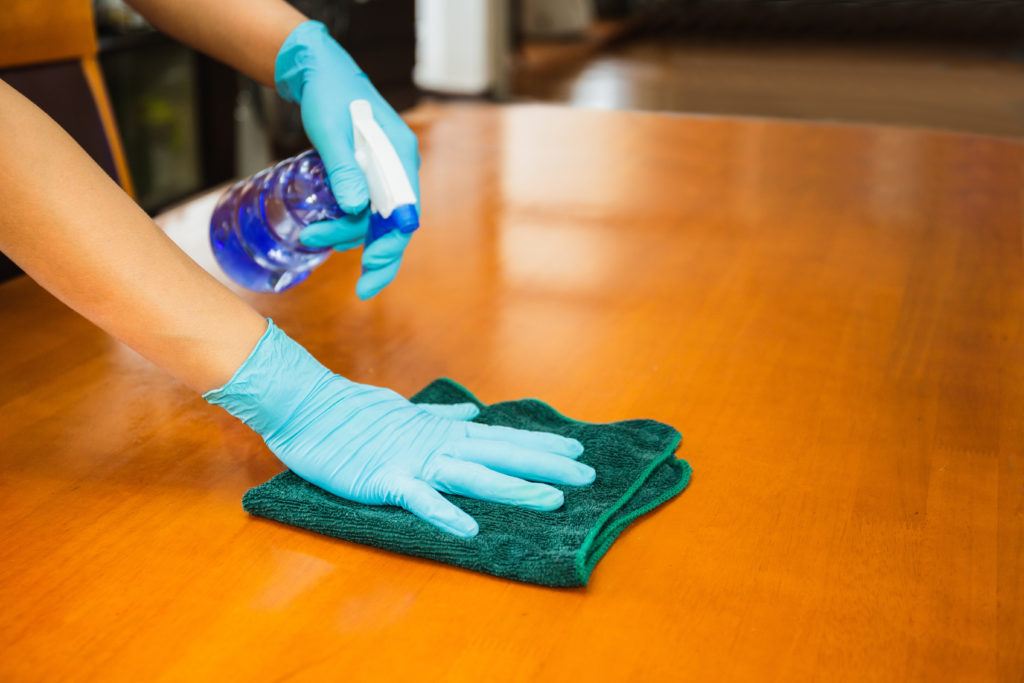 Natural and eco-friendly cleaners that don't harm people, animals or the environment have become important focusses for consumers worldwide. Consequently, many people are now choosing cleaning products that are categorized as green, non-toxic, or natural. While most of these products are acceptable for everyday cleaning, you should be aware that nearly all do not have the required disinfection abilities to kill harmful viruses and diseases like COVID-19.
Cleaners and Disinfectants—What's the Difference?
When your objective is to disinfect surfaces in your Chicagoland property against infectious diseases, the best way to discern which cleaners are also disinfectants is to verify the product has an EPA registration number on the label. If one does not exist, then it isn't a tested and registered disinfectant. It'll be safe to use the product to clean up dirt and grime, but it won't disinfect against viruses and disease.
What Does the EPA Recommend?
The EPA's task is to safeguard human and environmental health. Based in Washington, D.C., the EPA is responsible for establishing standards and laws that promote exactly that.
The EPA is focused on the elimination of contagious viruses and diseases and has developed a searchable database of disinfection products available to the public. These have been laboratory tested and are confirmed effective against the coronavirus and other infectious diseases. These disinfectants typically use harsh synthetic chemicals like quaternary ammonium to kill germs. Therefore, this list contains few green cleaners, with the exception of citric acid.
Some research has revealed that citric acid, an organic compound that occurs naturally in citrus fruits, has antibacterial and antimicrobial properties–enough to eliminate some types of bacteria, mold, and mildew. Nonetheless, it's primarily considered a cleaning agent or microbial at best. When it comes to disinfecting (killing) harmful viruses, most natural or "green" ingredients, such as citric acid, are not as effective as their EPA-registered counterparts. All except one.
Benefect is a "green" plant-based botanical disinfectant product, is EPA tested and proven 99.9% effective in killing the coronavirus without any risk to animal and human health or the environment. It's now an EPA List N registered disinfectant. The downsides are that it is very expensive and can be hard to get during the pandemic.
If Benefect is not available and you want to use a natural cleaner that has been tested by the EPA that may have a lower risk of causing asthma, irritation, hormonal disruption, or carcinogenic effects and pose the least threat among chemicals in their class, you can pick a product from the EPA's Safer Choice List. This list should not be confused with the EPA's List N of coronavirus-killing disinfectants. The Safer Choice is a list of products that are fine for routine cleaning but aren't disinfectants for coronaviruses.
Use Professionals to Clean COVID-19
If you're a home or business owner in the Chicagoland area and are interested in having your property cleaned and disinfected against COVID-19 or other contagious diseases, contact ServiceMaster By Simons Disinfection Services. We use only EPA List N registered NISUS DSV™ Disinfectant, Sanitizer, Virucide (10324-80-64405), an EPA hospital-grade disinfectant that fights 99.99% of bacteria, while also using cleanup protocols approved by the CDC. We'll clean your home or business to minimize the threat and boost your peace of mind.
About Us:
 ServiceMaster Restoration By Simons, is a 2020 recipient of the Better Business Bureau's Torch Award for Marketplace Ethics, and recipient of the 2020 Skokie Business of the Year Award, Honorable Mention Category. ServiceMaster Restoration By Simons (MBE/WBE) is a family operated, IICRC & OSHA Certified company serving Chicago, Oak Park, River Forest, and the North Shore. We provide commercial disaster restoration services including Water & Flood Damage Restoration, Fire & Smoke Damage Restoration, Mold Remediation and a wide range of interior specialty cleaning including COVID-19 Cleaning Services, Hoarder & Clutter Cleaning, Post-Construction Cleaning, Carpet & Upholstery Cleaning to residential and commercial customers. For more information, call 773-839-5542 or visit 
www.servicemasterbysimons.com
 or info@servicemaster-rbs.com