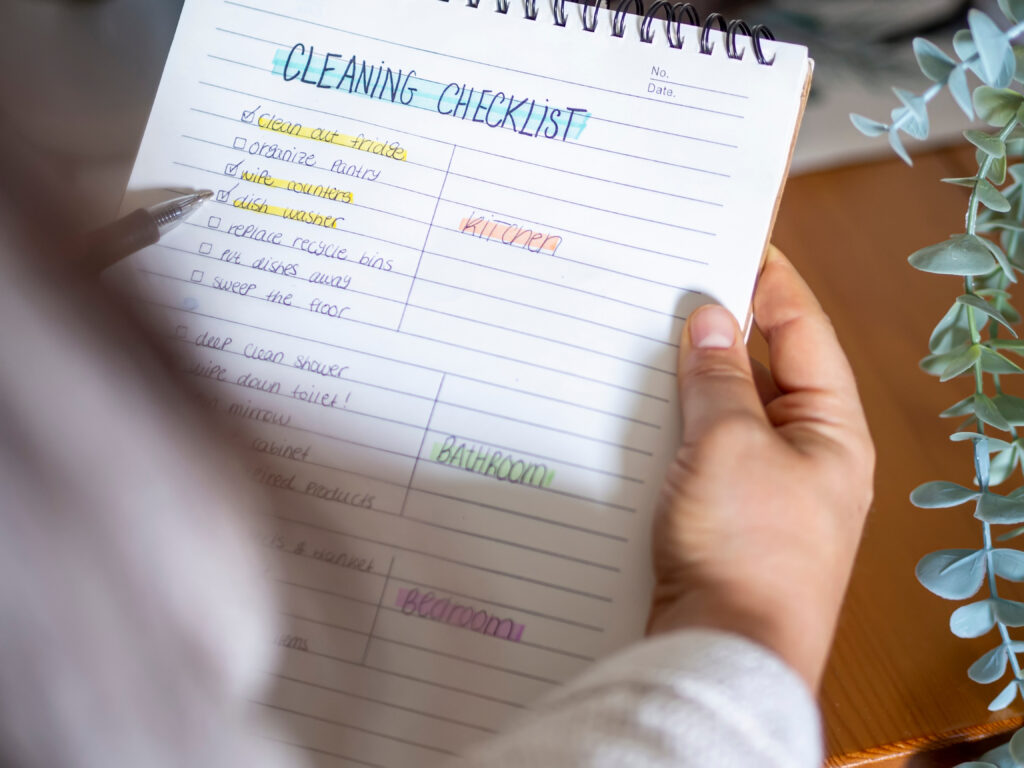 If you plan to have guests over for the holidays, our guess is you've got plenty on your plate. With decorating, shopping for gifts, and menu planning, the last thing you want to think about is cleaning the house. We at ServiceMaster By Simons have some tips to motivate you to begin:
Step 1: Organize a Team and Schedule
Start now! Create a calendar for daily tasks. It may seem too early, but time flies when there are so many things to get done.
Don't try to clean all at once.  Involve the whole family and tackle one or two items a day. Start with something that will remain clean until the day the guests arrive, such as windows.
Living on your own? A schedule will keep you on track.
Step 2: Declutter
Throw away clutter throughout your house.  Take a heavy duty garbage bag and go from room to room, drawer to drawer and get rid of the things you don't need or use. Here is a useful list we discovered  to help you decide what you don't need: 200 Things to Throw Away puts your excess items into perspective.
Step 3: Structure Cleaning
Clean the structure of your home first. Wipe down your windows and window trims, doors and door trims, and baseboards throughout the home. You may not notice the accumulation of dust now, however once you remove it, the home will not only appear cleaner, but you will also breathe better—and so will your guests.
If your walls are in need of a fresh coat of paint, but you have no time, wash them instead. Head to your favorite home improvement store and make sure to purchase a cleaning solution specifically for walls and a couple of flat head mops. This job is a little time consuming, so spread it out over two or three days.
Step 4: Furniture & Floor Cleaning
Vacuum your furniture—especially if you have pets. Many vacuum cleaners now have an attachment made specifically to tackle stubborn pet hair from your upholstery. Lint rollers or packing tape also work well for pet hair.
As you move closer to the day of your guests' arrival, you can begin to wipe down your hard surface furniture. Use a furniture polish to help keep the dust away for a longer period of time.
Begin the floor cleaning process with vacuuming. Be sure to lift up lighter pieces of furniture to clean underneath. Follow by mopping your hard surface floors. Avoid using cleaning products that leave behind a waxy film which builds over time and are difficult to remove.
Step 5: Call ServiceMaster By Simons
If all this seems impossible for you to complete during the busy season, we can get the job done for you in one day. It's the small details that refresh a home. And that is what ServiceMaster By Simons excels in. Call us soon before our schedule fills up. 773-376-1110
About Us: Co-Authors RESTORE your complete guide to protecting your home as your most valuable asset from water and fire disasters  https://www.amazon.com/dp/1952779529. Recipient of 2022 award for Daily Herald Entrepreneurial Excellence. ServiceMaster Restoration By Simons, is a SB100 Best of Small Business Award Winner 2021, Bronze Stevie® Award in the Female Entrepreneur of the Year category in the 18th annual Stevie Awards for Women in Business, recipient of the 2020 Better Business Bureau's Torch Award for Marketplace Ethics, and recipient of the 2020 Skokie Business of the Year Award, Honorable Mention Category. ServiceMaster Restoration By Simons (MBE/WBE) is a family operated, IICRC & OSHA Certified company serving Chicago, Oak Park, River Forest, and the North Shore. We provide commercial disaster restoration services including Water & Flood Damage Restoration, Fire & Smoke Damage Restoration, Mold Remediation and a wide range of interior specialty cleaning including COVID-19 Cleaning Services, Hoarder & Clutter Cleaning, Post-Construction Cleaning, Carpet & Upholstery Cleaning to residential and commercial customers.