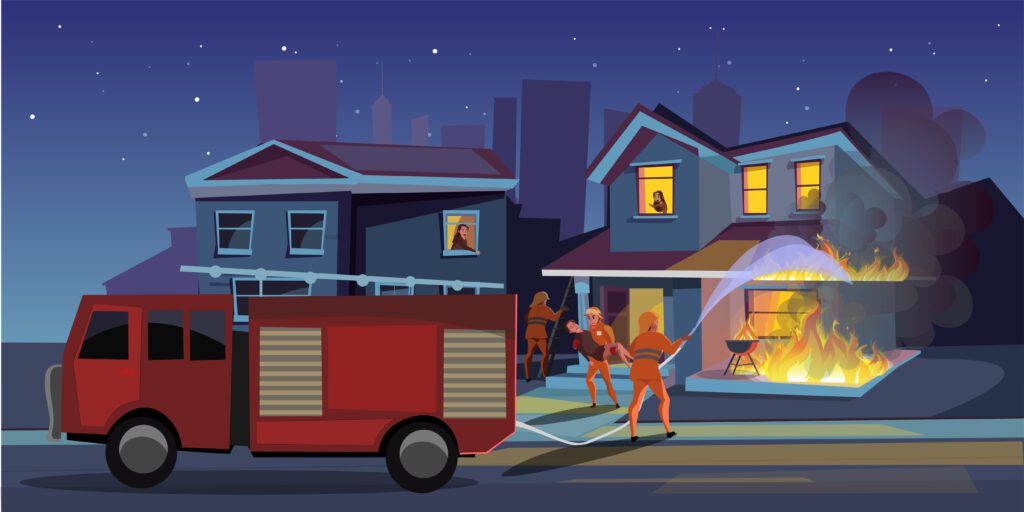 You may do your best to practice fire safety at your Chicago area home or business, but some things, like a neighbor's fire, you can't control.
Smoke damage and infiltration that occur from such a fire can become a stressful and expensive problem, even if the flames themselves don't reach your property.
In this article, we'll explore ways your property can suffer smoke damage from a neighbor's fire, the possible consequences, and how to lessen the risks.
Proximity and Wind
Of course the closer the fire is to your property, the greater the risk of smoke damage. But even if the fire is several lots away, strong winds can easily carry smoke and embers long distances to land on and enter your home or business.
Dangers From Smoke Damage
Soot and Residue: These fine particles can settle on surfaces, discoloring walls, ceilings, and furnishings, making them difficult to clean.
Odor: Unpleasant smoke odors can linger for a long time. They can make your property nearly unlivable until they're properly removed.
Health Risks: Smoke inhalation, especially for those with respiratory conditions, is a serious matter. It can aggravate asthma, bronchitis, and other breathing issues.
Structural Damage: Heavy smoke contains corrosive chemicals or particles that can weaken the structural integrity of your property. It can also affect electrical and HVAC systems.
How to Protect Your Property From Smoke and Fire Damage
Keep It Out: As long as there's smoke, keep your windows and doors shut.
Replace HVAC Filters: A clean filter for your unit will help to trap more smoke particles.
Create a Buffer Zone: Remove any dead bushes, dried-up vegetation, and flammable materials from around your Chicagoland property to discourage a fire from spreading to your property.
Build With Fire-Resistant Building Materials: Stucco, treated wood, fiber cement wall siding, or other approved materials can help save your property. This is particularly important when neighboring homes or businesses are within 30 feet.
Install Smoke Detectors: Your home or business should have multiple smoke detectors. Test them regularly to make sure they're working properly
Create an Emergency Plan: Then go over it with all family members or employees. Knowing how to evacuate your home or business quickly and safely can save lives.
Check Your Coverage: Go over your home or business owners' insurance policy to see if you're protected from all smoke and fire damage.
Immediate Actions to Take
Contact Emergency Services: If you see a fire, call 911 immediately.
Get Out: If a fire is near you or blowing your way, leave your property and don't return until the area has been declared safe.
Call Your Insurance Company: Initiate a claim as soon as your property has suffered smoke and/or fire damage.
Have Professionals Handle the Cleaning: Hire a certified smoke damage restoration company like Chicago's ServiceMaster By Simons, who can assess and then restore your property thoroughly. They'll clean all surfaces and contents, remove damaged materials, and eliminate odors.
Get Legal Advice
If a fire started due to negligence on the part of your neighbor, you might be able to legally recover the cost of repairing smoke damage. You'll want to consult with an attorney to explore your options.
The Importance of Expert Cleaning
Fire damage restoration is a highly specialized process that involves painstaking cleaning, repair, and recovery of a property that's been damaged by fire, smoke, and water resulting from firefighting efforts. Given the difficulty of this process, it's necessary to trust the job to a capable fire damage restoration firm like Chicago's ServiceMaster By Simons. We have the experience and equipment needed to ensure the safe and effective restoration of your home or business.
Choose a Trustworthy Company
ServiceMaster By Simons is a reputable disaster restoration company you can rely on. We've been in business for many years and take great pride in serving the expansive Chicago metropolitan area and its surrounding suburbs. Our company stands as the preferred choice in Chicagoland for both commercial and residential disaster restoration services. Our expertise includes Fire Damage Restoration, Water Damage Restoration, Mold Remediation, and Smoke Odor Removal. With a team of highly skilled professionals who are certified by the IICRC, we're equipped to handle insurance claims of any size. Call 773-376-1110 or contact us online.