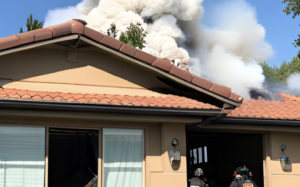 Chicago Residential Fire Damage Restoration Services
At ServiceMaster Restoration by Simons we specialize in residential fire damage restoration, providing comprehensive solutions to homeowners who have experienced the devastating effects of a fire. Our certified and experienced team is here to help you restore your home to its former condition.
With over 350,000 house fires occurring in the US every year, understanding the danger of fire damage and the process to clean and restore property that has been damaged by fire and smoke is essential.
Causes of Fire Damage
Cooking Equipment: Leading cause of house fires.
Home Heaters: Can ignite nearby flammable materials.
Smoking/Candles: Unattended candles and cigarettes.
Chemicals: Certain household chemicals can ignite under conditions.
Types of Damage
Fire Damage: Charring, blackening, and disintegration.
Water Damage: From firefighting efforts, leading to mold growth.
Smoke Damage: Discoloration, odor, rust, corrosion, and health hazards.
Need help dealing with fire damage in your home? We can help! Contact our fire damage restoration professionals today.
The Fire Damage Restoration Process
Fire damage restoration is a specialized process that involves the cleaning, repair, and restoration of a property that has been damaged by fire, smoke, and often accompanying water from firefighting efforts. As such, this should be handled by a fire damage restoration company with the expertise necessary to safely clean and restore your home.
At ServiceMaster Restoration by Simons we utilize ServiceMaster Restore's proprietary Water and Fire Damage Remediation equipment to make sure that your home or business is restored to pre-loss conditions.
Step 1: Emergency Response and Pre-Cleaning
With convenient locations in Chicago's City Center and our North Shore location in Skokie IL, we get out to your property quickly. Our emergency pre-cleaning process uses a combination of HEPA-filtered air purifiers and odor-eliminating machines to start the cleaning and restoration of your property.
Step 2: Fire Damage Assessment and Inspection
Our experts will conduct a thorough inspection to determine the extent of fire, smoke, and soot damage. This step is crucial in developing a tailored restoration plan.
Step 3: Immediate Board-Up and Roof-Tarp Service
To prevent further damage, we offer immediate services to board up missing windows and walls and place tarps on damaged roofs.
Step 4: Water Removal and Drying (if water damage is present)
If firefighting efforts have caused water damage, our team will extract the water and dry the affected areas using state-of-the-art equipment.
Step 5: Smoke and Soot Removal
Our specialized techniques for smoke and soot cleanup ensure complete removal of smoke and soot from all surfaces, including walls, ceilings, and floors.
Step 6: Cleaning and Sanitizing
We provide professional cleaning for all restorable items and structures, along with odor removal and air scrubbing.
Step 7: Restoration
The final step involves restoring your home to its pre-fire condition, including minor repairs, painting, carpet replacement, or even major renovations if necessary.
Fire Damage Cleanup Services for Chicagoland
Restoration and cleanup after a fire is an extensive process. You can trust the fire damage restoration experts at ServiceMaster Restoration by Simons to carefully get your home back to its pre-damage condition as fast as possible.
Emergency Fire Damage Restoration
Fire damage evaluation.
Emergency board-up and tarping services.
Water damage cleanup, drying, and restoration.
Smoke and soot cleaning.
Smoke odor removal.
Residential property reconstruction.
Structural Cleaning
Soot cleaning and sponging of walls and ceilings, including crown molding and baseboards.
Ensuring HVAC duct systems are free of soot and odors.
Content Cleaning
Pack Out Services
Collecting and packing out items that cannot be restored.
Insurance Considerations
Most property insurance covers 100% of your fire damage cost, but you're responsible for paying a set deductible. Your agent is your best resource for coverage information, and our staff can help you navigate the process.
Fire Damage Restoration Cost
The cost of residential fire damage restoration in Chicago and surrounding areas can range from $1,000 and $30,000. These numbers represent averages. Fire and smoke damage can range in intensity and level of damage to your property.
Understanding the cost of fire damage restoration is vital. We provide transparent pricing and work with major insurance carriers to ease the process.
Can You Provide An Estimate For A Fire & Smoke Damage Restoration Project Over The Phone?
It is virtually impossible to provide an estimate over the phone and you should be weary of any fire damage company that offers to do so. A ServiceMaster Restoration By Simons project manager needs to inspect the premises visually, take measurements and assess the level and intensity of the fire and smoke damage.
Why Choose ServiceMaster Restoration by Simons

65+ years of mold cleanup and removal experience
24/7 emergency fire damage restoration services
Free consultation and estimate
Woman-owned and family-operated
Fully licensed, insured and IICRC-Certified
Consistent exceptional results for fire damage restoration and fire cleanup services
Committed to customer satisfaction
Highest standards of work for every project
Let us help you handle the unexpected. For fire damage restoration in Chicago, you want the best. At ServiceMaster Restoration by Simons, we provide soot cleanup, smoke odor removal, fire damage restoration, and fire damage cleanup services. We are here to make this process as painless as possible. We clean and restore your structure and content so it feels like your home again.
Choose ServiceMaster Restoration by Simons. Get in touch to get a free fire damage restoration and cleanup quote.
Contact Us Today