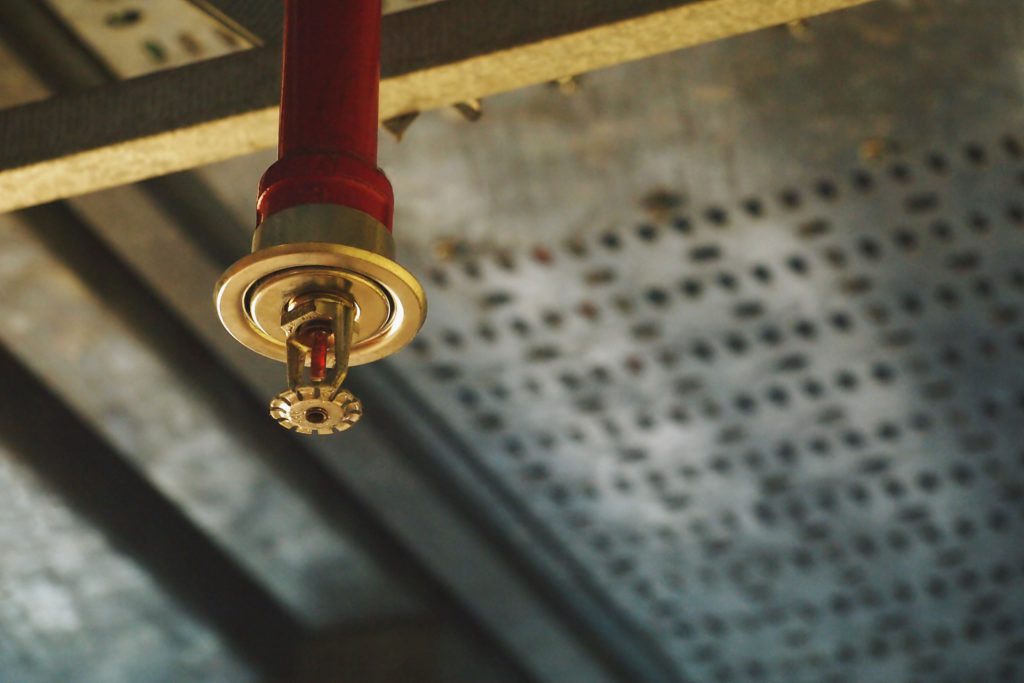 There's no denying a fire could cause terrible damage to your Chicagoland commercial property. And without a way to extinguish the flames quickly, your employees and customers could be critically injured or killed. That's why installing a commercial fire sprinkler system is so important.
According to the National Fire Protection Association (NFPA), when sprinklers are present, the chances of dying in a fire are diminished by 80 percent and the typical property loss due to fire is reduced by 50 to 66 percent, compared to fires where sprinklers do not exist.
But although there's undisputable evidence that sprinklers are a necessary line of defense against fires, many myths still live on about the way sprinklers truthfully work. So, lets touch on 4 myths surrounding commercial fire sprinkler systems and the reasons they're wrong.
Myth 1: Water Damage From Fire Sprinklers Cost More Than Fire Damage
FACT:  Sprinkler systems are more economical when contrasted to the damage caused by other firefighting efforts. Since sprinklers can keep a fire limited to one room rather than allowing flames and smoke to spread through a building, most fire damage cleaning is confined to one area. Furthermore, water damage caused by fire hoses usually costs more to restore; a sprinkler discharges only 8-24 gallons of water per minute, but a fire hose releases 50-125 gallons per minute.
Myth 2: All Sprinkler Heads Activate During a Fire
FACT: Sprinkler heads are constructed to respond to temperatures only above 155 °F. A temperature-sensitive glass bulb with a liquid or metal alloy inside keeps the fire sprinkler head in position. The bulb directs pressure to a pipe cap, stopping water from discharging through the system. So, only the sprinkler heads close to the fire will trigger, leaving unaffected areas dry.
Myth 3: Sprinklers Are Too Sensitive
FACT: Although sprinkler systems are sensitive to fire, that doesn't mean they'll be touched off by someone burning their lunch or smoking a cigarette. Only 1 in 16 million sprinkler heads activate accidentally, so their benefits far outweigh any extremely minimal risks. And the most common reason why a sprinkler fails to operate is that the system was shut off at some point before the fire.
Myth 4: Smoke Alarms Set Off Sprinkler Systems
FACT: Fire sprinkler systems and smoke alarms operate independently. Smoke alarms perceive smoke particles which cause them to sound a warning, which is very important because you need a warning before a fire has had time to spread too far. But fire sprinkler heads are only heat activated. One won't set off the other.
As a Chicagoland business owner, safety is required to keep your operations running smoothly. To help guarantee your company will be more secure from fire damage, it's a sound idea to install commercial fire sprinklers and affix fire extinguishers throughout your establishment.
But if the unexpected does occur, help is nearby. At ServiceMaster Restoration By Simons, we're both fire damage and water damage clean up professionals. We offer 24-Hour Emergency Recovery Services and are dedicated to getting your business back up and running as quickly as possible.
About Us: ServiceMaster Restoration By Simons, is a Bronze Stevie® Award in the Female Entrepreneur of the Year category in the 18th annual Stevie Awards for Women in Business, recipient of the 2020 Better Business Bureau's Torch Award for Marketplace Ethics, and recipient of the 2020 Skokie Business of the Year Award, Honorable Mention Category. ServiceMaster Restoration By Simons (MBE/WBE) is a family operated, IICRC & OSHA Certified company serving Chicago, Oak Park, River Forest, and the North Shore. We provide commercial disaster restoration services including Water & Flood Damage Restoration, Fire & Smoke Damage Restoration, Mold Remediation and a wide range of interior specialty cleaning including COVID-19 Cleaning Services, Hoarder & Clutter Cleaning, Post-Construction Cleaning, Carpet & Upholstery Cleaning to residential and commercial customers. For more information, call 773-839-5542 or visit www.servicemasterbysimons.com or info@servicemaster-rbs.com