Commercial Fire Damage 101: What to do if my medical facility, hospital or nursing home experiences a fire?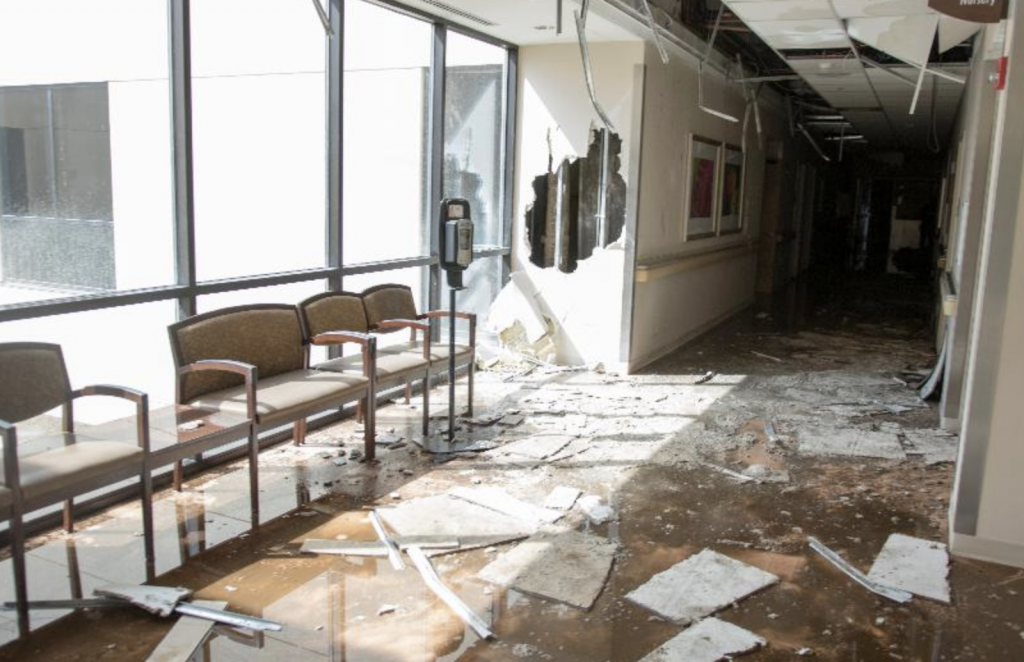 Damaging fires can, unfortunately, happen anywhere, and medical facilities like hospitals and nursing homes are no exception. In fact, according to the latest data available, there was an average of 5,700 medical facility fires reported annually in the United States. One-fifth of those fires broke out in hospitals specifically, totaling to about $5 million in property loss each year. 
Dealing with an emergency like this is extremely stressful and often unplanned for. Fortunately, ServiceMaster Restoration By Simons is equipped to handle the aftermath of incidents like this in both residential and commercial properties like medical facilities.  
What do I do if there's a fire in my hospital?
Act immediately but stay calm. Alert those around you and leave the building immediately. 

When everyone is evacuating the building, make sure everyone stays low in case of smoke or fumes. 

Do not attempt to extinguish a fire unless you are trained to do so. 

Call the fire department as soon as you safely have the opportunity to do so. 
What should I do after the fire department leaves?
Once the fire is extinguished and the dust settles, call a restoration company immediately to address the damage. Only those who are equipped to handle the water, smoke and fire damage your facility has suffered should be entering the building and handling the situation. 
Why should I choose ServiceMaster Restoration By Simons? 
We recognize that buildings in Chicago's Gold Coast and Downtown have guidelines that set them apart from other properties in the city.  Occasionally, there are more than one insurance policy involved. It takes an experienced and knowledgeable company like ours to know how to navigate these situations.
We'll work closely with the property manager, the facility manager as well as the various adjusters to make sure that the job is done right.  We understand that your facility needs to be cared for and respected during this difficult time. We pride ourselves on limiting your business interruption. When possible, we will work around your hours of operation so that the day-to-day routine of your facility is not disrupted further. 
What steps do we take to handle fire damage restoration? 
ServiceMaster Restoration By Simons provides Structural Cleaning and Content Cleaning for Chicago & Suburban properties that have been affected by Smoke or Fire Damage. The following is a brief description of those services.
     Structural Cleaning Services
Structural Cleaning involves the cleaning of the property itself. This includes soot sponging of walls & ceilings, including crown molding and baseboards.

In some cases, using a soft detergent to clean walls & ceilings.

Cleaning of floors, doors, and windows.

Cleaning of all flat surfaces including countertops and windowsills.

Cleaning of all ventilation and duct systems for HVAC.
      Content Cleaning Services
Cleaning of all soft goods including garments, drapes, bedding, carpet & upholstery.

Cleaning of all electronics, appliances

Drying and restoration of documents

Art Restoration

Cleaning of bookshelves, shelving, furnishings and light fixtures
What services do we provide?
Fire & Smoke Damage Restoration for Home-owners

Fire & Smoke Damage Restoration for Business-owners

Fire & Smoke Damage Restoration for Places of Worship

Fire & Smoke Damage Restoration for Educational Institutions

Fire & Smoke Damage Restoration for Multi-Family Properties

Fire & Smoke Damage Restoration for Manufacturing Facilities
What equipment do we use?
Air Scrubbers: Air scrubbers use High-Efficiency Particulate Air (HEPA) filtration to remove these particles from the air, enhancing the efficiency for cleaning and clearing the air for safe breathing. Please do not move or turn off this equipment.
Thermal Fogging: This process neutralizes odor, using a strong deodorizer that penetrates everywhere the smoke traveled and will require the removal of pets, plants and humans occupants for a short period of time.
Ozone: Ozone is an oxidizing agent produced by a portable ozone generator. This process will require the removal of pets, plants and human occupants for a short period of time.
OdorKlenz Technology: This environmentally friendly deodorizing process removes odors and particulates using OdorKlenz air cartridges in traditional air scrubbers. Safe for people, pets and plants.
How much will it cost?
The costs of restoration depend on the insurance provider you have. Fortunately though, as a QRV or Quality Restoration Vendor, ServiceMaster Restoration By Simons is part of the elite group of national ServiceMaster franchises chosen to take part in the national contract agreements with most major insurance companies. Some of the insurance companies we work directly with include State Farm, Allstate, Liberty Mutual, Hanover, Chubb, Asco, Progressive, Travelers, USAA, Farmers, Nationwide, AIC, Zurich, American Family, and Erie, among others. That means that we prescribe to the strict guidelines and to the required estimating software administered by these insurance companies and provide a direct pipeline to your insurance company. It also means that you don't have to be the middle person in the process. We work and communicate directly with your insurance provider to ensure your property is correctly restored after water damage, bringing your property back to its pre-loss conditions.