Fire Damage Restoration Fulton Market – Fire Damage Cleanup – Smoke Odor Removal – Content Cleaning – ServiceMaster Restoration By Simons Chicago
ServiceMaster Restoration By Simons, Chicago's Trusted Name In Fire Damage Cleaning & Restoration, Provides Smoke Odor Removal, Soot Cleaning, and Content Cleaning Services For Commercial & Residential Properties In Chicago's Fulton Market Neighborhood.
Fulton Market Fire Damage Restoration & Smoke Odor Removal
Chicago's "Industry Chic" vibe is strongest in the Fulton Market neighborhood. This major warehouse and meatpacking district flanking the river is still the go-to place to find large mixed-use buildings for businesses, artisans, and top restaurants. Stunning views of the West Loop are visible here, making the neighborhood a highly desirable area for new construction high-rise condos for working professionals.  More than ever, the Fulton Market needs Fire Damage Restoration and Smoke Odor Removal Services.
Call ServiceMaster Restoration By Simons
With so many expansive buildings close together, Fire & Smoke Damage can cause a serious hazard in an area like Fulton Market. Some warehouses are over a century old, and with such large buildings, fire can spread quickly and cause extensive damage. ServiceMaster Restoration By Simons, a member of the Restoration Industry Association (RIA), has professionals who have the know-how to handle these types of fire damage restoration projects to minimize downtime at your business facility.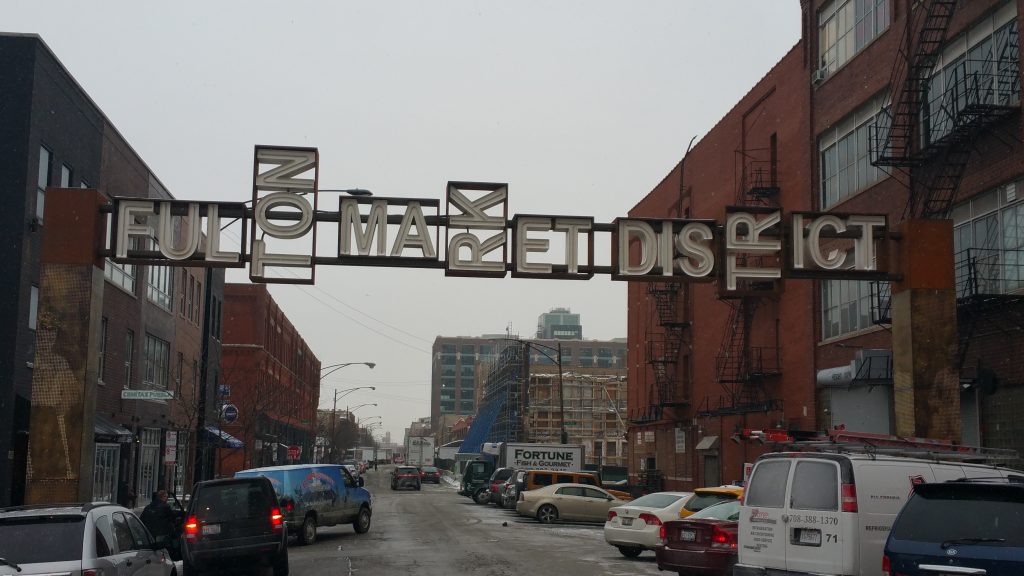 ServiceMaster Restoration By Simons Is Here To Clean It Up FAST!
In some cases, these enormous warehouses may not have on-site management or fire protection methods in place. However, this is neither the time nor place for untrained and non-certified individuals to attempt Fire Damage Restoration in Fulton Market. Buildings can be compromised, and working without the right equipment and training can be unsafe, cause more damage than good, and slow the restoration process. ServiceMaster Restoration By Simons can be on the scene quickly, any time of the day or night. Our trained Fire Damage Restoration Technicians will assess the damage and create a plan for restoration to get the building as close as possible to its pre-loss state.
Environmental safety is also a concern we can address. The effects of smoke, soot, and runoff of chemicals produced by firefighting efforts need to be minimized quickly. ServiceMaster Restoration By Simons has the proper training and methods to dispose of hazardous and cumbersome materials in accordance with city and state guidelines. We have the proper tools, required permits, and highly trained staff to perform fire restoration correctly, thoroughly, and efficiently.
Don't trust your Fulton Market Fire Damage Restoration to anyone else. If your property has experienced fire damage, call ServiceMaster Restoration By Simons today at 773-376-1110.  We'll begin restoring your Fulton Market property. Or contact us here for a consultation.