Hoarder Cleaning – Clutter Cleaning – Avondale Chicago – ServiceMaster Restoration By Simons
ServiceMaster Restoration By Simons is Avondale's Trusted Name in Hoarder Cleaning & Clutter Cleaning
Hoarder Cleanup in Avondale Chicago
What starts out as a cluttered home can turn into an outright disaster when collecting habits become compulsive and overwhelming. If you have a loved one who has a home filled with too many items due to hoarding, contact the professionals at ServiceMaster Restoration By Simons, an IICRC Certified Company, for Hoarder Cleaning & Clutter Cleaning services in the Avondale neighborhood of Chicago.
Avondale's boundaries lie between Diversey to Addison and Pulaski Road to Western Avenue.
It's tough to deal with a loved one who struggles with a hoarding disorder. In trying to help them live in a clean environment, you can be under a great amount of stress but may often feel like there's nothing you can do. Those same feelings of hopelessness can apply if you're the person struggling with a hoarding situation yourself.
Instead of trying to tackle the daunting process of cleaning the entire home on your own, let us work with you side-by-side to help you or your loved one restore the home to a healthier condition. We have extensive experience working with Chicago area families and Hoarder Cleaning & Clutter Cleaning needs to create a healthy living environment for them and their loved ones.
We provide a thorough Hoarder Cleaning & Clutter Cleanup in Avondale which includes:
The transportation, cleaning, and storing of furniture and appliances
A thorough top-down cleaning of your residence including bathrooms and kitchens
Painting services on request
Repair and remodeling services on request
The transportation of no longer needed items to designated charities or resale shops
You may also require some of our award-winning cleaning services including: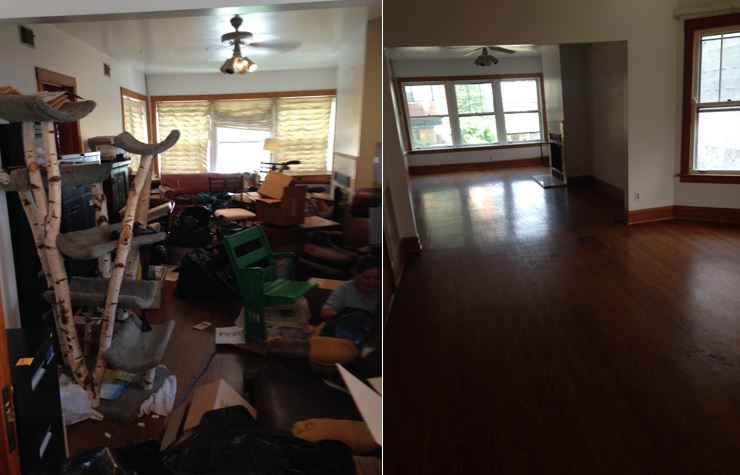 We'll keep you and your loved one's needs in mind and make the process run as smoothly as possible. We understand the difficulty of your situation and we are prepared to do everything we can to provide a clean slate and a fresh start.
Contact ServiceMaster Restoration By Simons, a proud member of the Restoration Industry Association (RIA) today at 773-376-1110 to learn more about how Hoarder Cleaning in Avondale and we can help you or schedule an appointment.
We also provide Hoarder & Clutter Cleaning services to Avondale's adjacent neighborhoods including Logan Square, Roscoe Village, Irving Park, The Villa, and North Center.