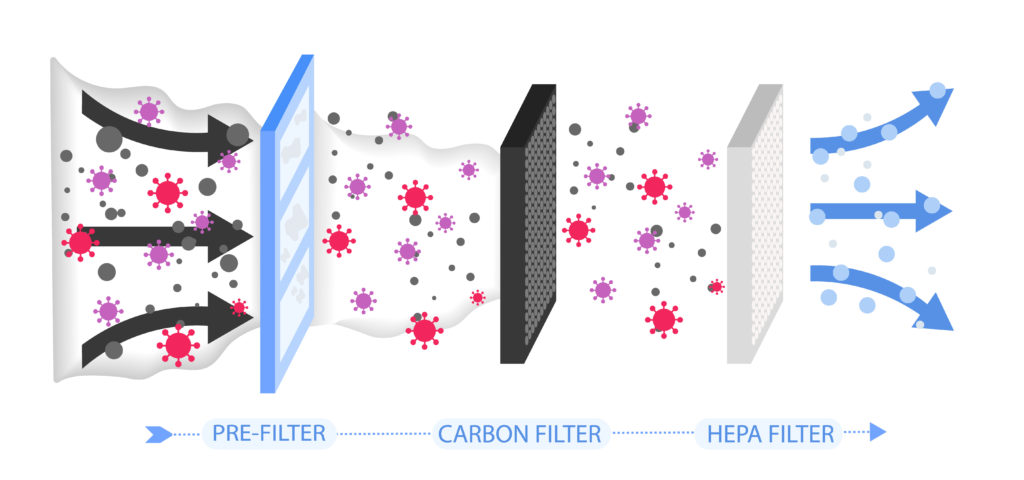 During World War II, the Atomic Energy Commission needed a filter that would remove and trap radio-active dust particles that would pose a health hazard to scientists working on the Manhattan Project, the classified U.S. government venture that developed the atomic bomb. That's when and why the HEPA (High Efficiency Particulate Air) filter was created.
The HEPA filter was specifically designed to protect the human respiratory system. Because it's made of ultra-fine, glass-fiber materials, it captures microscopic particles that can pass through other filters easily. It will filter out 99.97% of the 0.3-micron particles in the air. Particles that size are nearly 300 times smaller than the diameter of a human hair and 25 to 50 times tinier than the human eye can see. But to a HEPA filter, catching a one-micron particle (1/1,000,000 of a meter) is comparable to stopping a cotton ball with a door screen.
HEPA filters are viewed as the highest form of air filtration. Hospitals, laboratories, and even NASA spend thousands to millions of dollars to create contamination free environments termed clean rooms that aid in eliminating nearly all foreign elements, infectious agents, heavy metal particles, and other undesirable impurities. For those reasons and more, HEPA filters are extensively used.
We at ServiceMaster Restoration By Simons regularly use air scrubbers that employ HEPA filters to aid in removing contaminants in the air of a structure. These powerful, high performance, heavy-duty units are completely safe air purifying devices. 
Several times each hour, an air scrubber sucks in contaminated and dusty air from a space, draws it through several filters, including a HEPA filter, and then pumps out fresh air that's free of dust, chemicals and odors. The HEPA filter captures small particles such as mold, bacteria, asbestos, lead, dust, and many other floating contaminants. Air scrubbers continuously scour the air and provide a clean, healthy and productive environment. That's why ServiceMaster Restoration By Simons utilizes them on jobs such as:

Don't confuse heavy duty air scrubbers with simple air purifiers. Purifiers are intended to be used inside a home or business when it's occupied. So, they're engineered to run quietly and to fit in with their surroundings. Although some contain HEPA or other high efficiency filters, they are much weaker than air scrubbers and are only effective in small areas.
Having over 20 years of experience and the right equipment goes a long way towards getting a job completed quickly and thoroughly. ServiceMaster Restoration By Simons prides itself on possessing both. If your Chicago area home or business suffers a disaster, our professional team of certified and experienced industry experts will diagnose your repair needs, explore your best options, and work with you to design the best possible solution to resolve your property recovery issues.
About Us: ServiceMaster Restoration By Simons, is a 2020 recipient of the Better Business Bureau's Torch Award for Marketplace Ethics, and recipient of the 2020 Skokie Business of the Year Award, Honorable Mention Category. ServiceMaster Restoration By Simons (MBE/WBE) is a family operated, IICRC & OSHA Certified company serving Chicago, Oak Park, River Forest, and the North Shore. We provide commercial disaster restoration services including Water & Flood Damage Restoration, Fire & Smoke Damage Restoration, Mold Remediation and a wide range of interior specialty cleaning including COVID-19 Cleaning Services, Hoarder & Clutter Cleaning, Post-Construction Cleaning, Carpet & Upholstery Cleaning to residential and commercial customers. For more information, call 773-839-5542 or visit www.servicemasterbysimons.com or info@servicemaster-rbs.com