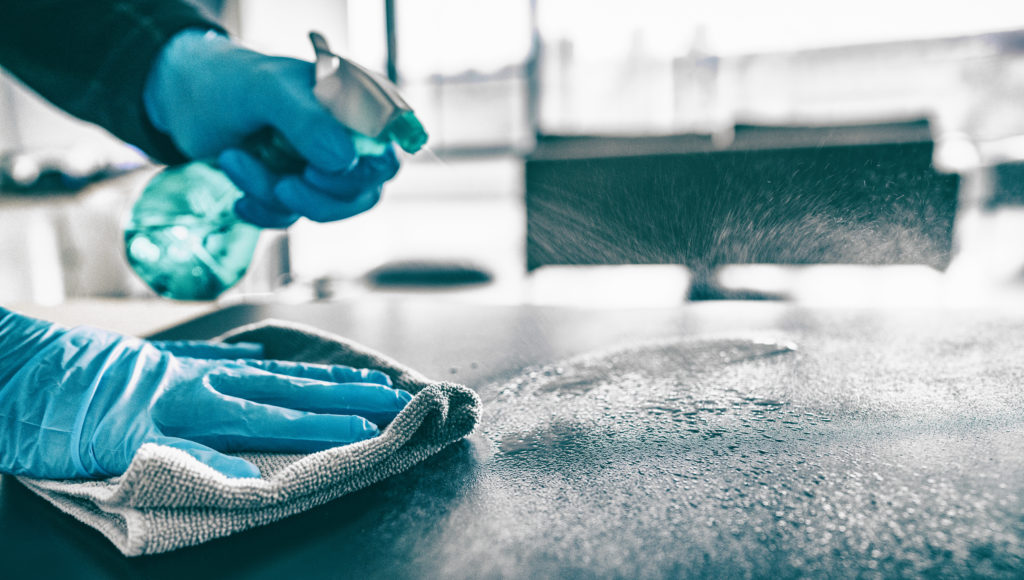 Since school has started back up again, here's a pop quiz for you: Which one of the following statements describes "dwell time"?
The time cargo stays in a terminal's in-transit storage area pending shipment.
The period that something therapeutic or diagnostic remains inside a patient's body.
The time given after a military deployment to "recover".
D. How long a disinfectant or cleaner must remain wet on a surface to effectively kill germs.
Trick question! They're all descriptions of dwell time. But the answer we'll be talking about in this article is D. That's the description Chicagoland's ServiceMaster Restoration By Simons pays special attention to, especially in this time of COVID-19 and its variants. This is an EPA specified time period that's essential for a disinfectant to do its job, usually around 10 minutes, to ensure compliance. It's not always listed as "dwell time". Sometimes other phrases such as "contact time", or "must remain wet for" are used, but they basically mean the same thing.
By the way, just because you're required to wait a certain period of time for one product to do its thing doesn't mean that's how long another product needs to work. Dwell time is product specific. All disinfectants are tested and labeled for the specific amount of time they must be in contact with a surface to kill microbes. This is very important, especially when disinfecting due to the Coronavirus.
(On a side note when cleaning floors, dwell time will not only disinfect, but can also save you a lot of work. By allowing the cleaner time to do its job, it loosens the soil, making mop up easier and more effective.)
For best results, we at ServiceMaster Restoration By Simons recommend using a three-step cleaning procedure to help prevent the spread of disease-causing pathogens:
Step one: Clean and remove soils from surfaces by using a cleaning solution with a microfiber cloth. This will help in removing possible microbial hiding places.
Step two: Apply a disinfectant to hard surfaces while adhering to the manufacturer's recommendations concerning dilution, safety, and dwell time.
Step three: Once you've waited the recommended dwell time, remove the solution with a wet/dry vacuum or microfiber cloth.
Unfortunately, we frequently work under the principle that time is money, so we may tend to hurry things along. But this is a part of a cleaning job that's too important to ignore. So that you don't experience the equivalent of watching paint dry, use your time wisely while waiting for the disinfectant or cleaner to do its thing by staying busy with other jobs that need to be done. But be sure to use a timer so that you don't allow too much time to pass and the disinfectant dries up. If you do, you'll have to reapply the solution and wait again.
For serious and/or widespread cases of COVID-19 or other diseases in your Chicagoland home or workplace, call for help! The disinfectant & fogging methods we at ServiceMaster Restoration By Simons  use are safe and extremely effective. We use NISUS DSV™ Disinfectant, Sanitizer, Virucide (10324-80-64405), an EPA hospital-grade disinfectant, that fights 99.99% of bacteria so that whether you're a business or homeowner we can restore your peace of mind.
If you have any questions about our procedures or to schedule an appointment, give us a call at 773-985-5756.
About Us: ServiceMaster Restoration By Simons, is a 2020 recipient of the Better Business Bureau's Torch Award for Marketplace Ethics, and recipient of the 2020 Skokie Business of the Year Award, Honorable Mention Category. ServiceMaster Restoration By Simons (MBE/WBE) is a family operated, IICRC & OSHA Certified company serving Chicago, Oak Park, River Forest, and the North Shore. We provide commercial disaster restoration services including Water & Flood Damage Restoration, Fire & Smoke Damage Restoration, Mold Remediation and a wide range of interior specialty cleaning including COVID-19 Cleaning Services, Hoarder & Clutter Cleaning, Post-Construction Cleaning, Carpet & Upholstery Cleaning to residential and commercial customers. For more information, call 773-839-5542 or visit www.servicemasterbysimons.com or info@servicemaster-rbs.com