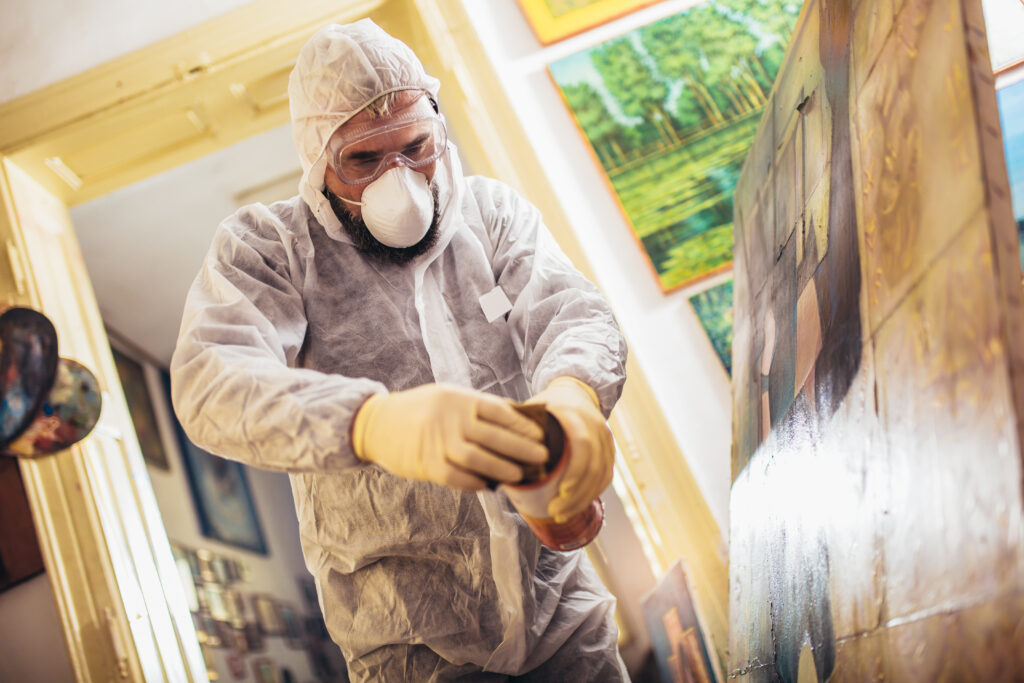 After the last flames of a fire have been snuffed out or water damage from flooding or a burst pipe has been repaired in your Chicagoland home or business and you've called ServiceMaster By Simons, what happens to your damaged treasured possessions, irreplaceable family keepsakes, or retail inventory? Are they forever ruined and unsalvageable?
In the past, that may have been the case. But we employ an extensive contents restoration system that's devised to return your possessions and property to their pre-damaged condition, whether they were damaged by fire, smoke, water, or mold – even objects that were once thought to be unrecoverable!
First, our specially skilled staff will cautiously pack up your damaged property, handling them with care, before moving them to our protected warehouse for cleaning, deodorizing, and storage. Privacy and discretion are always preserved as the content restoration work proceeds.
After an expert examination of each of your damaged items, we'll determine which type of cleaning is most appropriate for each piece. It'll be contingent on the item's composition, framework, sturdiness, and the type of damage it suffered. Once that's determined, we'll employ one or more of the following procedures and/or equipment:
Drying chambers
Ultrasonic cleaning
Laundering/dry cleaning
Spray and wipe
Heat agitated immersion cleaning
Odor Removal (Using Ozone and Hydroxyl Methods)
Deodorization
These methods efficiently clean, dry and deodorize even problematic items like china, silver, brass, delicate figurines, ceramics, electronics, mini-blinds, chandeliers, plastics, and stuffed toys. Ultrasonic machines effortlessly eliminate smoke residues, mold, water damage, and rust.
ServiceMaster By Simons utilizes assembly-line contents cleaning procedures for any disaster restoration job. Once your items are cleaned, we carefully wrap them up in bubble wrap and paper then cautiously pack them in boxes and warehouse them until your home or business has been restored when they can then be returned.
How Do Ultrasonic Machines Work?
Ultrasonic machines carefully and successfully remove contaminants from your belongings. This is done by immersing objects in a tank of liquid while high-frequency sound waves create imploding bubbles that generate a scrubbing brush-like action that acts on impurities adhering to surfaces such as metals, glass, plastics, ceramics, rubber, and even electronics. This action infiltrates holes, cracks, nooks, and crannies so that it systematically removes all traces of contamination and malodors. This technology allows us to clean your possessions faster, more carefully, and less expensively.
How Does Ozone Treatment Work?
Contents that need deodorization are put into an ozone chamber. Ozone, occasionally called "activated oxygen", contains three oxygen atoms rather than the two atoms we usually breathe. It's the second most effective disinfectant in the world and may be used to obliterate bacteria, viruses, and smells. When they collide with ozone, they're totally destroyed by oxidation. In the process, that extra atom of oxygen is annihilated and there's nothing left – no odors, no bacteria, no extra atom, only oxygen.
Ozone arises quite frequently in nature, most often as a consequence of lightning strikes that occur during thunderstorms. That "fresh, clean, spring rain" smell you may detect after a Chicago area storm most frequently results from nature's creation of ozone.
If you have questions about how our other cleaning procedures work or would like to schedule a free consultation and estimate, call ServiceMaster By Simons at 773-376-1110.
About Us: Co-Authors RESTORE your complete guide to protecting your home as your most valuable asset from water and fire disasters  https://www.amazon.com/dp/1952779529. Recipient of 2022 award for Daily Herald Entrepreneurial Excellence. ServiceMaster Restoration By Simons, is a SB100 Best of Small Business Award Winner 2021, Bronze Stevie® Award in the Female Entrepreneur of the Year category in the 18th annual Stevie Awards for Women in Business, recipient of the 2020 Better Business Bureau's Torch Award for Marketplace Ethics, and recipient of the 2020 Skokie Business of the Year Award, Honorable Mention Category. ServiceMaster Restoration By Simons (MBE/WBE) is a family operated, IICRC & OSHA Certified company serving Chicago, Oak Park, River Forest, and the North Shore. We provide commercial disaster restoration services including Water & Flood Damage Restoration, Fire & Smoke Damage Restoration, Mold Remediation and a wide range of interior specialty cleaning including COVID-19 Cleaning Services, Hoarder & Clutter Cleaning, Post-Construction Cleaning, Carpet & Upholstery Cleaning to residential and commercial customers.