What should I do if my wood floors are wet: A ServiceMaster Restoration by Simons Ultimate Guide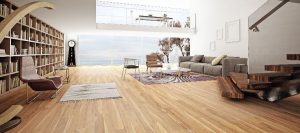 ServiceMaster Restoration By Simons has been serving the Water Damage Drying & Restoration and Specialty Cleaning needs of homes and businesses in Chicago, Oak Park-River Forest, and Chicago's North Shore for years. As the area's trusted, go-to service provider, ServiceMaster Restoration By Simons is an MBE/WBE certified firm, family operated and IICRC certified. We are also members of the Restoration Industry Association (RIA). Our staff of estimators, project managers, and technicians are held to the strict standards dictated by the Restoration Industry and adhere to best practices. We use state-of-the-art equipment and technology to get your property cleaned, dried, and restored – FAST!
My hardwood floors are water damaged! What should I do?
Immediately call ServiceMaster Restoration By Simons. An unwelcomed event like water or flood damage to your wood floors is overwhelming, frustrating and can be very costly. The destruction that water damage causes to the construction material used in building your property is immediate and if not mitigated quickly, can be permanent. ServiceMaster Restoration By Simons provides emergency Water Damage Drying & Restoration services to prevent the further destruction of your attractive wooden floors. In many cases, we can save your hardwood floors after water damage strikes with our wood floor drying system process. It is important to take note of the multiple causes of water and moisture damage to hardwood floors.
The top 5 types of hardwood floor moisture issues:
Cupping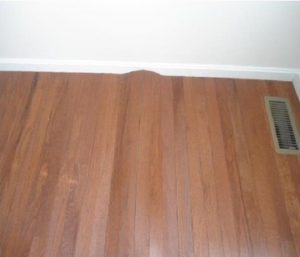 When hardwood floors are affected by water damage or too much moisture, a process called cupping begins. This is when the sides of hardwood flooring swell and rise higher than the center of the boards, creating an uneven surface. Typically, eliminating the source of the water damage and drying the floor can save the wood.
Crowning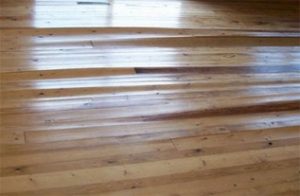 Crowning is the opposite of cupping. The middle of the board is higher than the board's edges. This can occur when the surface of the floor encounters moisture. It most often occurs when a floor has been sanded too soon after cupping. When this happens, the top edges of the board are sanded off and are therefore lower than the rest of the board when returning to a normal moisture content.
Buckling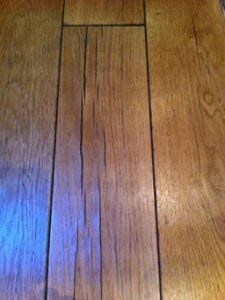 Buckling is one of the most extreme reactions to moisture that can occur with hardwood flooring. It happens when the floor expands beyond expansion gaps and literally pulls away from the subfloor, as high as several inches. It's like walking on a raised floor. Once the humidity drops, the floor may shrink back, but you may see spaces between the wood boards.
Splits and cracking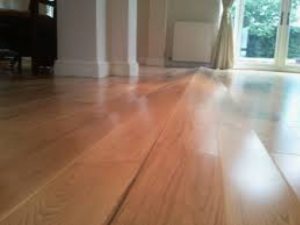 When extensive moisture or humidity causes the wood to expand significantly, adjoining boards start pressing against each other. In extreme cases, this increased pressure can cause the affected boards to lose their structural integrity and crack. The boards themselves may split, check or crack in the center, at the ends or along the grain, damaging the finish. This damage is permanent, because your hardwood floor finish is cracked and the wood is no longer protected.
Gapping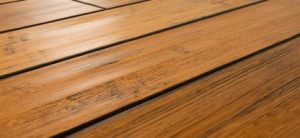 It is normal that when relative humidity is lower than recommended, wood planks shrink, and thin gaps can appear between them. These small gaps between the wood planks are called cracks, gaps, or spaces by consumers. Having gaps between your wood planks is normal, and a homeowner should be prepared for it to occur. Once humidity levels rise again, the hardwood floor will expand and, normally, most gaps will close up again.
D.I.Y. – Can I handle cleaning up any water damage myself?
If you are a handy, DIY sort of person, there are some steps you can take to dry your hardwood floors. However, we recommend giving ServiceMaster Restoration By Simons a call – the professionals in the restoration industry to get your hardwood floors dry – FAST! Simple drying techniques are not enough when drying hardwood floors in the aftermath of a leak, spill or flood. Hardwood flooring is porous, which means advanced drying is required because buckling, crowning, and problems can appear very quickly after water damage. With hardwood flooring, time is of the essence.
The Best DIY Tips for Drying Hardwood Floors
Remove wet items from the area. Move any water-soaked content outside in the sun to dry.
Use a wet vacuum to soak up as much of the water as possible. Even when you have removed all the visible water, continue suctioning as the vacuum is still removing water from invisible pores in the wood. This may take some time.
Clean the surface of the hardwood floor by scrubbing with a non-sudsy disinfectant. Any leftover dirt or debris could store water in the pores of the floor. Once you're done, use the wet vacuum to, once again, remove any leftover water remnants.
Place a dehumidifier in the center of the room and turn it up to full power. Leave it running for at least 24 hours to ensure it has time to pull out any moisture from the floorboards.
Use several fans on full blast in the room as well to aid the dehumidifier.
Once the floor is dry, check for any visible signs of mold or mildew. If you see any mold or mildew, immediately scrub the floor with a brush using a mixture of baking soda and water and don a face mask or respirator. This is very important, as the effects of breathing mold can be extremely dangerous to you and your family.
Use a moisture testing meter to ensure all the moisture has been removed. Remember, completely drying hardwood floors is a process that could take several weeks. Until you are absolutely certain there is no moisture present, leave the dehumidifier running in the room.
What is the Water Damage Drying process for wooden floors process?
Upon ServiceMaster Restoration By Simons' arrival to your property, our trained IICRC Certified project manager will begin the assessment of water damage and develop a plan to save your hardwood flooring.
Some of the assessments we perform include:
Determining the cause or source of the water damage to your property
Determining the water's path through the property using thermal imaging equipment
Determining areas in the property affected by the water damage, i.e. ceilings, walls, flooring, fixtures, mechanical damage, etc.
Determining the plan of attack, i.e. How ServiceMaster Restoration By Simons will dry your property and what specialized equipment (including wood floor drying mats) we'll use to do it
For over 60 years, ServiceMaster Restore has been America's trusted professional for Water Damage Drying & Restoration and when you need help, you want it – FAST!
Why Choose ServiceMaster Restoration By Simons?
As an IICRC Certified Firm, ServiceMaster Restoration By Simons follows IICRC S500 Standards for professional water damage restoration. Our IICRC certified technicians will assess the water damage on site and determine the best course of action to restore your damaged property. For example, clean water damage from a faulty water line pipe on your property is considerably different than water damage from a sewer backup. As leading experts in the field, we will quickly determine the best course of action so your family or business can get back to normal as soon as possible.
The different water damage restoration services we perform include:
Who does ServiceMaster Restoration By Simons provide Water Damage Cleanup Restoration services to?
Because of ServiceMaster Restoration By Simons' expertise in the Cleaning and Restoration industry, we serve both Residential and Commercial clients. ServiceMaster Restoration By Simons provides the following Water Damage Cleanup Restoration services:
Residential
Single Family Home
Townhome
Apartment
Condominium
Commercial
Manufacturing Facility
Places of Worship
High Rise
Retail
Multi-Family Building
Senior Living
Military & Municipal Facility
Hospitality Hotel
School & Educational Facility
ServiceMaster Restoration By Simons works closely with:
Real Estate Professionals
Property Management Professionals
Homeowners
Business owners
Insurance Agents
Insurance Adjusters
What kind of equipment will we use?
ServiceMaster Restoration By Simons uses state-of-the-art equipment and technology to get your properties' structure dry. Our advanced technology is necessary for the efficacy and efficiency of the drying and restoration process of your property.
Some of the equipment used for structural drying includes:
Dehumidifiers
Air Movers
Negative Air Fans
Thermal Imaging Cameras
Moisture Meters
Wood Floor Drying Systems
Desiccants
Anti-Microbial Solutions
Truck-mounted Water Extraction Units
Portable Water Extraction Units
Will ServiceMaster Restoration By Simons guide me through the insurance process?
As a QRV or Quality Restoration Vendor, ServiceMaster Restoration By Simons is part of the elite group of national ServiceMaster franchises chosen to take part in the national contract agreements with most major insurance companies. Some of the insurance companies we work directly with include State Farm, Allstate, Liberty Mutual, Hanover, Chubb, Asco, Progressive, Travelers, USAA, Farmers, Nationwide, AIC, Zurich, American Family, and Erie, among others. That means that we prescribe to the strict guidelines and to the required estimating software administered by these insurance companies and provide a direct pipeline to your insurance company. It also means that you don't have to be the middle person in the process. We work and communicate directly with your insurance provider to ensure your property is properly restored after water damage, bringing your home or property back to its pre-loss conditions.
Take Aways 
The most devastating of natural disasters—like a flood—happen without warning. Other unfortunate events, such as pipe bursts, leaking water heaters and other plumbing mishaps also occur when least expected, but leave behind an equal amount of water damage and devastation. We understand that for Chicago area residents and businesses, experiencing water damage to their hardwood floors can be difficult and stressful. In addition, damage to hardwood flooring caused by water can increase substantially if prompt action is not taken.
With ServiceMaster Restoration By Simons, you can expect and depend on fast, competent Water Damage Cleanup. In Chicago and the surrounding areas, we are on-site within 2 to 4 hours to halt further damage to hardwood flooring and to remove all water and moisture. After that, we'll work tirelessly to restore your home or business back to its former condition.
ServiceMaster Restoration By Simonsis an MBE/WBE certified firm and family-run company serving Chicago, Oak Park, River Forest, and the North Shore. ServiceMaster Restoration By Simons provides disaster restoration servicesincluding Water & Flood Damage Restoration, Fire & Smoke Damage Restoration, Mold Remediationand a wide range of interior specialty cleaning including Hoarder & Clutter Cleaning, Post-Construction Cleaning, Carpet Cleaning and Upholstery Cleaningto residential and commercial customers. For more information, give us a call at 773-376-1110 or visit servicemasterbysimons.com.