Everything You Need to Know About Basement Flooding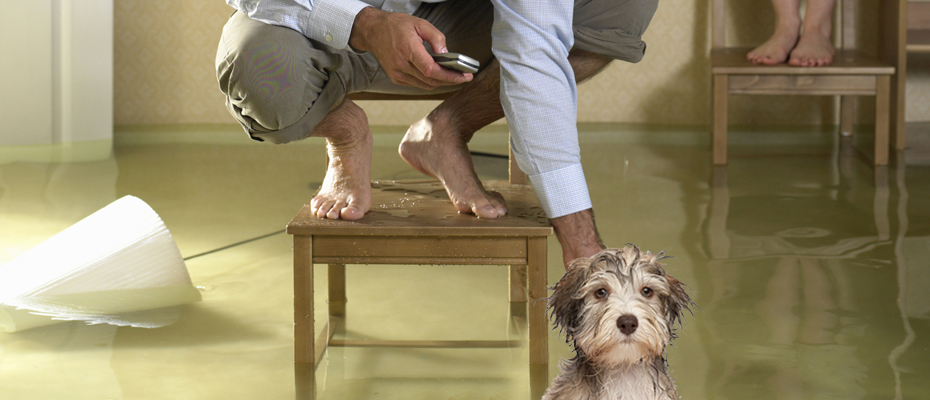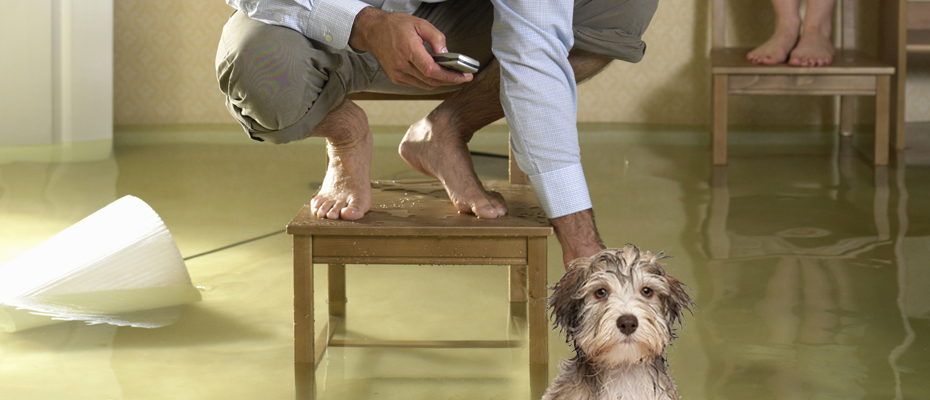 Pretty soon, Spring will be approaching and for some homeowners, it comes with the threat of basement floods and water damage. With the recent heavy snow storms, homeowners are faced with several inches (in some cases feet) of frozen ground. And what happens to that ice when the overnight temperatures start to warm up? It turns to water, which can seep into the structure of your home and pool in your basement.
According to insurance statistics, a 1000 square foot home flooded with a mere 1″ of water can lead to over $10,000 worth of damage. Make that 6″ of flooded water and you're looking at about $20,150 of repairs and replacements. Let's take a look at the reasons why most basements flood and what you can do to clean it up and prevent it from happening next time.
What causes basement flooding?
Burst pipes, sudden downpours, a copious amount of melting snow, broken gutters, leaky windows, damaged foundation, removal of large trees near your home…there are many reasons why water can flood your basement. Water flows downhill into the lowest areas and it can make its way through even the smallest cracks and openings in the foundation of your home. Water can also come through basement windows, crawlspace vents and overly saturated soil surrounding the home. Or, sudden disruptions near the ground your home is situated on might also leave you susceptible to water damage.  For example, a recent earthquake may have shifted your home and created cracks in the foundation. Additionally, landscaping changes like tree removal could have an impact.
Plumbing can also cause basement flooding if a pipe or appliance has a leak and water pools in the basement because of it.
How can I prevent basement flooding?
If you discover that water is leaking in through windows or vents, you'll need to fix their sealants.  You will want to call the professionals at ServiceMaster Restoration by Simons to assist you.  The same goes for if you notice cracks or damage to your home's foundation, or if your plumbing is to blame.  It's better to call a professional to repair these things than to let them go and leave your home at risk for basement flooding. Consider having a waterproofing procedure done to the foundation of your home or your basement walls.
Who should I call when my basement floods?
We hope you never have to ask this question!  But, it's not a perfect world and disaster can strike at any time no matter how hard you try to prevent it.  Our professionals are always here to help you!
If you have standing water, or water actively flowing into your basement, do not attempt to wade through the water until you shut off your electricity to the area and be absolutely sure that there are no open circuits standing in the water.  You'll want to use a bucket or a wet vacuum to suck up as much water as possible.  You can call the flood clean up crew at ServiceMaster Restoration by Simons to come in and expertly clean and remove damaged items. Any fabric or carpeting will most likely need to be ripped out and replaced. Remove any valuable items from the area until the basement is water free.
What can I do to repair my flooded basement?
If the damage is significant will need to call the professionals. You'll want to hire a flood cleanup crew to remove water damaged items and clean for mold and mildew. You may need to install a sub-pump to actively pump out and remove water (this is especially important for basements that flood on a regular basis).  It's also a good idea to have someone look at the foundation of your home and the windows to determine where the flooding came from.
What issues might I face in the long term after basement flooding?
Basements that experience regular flooding can expose homeowners to mold and mildew, which leads to eye irritation, sneezing, nasal stuffiness and skin irritation. Mold has been linked to allergies, asthma and respiratory issues.  Regular water damage to the foundation of your home can also cause structural weakness. There are obvious costs to dealing with a flooded basement and no homeowner wants to clean up a flood multiple times. The overall value of your home can also be negatively affected by a flood.
If you are unlucky this Spring and experience basement flooding, don't hesitate to call the professionals at ServiceMaster Restoration by Simons.  We are standing by, waiting to save your basement from the potential damages of a flood.
ServiceMaster Restoration By Simons is a women-owned and family run company serving Chicago, Oak Park, River Forest, and the North Shore. The business provides disaster restoration services for damages caused by water, fire, flooding, mold remediation, and a wide range of interior specialty cleaning (hoarder/clutter, post construction, carpet & upholstery) to residential and commercial customers residing in Chicago, Oak Park, River Forest and the North Shore. For more information, give us a call at 773-376-1110 or visit servicemasterbysimons.com.