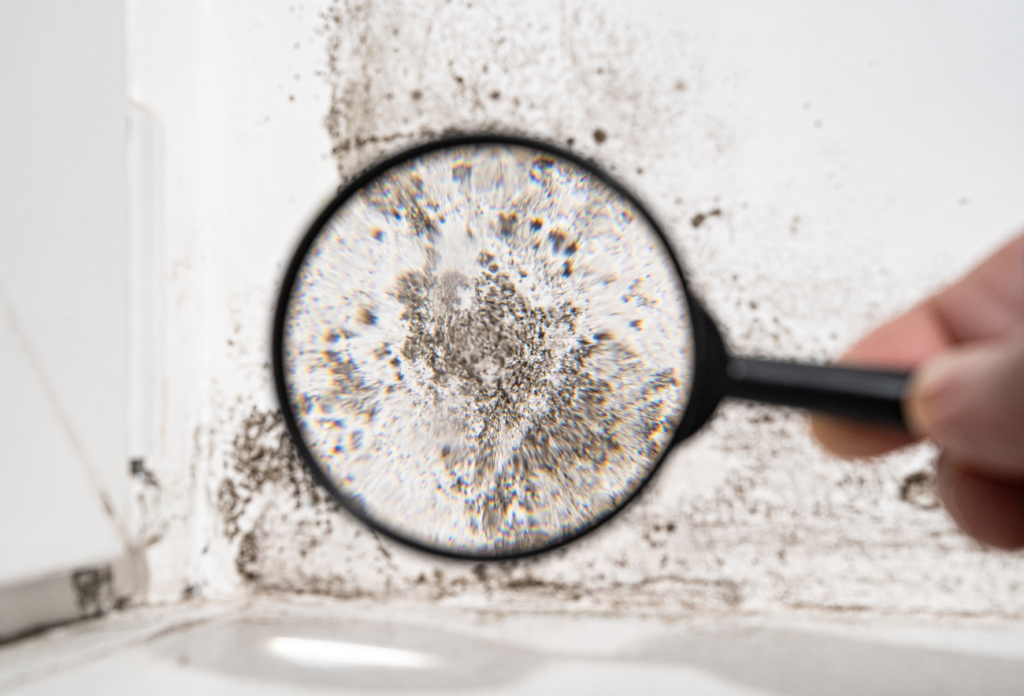 The word "mites" may conjure up in our minds the thought of dust mites. But if you're having a mold problem in your Chicago area home, then you probably also have mold mites, which, as the name suggests, feed upon mold. As mold needs darkness, dampness, and organic material to live, mold mites need mold as a food source to survive. Even a tiny bit of mold can create enough nourishment for thousands of mold mites.
Scientists first revealed the existence of mold mites back in 1781 in Austria. They're part of a large group of insects called tyroglyphid mites which includes cheese mites, flour mites, and grain mites and are difficult to tell apart from each other. They are tiny, wingless, creatures that are so tiny, they're almost invisible to the human eye and are only found where moisture and high humidity are plentiful.
In many ways, mold mites are harmless. They don't cause structural damage, they don't hurt people and pets, nor do they damage belongings like furniture, clothing, etc. But they can cause problems because these soft-bodied pests have long "hairs" which fall out and float in the air. Those, along with their feces, may produce an allergic reaction in some people.
That may be why some inaccurately believe they've been bitten by mold mites (mold mites don't bite) when they have been around mold. Sometimes, what might feel like a bite or sting is actually a skin irritation that can cause itching and other symptoms that are related to an allergic reaction to mold. But dust mites in your bed can cause the same reactions.
How to Inspect for Mold Mites
One way to discover if mold and mold mites are in your home is if you see a brownish "mite dust" noticeable in unusual places, such as on shelves or food. Another likely sign of inside mold growth is if you feel healthier when you're away from home – you breathe easier, coughing and breathlessness decrease, and you're more energetic. Also, mold usually has a distinguishing musty smell which makes it simple to recognize, but seeing mold growing in damp, dark areas is the easiest way to discover mold problems. Typically, where there's mold, there are mold mites.
How to Get Rid of Mold Mites
Eradicating mold mites means removing their food source. If they have nothing to eat, they will perish and no longer be a problem. That may sound easy but ridding your home of them can be difficult and will require persistence and even assistance. Here are some tips:
Keep your home clean, including the out-of-the-way areas.
Employ dehumidifiers to help eliminate moisture that mold thrives on.
Ventilate your home every so often by opening doors and windows.
If after these steps you don't observe any improvement, if the problem is more extensive than expected, or if your allergies get worse, call in Chicagoland's mold specialists ServiceMaster Restoration By Simons to treat your home.
The first thing we'll do, after you have your environment tested by an outside environmental testing company or an environmental hygienist, is seal off the contaminated areas and provide air scrubbers to remove mold spores from the air. Then we'll eliminate the mold, apply an anti-microbial solution and disinfect. Afterward, we'll offer tips and support to help you preserve a healthy, mold-free environment for your family.
About Us: ServiceMaster Restoration By Simons, is a Bronze Stevie® Award in the Female Entrepreneur of the Year category in the 18th annual Stevie Awards for Women in Business, recipient of the 2020 Better Business Bureau's Torch Award for Marketplace Ethics, and recipient of the 2020 Skokie Business of the Year Award, Honorable Mention Category. ServiceMaster Restoration By Simons (MBE/WBE) is a family operated, IICRC & OSHA Certified company serving Chicago, Oak Park, River Forest, and the North Shore. We provide commercial disaster restoration services including Water & Flood Damage Restoration, Fire & Smoke Damage Restoration, Mold Remediation and a wide range of interior specialty cleaning including COVID-19 Cleaning Services, Hoarder & Clutter Cleaning, Post-Construction Cleaning, Carpet & Upholstery Cleaning to residential and commercial customers. For more information, call 773-839-5542 or visit www.servicemasterbysimons.com or info@servicemaster-rbs.com