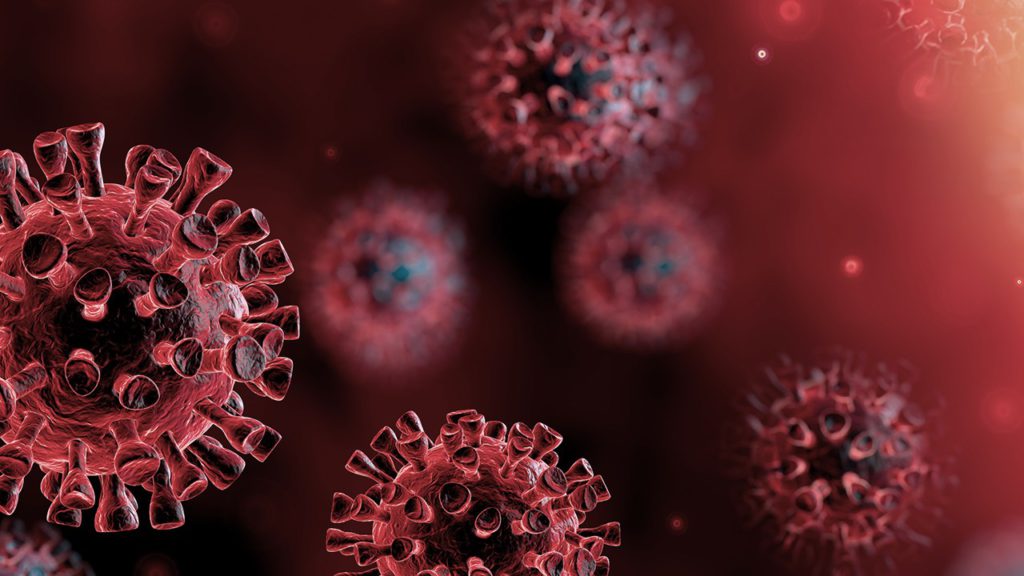 It's well known that the start of Spring signals the end of America's flu season. As the temperature warms up, the number of people who catch the influenza drops dramatically. So it's natural that, as the weather cools off and we're in a global pandemic, people are asking: How will cooler temperatures affect COVID-19? 
When Covid-19 hit late last winter, hope reverberated around the country that it would dissipate with warmer and sunnier conditions. But as much as the weather affects the flu, it doesn't do much for COVID-19. That's why we still saw rising cases this summer — even with warmer weather, the end was not any more in sight. So what can we expect now that cold weather is once again on the way? The reality is this: the risks of a second wave are real, and we're not quite sure yet exactly how cooler temperatures will affect COVID-19. 
Scientists remain divided on why winter is flu season in the Northern Hemisphere, but one of the most popular hypotheses is the increased time spent in sealed indoor environments. Another is a lack of sunlight, which compromises the immune system due to a lack of vitamin D. Similar to the flu, these are also factors in how rapidly COVID-19 may spread.
Cold Chicago weather makes people stay indoors where it's more difficult to socially distance. And as the pandemic continues, people are beginning to get complacent about meeting in large groups, which has increased the reach of the virus. The upcoming holidays, where people enjoy getting together with family and friends, may well exacerbate the problem.
Another issue is that cold air typically means dry air, and to be comfortable, people tend to turn up the heat which further dries out their homes. Why is this a concern? In cold temperatures our mucous membrane dries out, making it much harder for the nose to filter pathogens. When airways are dry, it allows the virus to have easier access to the body.
A study published in the journal Transboundary and Emerging Diseases found evidence of a potential way that cooler temperatures will affect COVID-19. Their results said that the number of COVID-19 cases increased as the air became drier and the humidity level dropped. "There is growing evidence that climatic factors could influence the evolution of the current COVID‐19 pandemic," the authors stated. "Overall, a decrease in relative humidity of one per cent was associated with an increase in cases of seven to eight per cent."
Temperature and relative humidity can affect coronavirus transmission as the virus can survive longer at lower temperatures, the authors said. The virus can also stay "suspended in the air" longer at lower humidity, they claimed.
For all of the reasons above, some experts predict a second wave of the COVID-19 pandemic during the coming fall and winter months. In other words, cooler temperatures will affect COVID-19 by causing it to spread more rapidly.
What Can You Do to Protect Yourself From the Effects of Cooler Temperatures on COVID-19? 
Get a seasonal flu shot because it's possible to get

COVID-19

and

the flu

at the same time

Get good sleep, don't let your body get run down 

Stay hydrated

Eat healthily

Keep stress in check

Wash your hands regularly

Use a humidifier during cold months 

To help keep mucous membranes moist, regularly use a drug-free saline nasal spray

Wear a mask

Practice social distancing 
All of those things will probably have a much bigger impact on the virus than the actual temperature. In any case, adhering to them could help mitigate the negative ways that cooler temperatures will affect COVID-19 and its spread.
Keeping your home and work area disinfected will also greatly help you. ServiceMaster Restoration By Simons provides decontamination services to commercial and residential properties across the Chicagoland area, including Oak Park and the North Shore of Cook and Lake County IL. Call  us at 773-376-1110  or contact us here to schedule a consultation.
ServiceMaster Restoration By Simons is an MBE/WBE certified firm and family-run company serving Chicago, Oak Park/River Forest, and the North Shore.  ServiceMaster Restoration By Simons provides Disaster Restoration Services including  COVID-19 Cleaning Services, Water & Flood Damage Restoration, Fire & Smoke Damage Restoration,  Mold Remediation, and a wide range of interior specialty cleaning including Hoarder & Clutter Cleaning,  Post-Construction Cleaning,  Carpet Cleaning, and Upholstery Cleaning to residential and commercial customers. ServiceMaster Cleaning By Simons provides Specialty Cleaning Services For Chicago, Oak Park-River Forest, and the North Shore.  For more information, give us a call at 773-376-1110 or visit servicemasterbysimons.com.