A Beginners Guide to DIY Projects
ServiceMaster Restoration By Simons' DIY Do's and Don'ts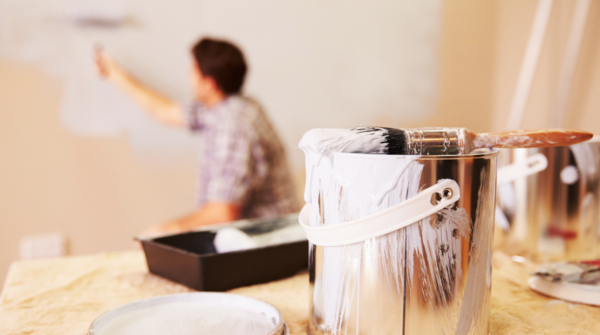 With spring in full swing and summer on the way, homeowners will be wanting to spruce up their houses so they can look their very best. DIY projects can be a great way to add some extra flare to your home without driving up the prices, but can quickly grow awry when the wrong project is chosen. Too often, most homeowners run into trouble when they are trying to determine which project they want to embark on.
Here are some of our best Dos and Don'ts for DIY novices:
Do: Wear Protection Clothing
Protective clothing is an easy step to overlook, but possibly one of the most important things a homeowner can do, especially if they don't have a lot of DIY experience. Covering as much skin as possible and wearing protective boots and gloves is a must. Do not wear clothes that you don't want getting dirty or that are loose-fitting. Avoid wearing any jewelry that can get caught in things. If you are working with any materials that are dusty or contain chemicals, wear a dust mask to protect your lungs. Also be sure to wear safety goggles to protect your eyes!
Do: Use Safety Equipment
Having a safety kit at home is always a good idea, but if you don't already have one on hand make sure you invest in one before you start any DIY projects. Accidentals always happen when you work on a DIY project, so make sure to take precautions ahead of time. Make sure you have a fire blanket and extinguisher near my in case of emergencies and to easily put out any rogue flames. In addition to using goggles to prevent any flying pieces of material from hitting you, also invest in some ear plugs or muffs to protect your ears from the loud noises that will inevitably will be made with the tools you'll be working with.
Do: Know how to Safely Use a Ladder
Ladders are best use when working with lighting and in a safe, spacious area. Always leave your ladder on a flat and level base. Whenever you put your ladder up against a wall, place the base of the ladder one foot away from the wall for every four feet the ladder rises up along the wall. Having a ladder that can reach high heights is helpful, but don't straddle the ladder or try to reach something just out of touch by leaning forward. Make sure to have someone spot you even if the job seems easy.
Do: Follow Instructions to a "T"
Instructions are there for a reason, especially if you are new to the DIY scene and are unfamiliar with certain tools and materials. Following any instructions to the letter is always our recommendation and if you are confused by anything you read we recommend you do some research online or call the manufacturer before trying something you're unsure of.
Do: Use the Right Tools
Before you begin a new project, make sure you have all the tools you will need on hand. One of the most frustrating things that can happy while working on a DIY project is starting and then realizing halfway through you don't have what you need to finish the project. Even worse, a rookie mistake a lot of DIYers make is that they try to continue without the proper tools, which is not only dangerous but can also cause a lot of damage to your home. If you are working with power tools, make sure they are in good condition and that their electrical cables are undamaged and untangled. If any of your tools are old or in poor conditions replace them with new ones.
Do: Paint
If you are new to DIY, this is the perfect place for you to start experimenting! Out of all the changes you can make to your home, repainting is possibly the most forgiving thing you can do. The best part with painting is that the hardest part of your job will be doing the preparation for it. After choosing the space you'd like to paint, the first thing you will want to do is check the wall for any holes or cracks. Fill any that you find with drywall compound, sand the dried patches smooth so they are even with the rest of the wall and prime them for paint. Caulk, or seal any joints or seams with your choice of sealant and fill any small nail homes with latex caulking, not drywall compound. After doing this, use a slightly damp sponge to clean up the area. Tape down anything you want to protect and to outline your canvas and you're all set!
Do: Flooring
After graduating from painting, another easy DIY task to handle when trying to renovate your home is click flooring. New flooring is an incredible way to change the space and feel of a home, and floating floors, no matter the kind, are always simple to install. After choosing the specific kind of flooring you want, you can simply follow the manufacturer's instructions, which should always be on the box the floor pieces come in. Just make sure you leave some space around the edges of the room so the floor doesn't buckle from pressure over time!
Don't: Take Shortcuts
Whenever you decide to do a DIY project, our best recommendation is that you commit to it fully and try your best to truly determine how much time it will take for it to be completed. Do not take any shortcuts because doing so, especially if you are not an expert, can ruin the entire project itself, damage your home or worse hurt you. If you the project is taking longer than you expected, as they often do, it's completely alright to pack up your tools and finish your project later!
Don't: Forget to Clean Up
And not just after you finish your project! Having a safe work environment also means having a clean environment, so try to keep your workspace free from clutter and as organized as possible. Try to avoid leaving any tools or other objects on the floor because they are very easy to trip over. If you spill something, clean it immediately to prevent damage to your home and slipping over the area. Don't place heavy or unsteady objects above your head or on an unstable surface, since the objects can fall!
Don't: Mess with the electrical
If you're not an electrician, do not mess with wires or anything electrical. Not only can you physically hurt yourself, but establishing improper connections can get overheated and cause fires over time. Leave this to the professionals!
Don't: Remove any walls
It might seem like removing a wall could be a perfect way to make your home feel larger, but walls usually in place for structural reasons and removing them can be dangerous and can cause extensive damage when done improperly. Additionally, removing walls requires proper permits and an understanding of specific disposal protocols. Be sure to consult and work with a licensed contractor before you start doing anything reckless!
Don't: Work with gas
Not only do you have to make sure the connection doesn't leak when you try to install a new gas appliance, but you also have to ensure any appliance is vented correctly. If this key step is not done, your entire home will fill up with carbon monoxide and could cause seriously health problems. Make sure you leave this to the professionals!
Don't: DIY
If you are unsure about the project you are trying to attempt and think it might be too much work or too difficult, stop what you are doing and call the qualified professionals here at ServiceMaster Restoration By Simons! While you might think doing the job will save you money, if you are not comfortable doing a job yourself it could end up costing you hundreds to thousands of dollars in lost time and damages if things go awry. Trust your family here at ServiceMaster Restoration By Simons for quick and easy service, tips and the best quotes in town!
ServiceMaster Restoration By Simons is a MBE/WBE certified minority and women-owned and family run company serving Chicago, Oak Park, River Forest, and the North Shore. The business provides disaster restoration services for damages caused by water, fire, flooding, mold remediation, and a wide range of interior specialty cleaning (hoarder/clutter, post construction, carpet & upholstery) to residential and commercial customers residing in Chicago, Oak Park, River Forest and the North Shore. For more information, give us a call at 773-376-1110 or visit servicemasterbysimons.com.