A Step by Step Guide on What to Do After a House Fire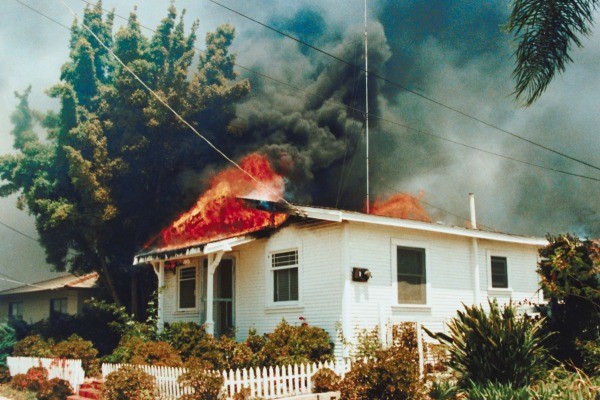 When it comes to house fires, you, like most people, probably think it'll never happen to you — after all, house fires are just freak accidents right? Not quite. House fires are actually way more common in America than most people think, so it's important to be prepared with a plan of attack in case disaster does strike your home.
It's easy to feel confused, upset and alone if you do go through a house fire. But planning ahead for this potentially disastrous event can set your home on a much quicker path to restoration, as well as help alleviate the emotional distress you might anticipate as you and your family are huddled outside, watching flames engulf your home. The professionals at ServiceMaster Restoration by Simons have created a step-by-step guide of the five most important things you should do after the smoke clears:
1. Obtain permission to enter and assess the damage. After the firefighters make sure an active fire is no longer a threat to your home, ask them for permission to enter the home. They may establish a safety zone, but make sure you have clearance to enter all rooms before going in. Remember, the absolute top priority following a fire is your family's safety. Once that's been accounted for, you can inspect the damage. Do your best to stay calm and take photos of items you will need to replace using insurance. Now is also a good time to seek out and salvage important documents like birth certificates or social security cards.
2. Make the necessary phone calls. First, you'll want to contact family and friends who may be concerned about your safety. Let them know you are safe and unharmed. Next, contact your insurance agent, who will be able to talk you through emergency lodging and living expenses. You may also request a fire damage restoration company at this time for contents and structure cleaning. If you are in the greater Chicago area, please don't hesitate to call ServiceMaster Restoration by Simons (773-376-1110) for professional and trusted fire damage restoration services. Your last call should be to your landlord, if applicable.
3. Secure the property. It is likely that your home will be uninhabitable, at least for the night. If you are staying elsewhere and the fire compromised the security of your home, you'll want to make sure you utilize a board-up service to prevent possible looting. ServiceMaster Restoration by Simons is available to assist with this type of service.
4. Focus on water damage, if necessary. If water hoses were used to extinguish the fire, you'll want the water damage restoration professionals at ServiceMaster Restoration by Simons to do a water cleanup. Water can lead to mold damage if not dried properly. Our company is an approved restoration contractor for many major insurance carriers and adheres to the highest standards in the restoration industry.
5. Mind your family's emotional health. House fires can cause intense mental health lapses. Children and adults alike might feel a traumatic sense of loss and disorientation and might benefit from counseling. Family members should take care to treat each other with respect and compassion.
House fires can happen to anyone, and though they can be scary, understanding your next steps ahead of time in case the unthinkable happens will make the restoration process markedly easier. Take it from the professionals at ServiceMaster Restoration by Simons, with many years of experience in fire restoration services: When it comes to house fires, it is better to be prepared than to wing it. And, as always, if disaster strikes, give us a call at 773-376-1110. You, your family and your home are always our company's top priority.
ServiceMaster Restoration By Simons is a MBE/WBE certified minority and women-owned and family run company serving Chicago, Oak Park, River Forest, and the North Shore. The business provides disaster restoration services for damages caused by water, fire, flooding, mold remediation, and a wide range of interior specialty cleaning (hoarder/clutter, post construction, carpet & upholstery) to residential and commercial customers residing in Chicago, Oak Park, River Forest and the North Shore. For more information, give us a call at 773-376-1110 or visit servicemasterbysimons.com.