5 Home Improvement Gifts for Aging Mothers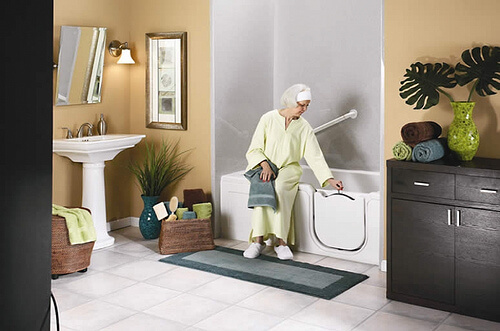 Up next in Holidays-You-Probably-Forgot-About is Mother's Day, and if you're anything like us here at ServiceMaster Restoration by Simons, you'll be searching for something nice for Mom.  After all, how else can you repay the woman who gave you life for, well, everything? It's a tall task — one that might seem even harder if your mom is elderly. You might be surprised to hear that a home improvement project is one of the most useful gifts for your aging mom. Here's a short list of our top choices:
1. Walk-in bathtub. This is helpful for moms who have trouble climbing in and out of the bathtub.  A walk-in tub will lessen her risk of falling, slipping or tripping, and trust us, she'll definitely thank you for that!  More than any other tub, a walk-in will help her maintain her health and independence. With a variety of different styles to choose from, you'll be sure to find the right fit for your mom.  
2. Widened entranceways and doors. If Mom travels throughout the house in a wheelchair and has found her mobility limited from room to room because of the size of the entranceways, this is a wonderful project option.  Widening doors may give Mom access to rooms she otherwise would not be able to move in and out of.
3. Remote-controlled blinds. If Mom isn't very mobile or struggles with the fine motor skills required to grip and twist/pull blinds closed, she'll appreciate a home improvement project that motorizes or automates the process.  With remote-controlled blinds, she can close or open them from across the room, without having to get up or reach across couches, end tables and other furniture.
4. Disability ramp.  Whether Mom is already wheelchair-bound, or if you just think that day might be coming in the near future, this is one of the best gifts you can give.  By increasing the accessibility of her home, you'll ensure she stays independent as long as possible.
5. Lever-style doorknobs.  Home renovation projects can be timely and costly, but one of the easiest and cheapest ways you can simplify Mom's home life is by swapping out traditional round doorknobs with lever-style doorknobs.  
ServiceMaster Restoration By Simons is a MBE/WBE certified minority and women-owned and family run company serving Chicago, Oak Park, River Forest, and the North Shore. The business provides disaster restoration services for damages caused by water, fire, flooding, mold remediation, and a wide range of interior specialty cleaning (hoarder/clutter cleaning, post construction cleaning, carpet cleaning & upholstery cleaning) to residential and commercial customers residing in Chicago, Oak Park, River Forest and the North Shore. For more information, give us a call at 773-376-1110 or visit servicemasterbysimons.com.