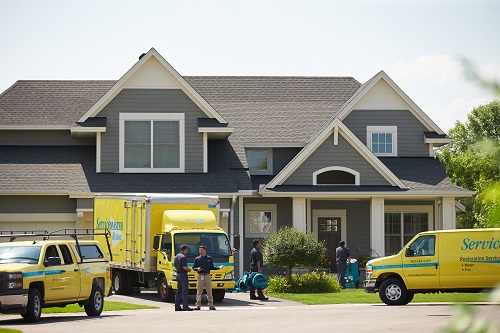 Stop, drop, and roll. Head for the cellar. Duck under a doorway. Most advice for saving yourself from a disaster is simple and easy to remember. But the process of saving your Chicagoland home or business after a catastrophe is another story. When you realize that you need more restoration than you're able to handle, you can get confused and make some basic mistakes. The following three are the biggest errors property owners can make after a disaster.
They wait too long
Denial isn't just a river in Egypt. Some who experience damage from a disaster kid themselves that all is not lost. The impulse to downplay a problem or "see how it works out" is understandable, but it will cause numerous problems in the near future.
The sooner a disaster restoration service gets to work on your property, the better things will go. Damage, no matter what its source, will not repair itself if left alone. Ignoring the problem will add to additional problems down the line—water damage turns into a mold infestation, fire damage will weaken the structure of the building, and so on.
They hurriedly select a service
Once some property owners realize that they truly need professional help, they rush the selection process. Yet, selecting a service should be where property owners devote some time. A home or business may be your largest investment, so doing your homework is very important.
Collect quotes from a few companies to see what they claim would be needed to fix your property. Many times there's damage that only experts can see. When deciding on a bid, don't pick the service that offers you the lowest cost or accept a quote over the phone. Remember the old adage, "You get what you pay for". That contractor might be offering fewer services, or they may lack experience or good references. You don't need to be suspicious of every contractor but make very certain you know upfront what you're paying for. Then you can choose the service that best works for you.
They begin the cleanup on their own
The last and, perhaps, worst mistake homeowners can make is starting the cleanup process without sufficient documentation. If it's at all possible, don't clean up a thing by yourself. For instance, if you use a wet/dry vacuum to remove standing water, you can't prove to your insurance company that your property was damaged by water or for how long. The first to do any cleanup should be the disaster restoration service you choose. They should be very acquainted with working with insurance companies. They'll be able to complete the needed paperwork and help assemble the documentation that you'll need to prove the degree of damages you're claiming.
How to Avoid Mistakes
These three mistakes can have long-term consequences, but the good news is that they're easy to avoid. Be attentive for signs of damage and don't let hope turn into denial, make sure you have a range of bids and document the disaster meticulously before any cleanup begins. Doing so will make the rest of the process smooth sailing.
Contact ServiceMaster By Simons for a fast, professional response to your disaster emergency. Our recovery team will assess your damage, work with your insurance company, and immediately provide the required services that will return your Chicago area residential or commercial property to normal.
About Us: Co-Authors RESTORE your complete guide to protecting your home as your most valuable asset from water and fire disasters  https://www.amazon.com/dp/1952779529. Recipient of 2022 award for Daily Herald Entrepreneurial Excellence. ServiceMaster Restoration By Simons, is a SB100 Best of Small Business Award Winner 2021, Bronze Stevie® Award in the Female Entrepreneur of the Year category in the 18th annual Stevie Awards for Women in Business, recipient of the 2020 Better Business Bureau's Torch Award for Marketplace Ethics, and recipient of the 2020 Skokie Business of the Year Award, Honorable Mention Category. ServiceMaster Restoration By Simons (MBE/WBE) is a family operated, IICRC & OSHA Certified company serving Chicago, Oak Park, River Forest, and the North Shore. We provide commercial disaster restoration services including Water & Flood Damage Restoration, Fire & Smoke Damage Restoration, Mold Remediation and a wide range of interior specialty cleaning including COVID-19 Cleaning Services, Hoarder & Clutter Cleaning, Post-Construction Cleaning, Carpet & Upholstery Cleaning to residential and commercial customers.