ServiceMaster Restoration by Simons Knows Fire Damage
ServiceMaster Restoration By Simons provides fire and smoke restoration clean-up services to residential and commercial customers experiencing fire and smoke damage. So far this year, we've been on the scene in Chicago's South Shore and Edgewater neighborhoods, the Village of Elmwood, the city of Oak Park, and the city of Evanston in the North Shore to provide fire and smoke restoration clean-up services. These unfortunate residential fires occurred from different sources including a furnace fire, a dryer fire, an oven grease fire, and a neighbor's fire. Residential fires are life-threatening, disruptive, costly, and very stressful to homeowners. At ServiceMaster Restoration By Simons, it is our goal to restore your property to its pre-loss condition-FAST! Don't know what to do next? We do!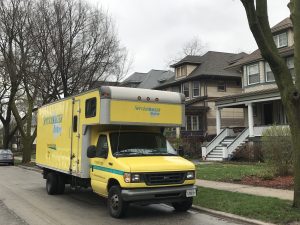 Case Study: South Shore neighborhood, Chicago
Older and even newer heating furnaces can catch on fire. If air ducts are clogged with heavy dust, furnace fires can easily ignite. In March, ServiceMaster Restoration By Simons was contacted by a South Shore customer after filing a State Farm insurance claim to handle the fire and smoke clean up in their home. The furnace caught fire while home improvement work was being performed. Luckily, the contractor was on site when the fire began and was able to shut off the furnace and call 911 immediately. However, as the fire ignited in the furnace, black soot and smoke traveled very quickly and forcefully upstairs through the HVAC heating system. The entire residence was affected – leaving the walls covered in black soot.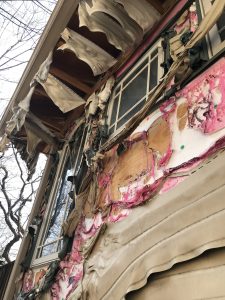 ServiceMaster Restoration By Simon's fire and smoke mitigation process began once our IICRC certified Project Manager arrived on site and performed an in-depth estimate of the damage. They worked quickly to determine the scope of the fire and smoke restoration work needed to bring the home back to its pre-loss condition. Our Project Manager took measurements of the affected areas, documented the damage with photos for our customer's records and explained our smoke remediation cleaning process step by step to the customer by performing a walk through of the residence.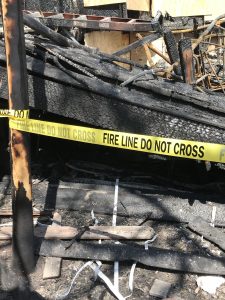 The fire and smoke remediation process:
Step 1: Our

IICRC certified technicians

arrive on site and begin by removing all soft goods. This includes items such as blankets, pillows, curtains and clothing, for example. Depending upon the fabric, we restore soft goods from fire and smoke damage by either dry cleaning, washing, and then remove any lingering smoke odor with ozone mitigation.

Step 2: Box-up and

pack-out

all personal items that will be cleaned off-site.

Step 3: Remove all

smoke and soot affected wall to wall carpet and padding

if carpet cleaning and HEPA vacuuming do not remove smoke odor.

Step 4: Perform HVAC duct cleaning to remove

soot, dust and smoke odor

from the property.

Step 5

: Hand clean the entire internal structure

using ServiceMaster approved smoke odor removal cleaning solution. The residential's internal structure includes all walls, ceilings, floors, baseboards, molding, railings, stairs, handrails, door knobs, window sills/frames, windows, blinds, doors, light fixtures, furniture, appliances, and cabinets.

Step 6: Detailed

hand cleaning of all personal content

in the residence using ServiceMaster approved smoke odor removal cleaning solution.

Step 7: Perform

carpet cleaning

of area rugs and wall to wall carpet to remove smoke odor.

Step 8 Perform

upholstery cleaning

of all fabric furniture to remove smoke odor.

Step 9: Perform

odor mitigation

with special equipment until no smoke odor is present in the home.

Step 10: Return all soft goods and any personal content cleaned off-site to the customer.
If you experience fire and smoke damage in your home ServiceMaster Restoration by Simons can help! Our staff is IICRC certified, professional, caring, and provides quality services with a high level of attention to detail.
Nasutsa Mabwa is President of ServiceMaster by Simons, a MBE/WBE City of Chicago and State of Illinois certified firm. She is a 2018 Chicago Business Journal Influential Women in Business Honoree, a member of Crain's Chicago Business 40 under 40 and a 2018 ServiceMaster(c) Achiever Award recipient. She serves on the board of the Evanston Chamber of Commerce, and serves on the Advisory Board for Roosevelt University's Marshall Bennett Institute of Real Estate. She is IICRC certified for WRT & FSRT.