Water Damage Restoration Lincoln Square
 

-Flood Cleanup-Sewage Cleanup ServiceMaster Restoration By Simons Chicago
ServiceMaster Restoration By Simons, Lincoln Square's Trusted Name In Disaster Cleanup & Restoration, Provides Water Damage Restoration, Flood Cleanup, and Sewage Cleanup In Chicago's Lincoln Square Neighborhood
Searching For Water Damage Restoration In Lincoln Square? You've Found It!
Greater Lincoln Square is comprised of smaller neighborhoods including Ravenswood Gardens, Bowmanville, Budlong Woods, and Lincoln Square.  Lincoln Square is a beautiful neighborhood just west of the lakefront that houses many beautiful homes, fine dining establishments, and upscale boutiques. This park-like oasis in the city is a popular place to spend time in Chicago for tourists and residents alike.  With its dense population, is it any wonder that Lincoln Square needs the Best Water Damage Restoration Company in Chicago?
Call ServiceMaster Restoration By Simons Now!
Lincoln Square's German town on the small stretch of Lincoln Avenue is a popular attraction with a rich history. This area is not immune to flooding, and harsh Midwestern winters can take their toll on plumbing and ground saturation.
When there is Lincoln Square Water Damage Restoration to be done, the residents of Lincoln Square look to ServiceMaster Restoration By Simons for help.
When your home or business needs to recover from flooding, you need water damage restoration fast. Our emergency services are available 24 hours a day, 7 days a week, 365 days a year.
The on-site manager will be there as soon as possible, usually within an hour, to begin assessing the damage and making a plan for the necessary restoration.
We'll document the conditions inside and outside the structure as well as itemize the possessions in your home that have been affected.
We'll then determine the source of the water intrusion and determine what kind of deterioration has occurred. From there, we'll focus on acting quickly in order to increase the likelihood of salvaging your property and reduce the amount of mold, rot, or rust that could develop if left untreated.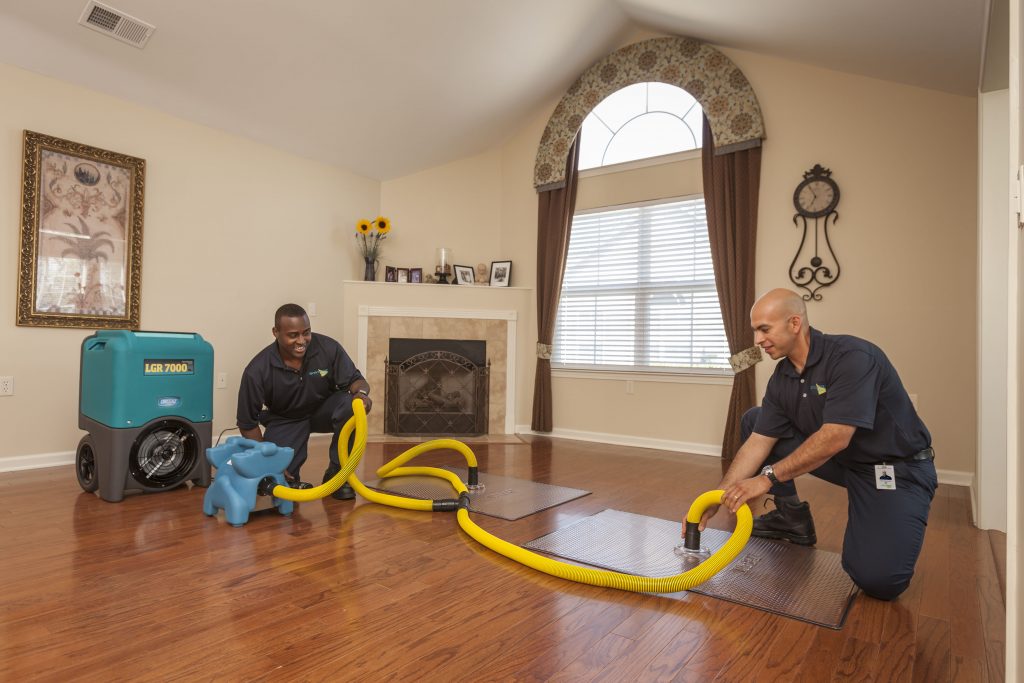 IICRC Certified Master Water & Flood Damage Restorer
As an IICRC Certified Master Water & Flood Damage Restorer, ServiceMaster Restoration By Simons is Chicago's number one choice in Lincoln Square Water Damage Restoration.  With the latest practices and the newest equipment, you can rest assured that your property will be restored to pre-loss conditions — FAST!
We clean all water damage, whether due to flooding, a burst pipe, or even sewage backups in your home. Our trained and experienced staff will provide:
Damage assessment
Extraction of water and drying services
Mold control and remediation if necessary
Structural repairs
Board-up and pack-out services
Disinfection and sanitation
Disposal of biohazardous waste
Be sure to reach out to us at any time for a free consultation or quote!  Call us at 773-376-1110 or contact us and schedule your consultation.  We also provide Lincoln Square Water Damage Restoration to Ravenswood Gardens, Bowmanville, Budlong Woods, and Andersonville.