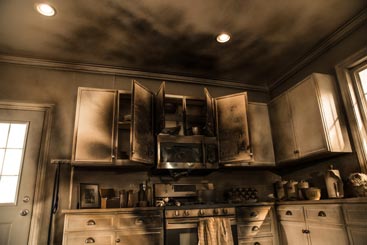 Some of the most dangerous items in your house are the very ones that you would least suspect — like your oven!
Even though you might use your oven and stove regularly, without the proper precautions and maintenance this kitchen appliance can quickly become dangerous.
Oven incidents can cause kitchen fires, which lead to smoke and soot…and the need for kitchen restoration after the fact.
This Fire Prevention Week, we challenge you to be proactive in your approach to kitchen safety and especially oven safety.
Here are our top tips to help mitigate risks associated with your kitchen's oven:
Keep your stove and oven clean:
Grease and debris from cooking can ignite, causing fires. Wipe your stove top down frequently, and run the self-cleaning function on your oven often. If your oven does not have a self cleaning function, make sure to manually clean it after each use to make sure nothing remains inside that could cause a fire.
Put in the extra effort: Make sure your stove and oven hood are safely and correctly installed.
Protect yourself:
Tie back long hair and tuck in loose clothing. Wear non-slip footwear. Make sure to use protective hot mitts when moving pots and pans. Take extra care not to splash hot oil; using a splatter guard may help.
Purchase a fire extinguisher: Smother any fires with a tight lid or use the fire extinguisher you have nearby. This could help reduce your need for professional smoke, soot and fire cleanup.  
Watch out for loose items: Do not let loose items like towels lay on or near your oven. These can quickly ignite and cause a fire. Keep the area around your oven clean and do not let clutter build up. Clutter could cause a fire to spread to other parts of the kitchen.
Storage: Do not use your oven for storage!
Children and pets: Use baby gates to keep very young children and pets out of the kitchen so they don't put anything in your oven when you are not looking. Also, ensure they cannot touch or access the oven while it is in use.
Install your anti-tip safety bracket: It keeps the stove in place, which is particularly good if you have small kids around who might try to use the opened oven door as a step.
Don't line your oven with aluminum foil: Lining the bottom of your oven with aluminum foil may seem like a good way to catch drippings, but the foil can block air flow or trap heat. This might cause fires, carbon monoxide buildup, or general damage to the appliance. Using a piece of foil on your racks to catch grease is also a bad idea, as the grease can pool in the foil and eventually cause spillage. Use a real pan to catch grease instead.
Know when to call for help: In the event of a fire, be sure to call 911 to help you extinguish the mess and keep your kitchen safe. After your home is secure, call our crews at ServiceMaster Restoration By Simons to clean up smoke and soot while restoring fire damage. Our professionals will bring your kitchen back to order and help get your family's life back on track.
Choose a Trustworthy Company
ServiceMaster By Simons is a reputable disaster restoration company you can rely on. We've been in business for many years and take great pride in serving the expansive Chicago metropolitan area and its surrounding suburbs. Our company stands as the preferred choice in Chicagoland for both commercial and residential disaster restoration services. Our expertise includes Fire Damage Restoration, Water Damage Restoration, Mold Remediation, and Smoke Odor Removal. With a team of highly skilled professionals who are certified by the IICRC, we're equipped to handle insurance claims of any size. Call 773-376-1110 or contact us online.