Thinking About Solar Panel Installation? Read This First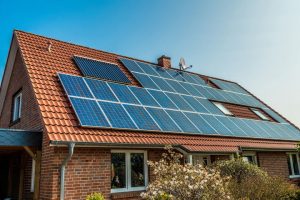 Here at ServiceMaster Restoration by Simons, we care as much as you do about living eco-conscious lives.  We love to see our customers and fellow businesses prioritizing the health of our earth (we only get one!), and we are so here for aiding the cause.  From our certified green products, to our environmentally friendly disaster restoration practices, we have taken steps to move our company into a more harmonious place with the ecosystems around us.  
One of the hottest topics in going green is solar panel installation. People often question whether or not installation is a good move for their household, but it can be hard to find a clear answer.  Media, marketing, and advertising sometimes contain myths that make it almost impossible to discern the real pros and cons of solar panel installation, and solar panels are still not widely used enough that you can simply talk to your neighbor, family, or friends to get the lo-down.  But no worries! The professionals at ServiceMaster Restoration by Simons have you covered with our complete guide to the advantages and disadvantages of solar panel installation.
The case for solar energy
It's no secret that solar energy is a #trendytopic right now, and in a lot of ways, the buzz is merited.  The pros of solar panel installation include:
Solar panels can seriously reduce or even eliminate your electricity bills
When you install solar panels, you generate your own electricity and no longer need your electric utility as much.  Depending on how much energy your panels generate and how much energy your household uses, you could see a significant drop in your electricity bill to the point of its elimination.  A panel system usually lasts 25-30 years, so you could see benefits for decades after a one-time installation.
Solar panels raise the value of your home
Because lots of U.S. homeowners are interested in solar panels but haven't yet had them installed (due to time constraints, ambivalence, or confusion about the process), a home with a working solar panel system will be of higher value than a home that doesn't use solar energy.  So even if the initial installation puts a dent in your wallet, you may see a return on your investment and then some when you sell your home.
Solar panels might give you some spending cash
The U.S. has a variety of solar incentives that could help you turn a profit after solar panel installation. Ultimately, this could also help pay off the cost of the system.  Two bill credit earning benefits are solar renewable energy credits (SRECs) and net metering, which compensate you for the electricity your panels generate.
Solar panels help you avoid rising energy costs
When you look at the numbers, it's a no-brainer: The cost of solar has decreased by more than 70 percent in the past decade, while the cost of electricity has risen by about five percent and is trending upward.  Because there's mostly nothing homeowners can do to control their utility electricity rate, installing solar panels helps give you agency over your bill.
Solar panels are better for the environment
This benefit is obvious, but still worth mentioning.  Solar power benefits the environment while also transitioning the U.S. away from fossil fuels.  By installing solar panels, you will help our country establish energy independence and reduce its carbon footprint.  
What the salesman won't tell you…
Solar energy is trendy, but that doesn't mean it doesn't have its flaws.  Here are some major cons of solar panel installation:
Solar panels won't work with every roof
Solar panel installation involves a mounting system which connects to your roof, and sometimes older homes have roofing materials that are difficult or impossible for solar installers to work with.  Some homes and apartment buildings also have skylights or roof decks that can hinder the installation process. There are other options to get around these roadblocks; for example, ground mounted solar panels or tapping into a community solar garden.
Solar panels probably aren't the move if you're moving
No doubt you'll be forking over a pretty large chunk of change at the time of installation, and while solar panels are a great financial investment, you should expect them to take some time to reach the break-even point.  The average amount of time in the U.S. is around seven and a half years, to be exact. If you plan on moving in the near future, solar panels might not be a worthwhile investment.
Solar panels won't bring you much savings if your energy bill is low
When people talk about solar panels lowering electricity bill totals, they assume the pre-solar panel electricity bills are high.  However, electricity costs vary from state to state, and homeowners who live in states like Louisiana where energy costs 27 percent less than the national average will not experience the same savings with solar panels as homeowners in states like Hawaii, where energy is very expensive.  
Up-front costs can be prohibitive
Without financing, tax credits, and rebates, the out-of-pocket price tag for solar panel installation can induce sticker shock, especially if you don't qualify for a zero-down solar loan.
The installation process can be difficult
Shopping for solar panels can be stressful and confusing, especially with the aggressive sales tactics companies have taken as a result of the fast growth of the solar market.  It can be hard to find high-quality, local installers and compare quotes.
At the end of the day, only you know your specific situation, but hopefully our guide can help you weigh the advantages and disadvantages if you're thinking about installing solar panels.  While we're always in favor of going green, we also believe in smart investments and trust homeowners to make responsible financial and environmental decisions. And, as always, the professionals at ServiceMaster Restoration by Simons are just a call away — we are standing by for all your disaster restoration questions and concerns!
ServiceMaster Restoration By Simons is a MBE/WBE certified minority and women-owned and family run company serving Chicago, Oak Park, River Forest, and the North Shore. The business provides disaster restoration services for damages caused by tornadoes, water, fire, flooding, mold remediation, and a wide range of interior specialty cleaning (hoarder/clutter, post construction, carpet & upholstery) to residential and commercial customers residing in Chicago, Oak Park, River Forest and the North Shore. For more information, give us a call at 773-376-1110 or visit servicemasterbysimons.com.