The Importance of Storm "Four" Knowledge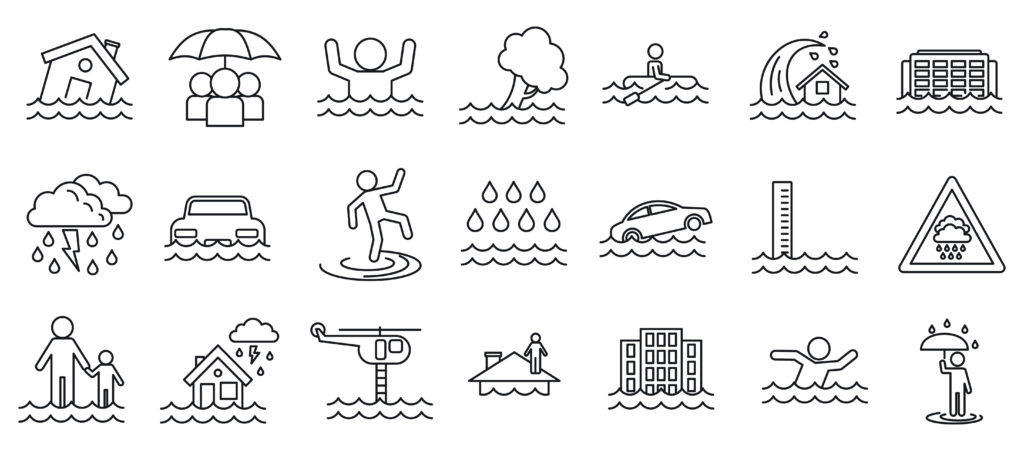 Throughout life, there are many things you plan for. You try to structure your education so you'll have a fulfilling and well-paying job. You may plan for a vacation weeks or even months ahead. Maybe you designed the type of home you wanted, gathering blueprints, getting contractors lined up, choosing color swatches, etc.
But unfortunately, many of us don't plan for disasters, natural or man-made. When they happen, people may say things like, "But I never saw it coming," and "We didn't have time to react." Well, the time for action is long before a tragedy befalls you or your property!
The Chicagoland area is susceptible to a variety of storms – everything from blizzards to floods to tornados. So, what can you do? According to FEMA, there are four main ways to prepare for storms that you can and should undertake NOW:
Four Main Ways to Prepare For a Storm
1. Get Informed – Chicago has an emergency management office and a Red Cross Chapter. These organizations provide vital information concerning local emergency response arrangements, evacuation plans and emergency shelters. It's also a good idea to invest in a NOAA Weather Radio that will alert you during any time of the day or night when possible destructive conditions materialize.
2. Make a Plan
Conduct a family meeting that will inform everyone what your emergency plans are.
Have an out-of-town contact that each one knows the number to. This is who you'll call to inform where you are after a disaster strikes.
Teach your children how and when to call emergency numbers.
Have a prearranged location picked out as the place your family will meet in case you get separated from one another. Make sure everyone knows not only the best escape routes but the safe places to go inside your home if a tornado approaches.
Know how and when to turn off water, gas and electricity at the main switches or valves.
Have fire extinguishers ready and show everyone where they're located and how to use them.
Inventory your possessions and keep that list along with important documents in a safe deposit box.
Keep your homeowners or renter's insurance company's telephone numbers readily available. (Also, be sure to keep ServiceMaster Disaster Restoration By Simons phone number close at hand!
3. Assemble a Kit – this is a collection of basic family needs you'll need after a disaster. These should be stored in a portable container and enough to last you three days. It should include food, water, a battery powered radio, a flashlight, etc. You can find a full list of items for your survival kit at redcross.org
4. Maintain Your Plan – every six months, review your plans with your family, conduct evacuation drills and restock expiring food and perishables in your kit. Also, confirm your fire extinguisher is recharged and smoke alarm batteries are replaced.
Alan Lakein, an author on personal time management, once wrote, "Planning is bringing the future into the present so that you can do something about it now." That's very empowering when you think about it. It's almost like time traveling without a DeLorean or having to mess with all that space-time continuum stuff. Planning ahead for emergencies can also bring you great peace of mind. Think of it as an insurance policy against future disasters without the pesky premiums.
If your Chicagoland home or business has been damaged by ANY type of storm or disaster, be sure to contact ServiceMaster Disaster Restoration By Simons immediately. They're the trusted name that will return your property back to pre-loss conditions – FAST!
About ServiceMaster Restoration By Simons:
ServiceMaster Restoration By Simons, is a 2020 recipient of the Better Business Bureau's Torch Award for Marketplace Ethics, and recipient of the 2020 Skokie Business of the Year Award, Honorable Mention Category. ServiceMaster Restoration By Simons (MBE/WBE) is a family operated, IICRC & OSHA Certified company serving Chicago, Oak Park, River Forest, and the North Shore. We provide commercial disaster restoration services including Water & Flood Damage Restoration, Fire & Smoke Damage Restoration, Mold Remediation and a wide range of interior specialty cleaning including COVID-19 Cleaning Services, Hoarder & Clutter Cleaning, Post-Construction Cleaning, Carpet & Upholstery Cleaning to residential and commercial customers. For more information, call 773-376-1110 or visit www.servicemasterbysimons.com or info@servicemaster-rbs.com