The Exhaustive Fall Cleaning Checklist for Homeowners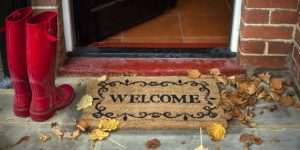 It's time to face the facts: Summer has come and gone. With the official start of fall coming up this weekend, the temperatures across Chicagoland are steadily dropping — much to the dismay of those of us who love long beach days! On the bright side, though, the kids are back in school, cozy sweaters are back in fashion, and ordering a PSL at Starbucks will no longer warrant you strange looks.
Whether you're looking forward to or dreading fall, the change of the season does mean it's time for some quarterly cleaning. Here at ServiceMaster Restoration by Simons, we recommend you complete an exhaustive cleaning of your home and its exterior during each seasonal change, but especially in the fall. By setting aside time now for an in-depth fall cleaning, you and your home will be better prepared for colder temperatures, winter weather and holiday celebrations.
Cleaning an entire home in preparation for winter can be hard work — trust us, we know! It can be so hard for busy families to find time in between work, school drop offs, and soccer practices…and even when you do find the time, the prospect of cleaning a whole house can feel daunting. That's why we've prepared a list of fixtures and places that you absolutely must inspect, clean and/or prepare as temperatures begin to chill. So round up your little helpers and your supplies (bonus points for using natural or green solutions!) and get cleaning.
Inside your home…
Windows
A simple wipe-down of all your windows should suffice. Make sure to dust off the borders of your windows for a more thorough clean, too.
Walls
Dust, wash, rinse, and dry your walls.
Furniture and upholstery
Even if you regularly clean your upholstery and vacuum your furniture, you'll likely need a deep clean once a year. Make sure you clean in the crevices where pet hair and crumbs tend to accumulate. A ServiceMaster professional can also help you ensure your furniture and upholstery receive the best deep clean possible — just give us a call!
Vents
Dust around and in your HVAC vents.
Bathroom tile and sinks
Use a natural baking soda and vinegar mixture to get rid of hard water, mold, and mildew that accumulates naturally in these areas. Never use vinegar on marble tile.
Carpeting
Even with regular vacuuming, a deep clean is always recommended once or twice a year to ensure your carpets remain spotless and bacteria-free. Give us a call to schedule your carpet cleaning this fall!
Refrigerator
This one might seem obvious, but you'll want to check your fridge for any expired food that could be lurking from summer. While you're at it, make sure to disassemble shelving for soaking and to clean the interior with a bacteria-killing solution.
Smoke and carbon monoxide monitors
Not only should you dust around the alarm systems, but you should also test them. The risk of house fires goes up in the wintertime, so you should ensure your alarm systems are working now.
Furnace filter
If you haven't replaced your furnace filter within the past three months, do so now.
Chimneys
Make sure your chimney and fireplace are professionally inspected and swept.
Attic
Take a few hours to declutter and organize your attic — and to inspect it for rodents or other unwanted guests.
Cupboards
There's no time like the present to reorganize and wipe-down the insides of your cabinets.
Light fixtures
Dust and clean all light fixtures in your home. Cobwebs and dust particles tend to build up quickly on them, especially those that are attached to the walls or hanging from the ceiling.
Outside your home…
Weather stripping and caulking around doors and windows
In winter weather, these will be your home's first line of defense. Make sure you repair or replace them as needed. Also make sure you seal any cracks you see in your home's exterior so that critters, like mice, can't sneak inside to take refuge from the cold.
Gutters
Clean them before the temperatures freeze to minimize your home's risk of damage.
Patio furniture
Make sure your patio furniture is cleaned and stored away until the weather warms next year. Ensure no garden cushions have been accidentally left lying around your patio.
Landscaping
Prepare your landscaping for fall and winter by trimming trees and shrubs and making sure all leaves are raked up and disposed of. Completing these two seemingly minor tasks will prevent the inhibition of foliage growth in the spring.
Faucets and hoses
Protect your pipes from freezing temperatures by shutting off water to exterior faucets before winter weather hits. Also be sure to drain hoses and store them indoors.
ServiceMaster Restoration By Simons is a MBE/WBE certified firm and family-run company serving Chicago, Oak Park, River Forest, and the North Shore.  ServiceMaster Restoration By Simons provides disaster restoration services including Water & Flood Damage Restoration, Fire & Smoke Damage Restoration, Mold Remediation and a wide range of interior specialty cleaning including Hoarder & Clutter Cleaning, Post-Construction Cleaning, Carpet Cleaning and Upholstery Cleaning to residential and commercial customers residing in Chicago, Oak Park-River Forest and the North Shore.  For more information, give us a call at 773-376-1110 or visit servicemasterbysimons.com