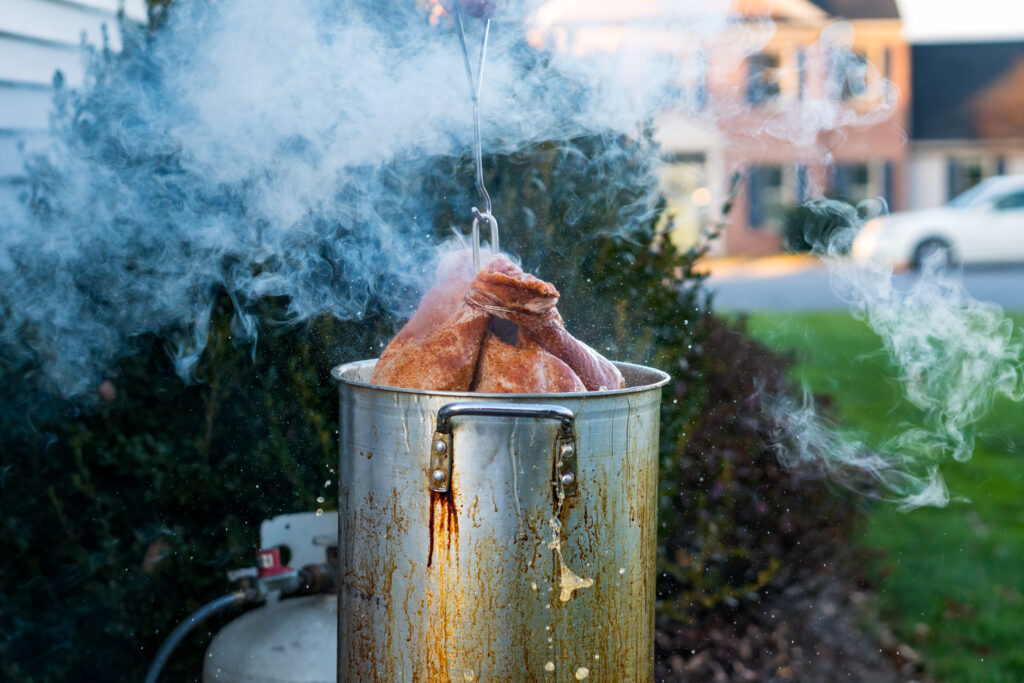 Thanksgiving is a popular holiday in Chicago and many families look forward to reconnecting with loved ones. But unfortunately, according to the National Fire Protection Association (NFPA), Thanksgiving is also the foremost day for home-cooking fires, with three times as many fires caused by cooking than a typical day.
And according to FEMA, in the years between 2017 to 2019, there were an average of 2,300 residential building fires that were reported to fire departments in the U.S. on Thanksgiving Day, causing an estimated 5 deaths, 25 injuries, and $26 million in property loss.
Although many like Thanksgiving because it's a day to reunite, let's face it, it's also about the food. Tons of it! So with all that cooking, it pays to be extra careful in the kitchen. The following are fire safety tips to keep you and your family and your Chicagoland property safe this year.
Thanksgiving Fire Safety Tips
While baking, frying, or grilling food, stay in the kitchen. If you must leave for even a few minutes, turn off the stove or have a responsible adult remain there while you're away.
Although it takes a while for a turkey to cook, never leave the house while it's still roasting in the oven. Someone should always be nearby, checking on it frequently.
Booze, drowsiness, and cooking don't mix! Never use a stove if you're sleepy or have consumed too much alcohol.
DING! Always use cooking timers as reminders to shut off the oven or stovetop.
We all like to be comfortable while doing work around the house, including cooking. But loose clothing and long sleeves are more prone to getting near flames and catching fire. So wear tighter clothes. Also, long hair should be tied back while cooking.
Keep all flammable objects away from the stovetop. Use only flame-resistant oven mitts, not the ones Aunt Polly knitted for you.
Keep a pan lid nearby to smother any possible grease fires. If one roars up, place the lid on the pan, shut off the stove, and let it cool. And never throw water on a grease fire to put it out unless you want a roasted house along with your turkey.
Make sure a fire extinguisher is installed in your kitchen for added fire prevention.
Keep your kitchen floor clean so that it's not slippery and remove any objects that could cause trips or falls.
Keep kids and pets at least three feet away from a hot stove and hot food. Serious burns can occur from fresh, out-of-the-oven foods and their steam.
Some kids like to help in the kitchen, but there's a time and place for everything. During busy holiday cooking, keep them involved with other activities outside the kitchen.
Keep electric cords attached to hot kitchen utensils out of the reach of children and pets.
All matches and lighters need to be in a locked cabinet and/or out of the reach of children.
Instead of real candles, use battery-operated ones.
Test your smoke alarms at least once a month and replace their batteries yearly.
Reexamine your home fire escape plan with your family and inform any visitors about it.
Preventing Turkey Fryer Fires and Injuries
The NFPA disadvises using outdoor gas-fueled turkey fryers that submerge a turkey in hot oil. They recommend any who prefer deep-fried turkey to instead use the new type of oil-less turkey fryer. But if you prefer traditional hot oil fryers, then keep these safety tips in mind:
Your turkey fryer needs to be outside on a sturdy, level surface far from people, animals, any structure, and anything combustible.
Don't overfill the fryer. First, put the turkey in it with water. That will tell you the correct amount of oil you'll need.
Confirm that the turkey is completely defrosted before frying it or you may (hopefully) live to regret it.
Check the temperature of your fryer with a cooking thermometer as it could easily overheat and start a fire.
Wear long cooking gloves to protect your hands and forearms when working with a turkey fryer.
If you experience a cooking fire:
Flee the house and shut the door to help contain the fire.
Call 9-1-1 once you're outside.
If you try to put out a fire using a fire extinguisher, make sure everyone else gets out of the house and check that you also have a clear path out. Since your hands will be full, ask someone else to call 9-1-1.
For oven fires, shut off the heat and keep it closed.
For Professional Fire Damage Restoration, Contact ServiceMaster By Simons!
By following these safety tips you can increase the odds that you'll have a safe and enjoyable celebration with family and friends. Still, disasters can happen when they're least expected. If you experience a fire, you'll require fire damage cleanup services urgently. For professional smoke remediation and fire damage repair in the Chicagoland area, contact ServiceMaster By Simons.
About Us: Co-Authors RESTORE your complete guide to protecting your home as your most valuable asset from water and fire disasters  https://www.amazon.com/dp/1952779529. Recipient of 2022 award for Daily Herald Entrepreneurial Excellence. ServiceMaster Restoration By Simons, is a SB100 Best of Small Business Award Winner 2021, Bronze Stevie® Award in the Female Entrepreneur of the Year category in the 18th annual Stevie Awards for Women in Business, recipient of the 2020 Better Business Bureau's Torch Award for Marketplace Ethics, and recipient of the 2020 Skokie Business of the Year Award, Honorable Mention Category. ServiceMaster Restoration By Simons (MBE/WBE) is a family operated, IICRC & OSHA Certified company serving Chicago, Oak Park, River Forest, and the North Shore. We provide commercial disaster restoration services including Water & Flood Damage Restoration, Fire & Smoke Damage Restoration, Mold Remediation and a wide range of interior specialty cleaning including COVID-19 Cleaning Services, Hoarder & Clutter Cleaning, Post-Construction Cleaning, Carpet & Upholstery Cleaning to residential and commercial customers.