How to Choose a Deicer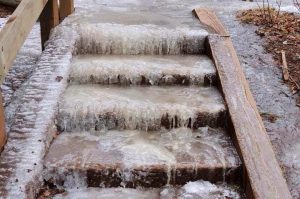 It's January, and the weather has been up and down here in Chicago. We've had below-zero windchills mixed in with 40-degree days that melt the snow to water just in time for it to freeze over when temperatures drop again. It's a vicious cycle, and comes with increased fall hazards as sidewalks accumulate ice. We've talked a lot about making sure you use a deicer in our past winter tips blogs, and here at ServiceMaster Restoration by Simons, we want to go the extra step and share our guide to choosing a deicer that will work for you.
The bottom line is that you have options! No longer is sodium chloride rock salt the only standard. Many of these options you can find easily at a home and garden store, or online. You can also use them in combination with each other for different types of spaces. Some choices we recommend to keep your household or business safe:
1) Be environmentally conscious with a "green" deicer. Instead of rock salt, opt for a deicer with 100% calcium chloride, which doesn't harm pets if ingested. It also doesn't track into your house or building as easily as traditional rock salt, therefore you can minimize hard surface floor cleaning and carpet cleaning during the winter. This comes in flake, pellet, or liquid form.
2) Use a deicer with potassium chloride when the temperature falls below 20 degrees. Traditional rock salt is much less effective as the temperatures get lower, and that's where potassium chloride pellets shine.
3) Purchase a deicer with urea if you need to melt ice in temperatures above 25 degrees. It poses less of a threat to plants and wildlife than rock salt because of its low toxicity level.
4) For people who want the best protection against harm caused by a child's or pet's accidental ingestion of their deicing agent, turn to non-chloride based deicers, like Safe Paw. It's salt-free and made instead with an amide-glycol blend – making it the safest option for pets. You could also use calcium magnesium acetate (CMA) for the most environmentally friendly option.
5) Contrary to popular belief, sand and kitty litter will not melt ice, but they will provide better traction on ice. We would not recommend using this option without also purchasing a deicer.
The National Safety Council reports that the frigid weather causes almost 8.9 million visits to the emergency rooms yearly. Follow our tips to make sure you don't become another statistic!
ServiceMaster Restoration By Simons is a women-owned and family run company serving Chicago, Oak Park, River Forest, and the North Shore. The business provides disaster restoration services for damages caused by water, fire, flooding, mold remediation, and a wide range of interior specialty cleaning (hoarder/clutter, post construction, carpet & upholstery) to residential and commercial customers residing in Chicago, Oak Park, River Forest and the North Shore. For more information, visit servicemasterbysimons.com, or give us a call at 773-376-1110.