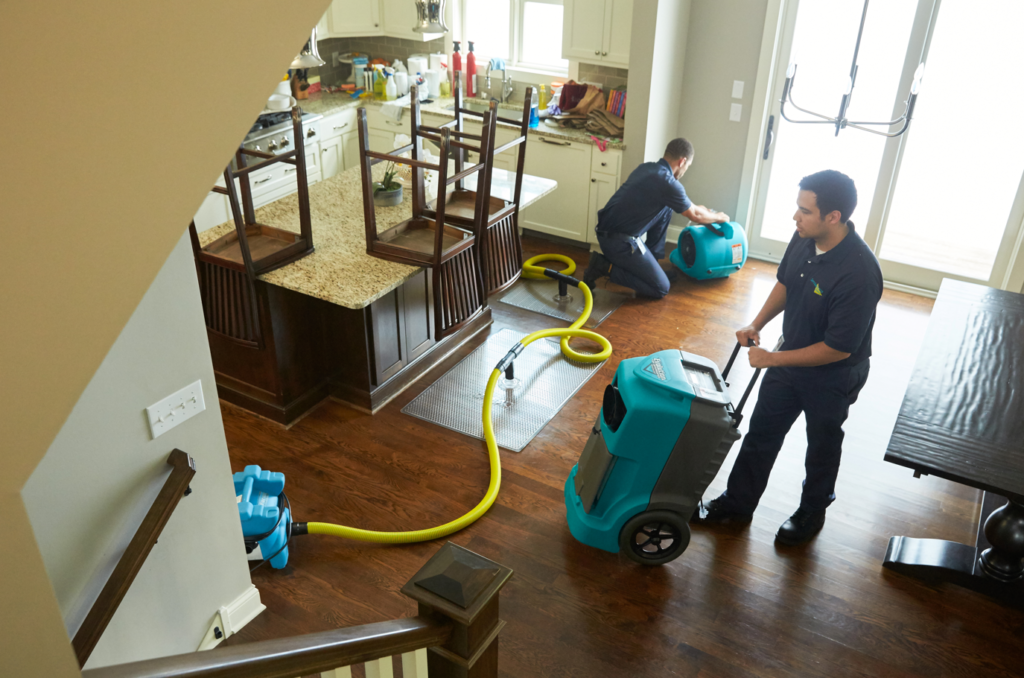 Hardwood flooring is very popular in Chicago area homes as it adds a pleasing, visual touch to rooms. They also complement any home décor style, from country to modern to traditional. And while they seem to be virtually indestructible, there is one thing that hardwood floors don't tolerate very well – water.
Major water damage from broken pipes or flooding will cause the most harm, especially if it goes on for an extended period. However, even a small moisture leak, if it's continuous, can damage wood flooring. Just because a wood floor has a polyurethane coating doesn't make it waterproof.
Signs of Water Damaged Hardwood Flooring
When water is allowed to seep into wood flooring, that causes the wood to expand. This results in several types of damage:
Cupping – this occurs when soaked wood expands and pushes against the other boards so that the edges become higher. If you looked at the end of such an affected board, you'd see it in the shape of a U. This can also be caused by a moisture imbalance between the top and bottom sections of the hardwood flooring.
Crowning – this is similar to cupping except that the moisture that has penetrated the wood causes an opposite effect. In this case, the center of the board becomes higher than the edges so that the board takes on the shape of an inverted U.
Buckling – floor buckling is a hardwood floor's most extreme reaction to moisture. Buckling occurs when the wood flooring pulls up from the subfloor, lifting several inches in one or more places.
Other signs of water damage to a hardwood floor include cracking along the floors or the floorboards separating. Additionally, mildew and dangerous mold can grow in areas that are hard to see or access.
Can Hardwood Floors be Salvaged?
It used to be that once hardwood floors were damaged by water, they would have to be torn out and replaced. That would be very expensive, especially without insurance. But nowadays water restoration contractors like Chicago's ServiceMaster By Simons have the technology to repair waterlogged wood floors and return them to normal. You can see this in this quick video.
What Happens when Engineered Wood Floors Get Wet?
Engineered wood flooring is not waterproof. It's still made of wood after all, and wood absorbs moisture. Besides buckling and warping as happens to hardwood floors, water damage to engineered wood floors includes:
A cracked finish – sometimes the top layer can begin to split apart, causing large cracks in the flooring.
Delamination – this happens when the top layer of an engineered wood floor separates from the core underneath. When water gets between the two, it can erode or damage the adhesive that holds them together.
Bubbling – like delamination, bubbling happens when sections of the top layer of hardwood separate from the core underneath, except that bubbling will also cause uneven flooring.
Discoloration – water may leave visible stains or spots in the hardwood layer.
Can Soaked Engineered Wood Floors be Saved?
If the water is removed quickly there is a good chance you can save this type of flooring. If minor cupping does occur, the floor may be restorable.
But for the most part, the answer is, NO. (Depending on how much water has affected the floor.) Because of the way it's made, the glue can dissolve, permanently separating the layers of flooring. Additionally, the flooring can be sanded only once or twice due to the thin surface layer of hardwood. But if the water-damaged engineered flooring is buckled, delaminated, or discolored, it's not salvageable and should be removed and replaced.
If you need water damage repair or restoration on your hardwood, laminate, or engineered hardwood flooring, make sure to contact ServiceMaster Restoration By Simons to help dry your floors. We'll work hard to return your floors to pre-loss conditions — FAST!
About Us: ServiceMaster Restoration By Simons, is a SB100 Best of Small Business Award Winner 2021, Bronze Stevie® Award in the Female Entrepreneur of the Year category in the 18th annual Stevie Awards for Women in Business, recipient of the 2020 Better Business Bureau's Torch Award for Marketplace Ethics, and recipient of the 2020 Skokie Business of the Year Award, Honorable Mention Category. ServiceMaster Restoration By Simons (MBE/WBE) is a family operated, IICRC & OSHA Certified company serving Chicago, Oak Park, River Forest, and the North Shore. We provide commercial disaster restoration services including Water & Flood Damage Restoration, Fire & Smoke Damage Restoration, Mold Remediation and a wide range of interior specialty cleaning including COVID-19 Cleaning Services, Hoarder & Clutter Cleaning, Post-Construction Cleaning, Carpet & Upholstery Cleaning to residential and commercial customers. For more information, call 773-839-5542 or visit www.servicemasterbysimons.com or info@servicemaster-rbs.com