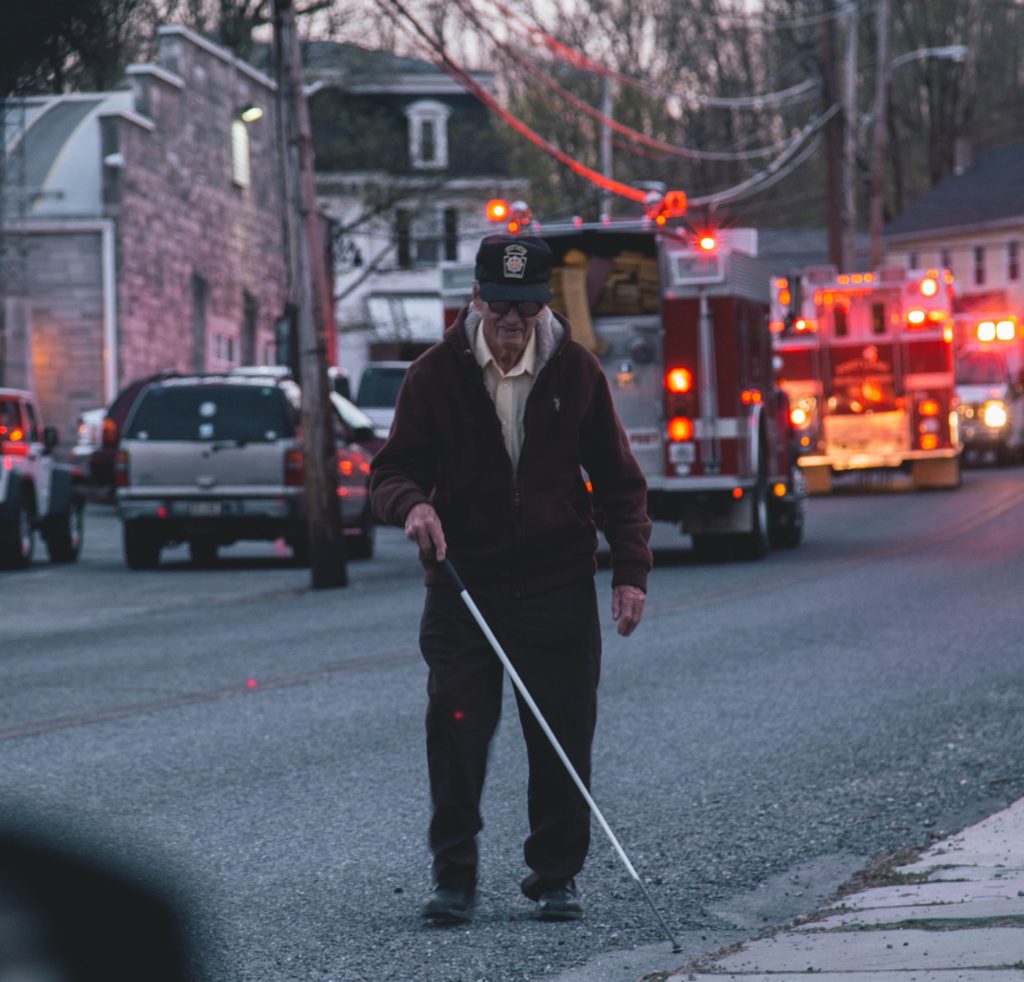 More than 43 million Americans have a disability, over 520,000 in the Chicagoland area alone. This is an incredibly important stat when it comes to fire safety and evacuation. Every home and business should be aware of their occupants' situation — and should work to increase well-being by implementing ADA-compliant fire safety tips for people with disabilities.
In order to understand the dangers at hand, we must first recognize the unique fire safety challenges that people with disabilities face. People living with mobility, physical, auditory, visual or mental impairments experience everyday difficulties navigating daily life. This is exactly why ADA-compliant fire safety tips for people with disabilities are crucial. For people with impairments, the risk of starting a fire or getting hurt in one due to:
Decreased mobility, health, sight, and hearing that may limit a person's ability to take the quick actions necessary to escape during a fire.

Physical limitations. Many actions individuals can take to protect themselves from the dangers of fire may require help from a caretaker, neighbor or outside source.
To overcome their unique challenges in emergency situations, disabled ones, along with their caregivers, need to create a safety plan specific to their needs. Here are eight ADA-compliant fire safety tips for people with disabilities — whether they be physical, auditory, visual, or mental:
Install ADA-compliant smoke alarms

in every sleeping area and every level of your Chicagoland home. Test the alarms monthly by pressing the test button and replacing the batteries each year. If you can't reach the test button, ask someone to test it for you. 

For the hearing impaired,

install smoke alarms and alert devices made specifically for people who are deaf or hard of hearing. This is, perhaps, the most important ADA-compliant fire safety tip for people with disabilities, and the best way to protect visually- or hearing-impaired residents against an already blazing fire. They detect the sound of smoke alarms and flash strobe lights to alert you. Those hard of hearing can also opt for smoke alarms that emit a loud, low-pitched sound alert. Additionally, use vibrating pillows and a bed shaker that wake you up when a fire alarm sounds. And keep a telecommunication device for the deaf (TTD) phone in your bedroom close to your bed.

Always be vigilant when cooking.

The kitchen is where most fires caused by people with disabilities start. Always supervise the oven or stove when cooking and use a timer. Have a fire extinguisher located nearby that's reachable and be trained on how to use it.

Live on the ground floor.

Whether you live in an apartment building or a multistory home, you should arrange to live on the first floor. By doing so, you'll be able to escape quickly and more easily in case of a fire.

Discuss and practice your fire safety plan

with your family, friends, building managers and/or neighbors. Practice your fire escape plan with your service animal if you have one. Be sure your fire safety plan accommodates impairments by ensuring its ADA-compliance for people with disabilities. 

Let your local fire department know

about your condition and explain your needs. They can perform a home fire safety inspection and suggest escape plan ideas at your request.

If you use a walker or wheelchair

, make sure you can easily get through your doorways. If possible, design your home around your disability. Widen the doorways and install exit ramps to make an emergency escape easier.

Always keep a cell phone on or near you

to call 911 if a fire or other emergency occurs. For best practice ADA-compliant fire safety for people with disabilities, make sure you let the operator know whether someone affected by the fire is impaired. 
Your Chicagoland home is where you should feel safe and secure. But often, danger occurs when we forget to pay attention to the simple things that could easily prevent a disaster. These risks are much more dangerous for people with disabilities, who have certain impairments and unique challenges in emergency situations. However, with the right planning and preparation, you'll help keep yourself and loved ones safe when a crisis occurs. It all comes down to ensuring you've implemented measures that speak to ADA-compliant fire safety for people with disabilities. 
While nobody ever likes to think about disasters occurring, fires do happen in America each and every dya. It's better to be well-prepared to make sure an emergency doesn't turn into a tragedy. And, remember, if you do experience fire damage, call ServiceMaster Restoration By Simons immediately to repair your home and return it to pre-loss or better condition.
ServiceMaster Restoration By Simons is an MBE/WBE certified firm and family-run company serving Chicago, Oak Park/River Forest, and the North Shore.  ServiceMaster Restoration By Simons provides Disaster Restoration Services including  COVID-19 Cleaning Services, Water & Flood Damage Restoration, Fire & Smoke Damage Restoration,  Mold Remediation, and a wide range of interior specialty cleaning including Hoarder & Clutter Cleaning,  Post-Construction Cleaning,  Carpet Cleaning, and Upholstery Cleaning to residential and commercial customers. ServiceMaster Cleaning By Simons provides Specialty Cleaning Services For Chicago, Oak Park-River Forest, and the North Shore.  For more information, give us a call at 773-376-1110 or visit servicemasterbysimons.com.