10 Ways to Winterize Your Home This Fall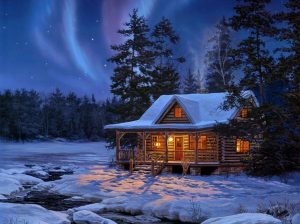 Fall has come and gone — and it's time to start thinking about how you can better help your home withstand the tough winter ahead. Prepping for the winter is never easy, but with these few quick tips from the professionals at ServiceMaster Restoration By Simons, you can move on to making your hot cocoa and gingerbread houses with no worries at all!
Change your furnace filters:

We bet you didn't even know that this was something you should be regularly doing, but believe us, it is. A crucial housekeeping step that's easy to forget, it's very important to change your furnace filters at

least

once a month during the winter. If your filters are dirty, the airflow in your home will be restricted and your energy bill will go up! Also vacuuming the register covers is a good idea for forced heating systems because dust tends to accumulate on covers with air flow. A quick fix to make sure you don't forget to do this each month is to put a reminder in your calendar.

Inspect your furnace:

Make sure your furnace runs safely before using it and avoid disaster. Call a professional like ServiceMaster Restoration By Simons to help. We will do a safety check for carbon monoxide, check the blower operation of your furnace and inspect your gas pipes in order to keep you and your family safe this holiday season!

Update your AC and water lines:

This is another essential step to preparing your home for the winter that will also save you loads of dough that you would probably rather be spending on gifts instead. All you need to to is drain your hoses and air conditioner pipes to make sure you don't have excess water pooling in the equipment. If your AC has a shut off valve, just turn it off.

Turn down your water heater:

This probably seems counterintuitive in the winter, but the reality is that most conventional water heaters are set higher than they need to be by installers, raising your monthly expenses. If you set your temperature to 120 degrees Fahrenheit, you could reduce your water savings by up to 10 percent!

Avoid icy drafts:

Either buy or create a draft snake yourself to place under drafty doors. Doing this will also save you energy and keep you from freezing. You can make a draft snake at no extra cost by rolling up scraps up fabric and filling them with sand to weigh them down.

Watch the thermostat:

Don't forget to turn down the heat when you leave your home. It's not worth paying for heat you're not using, and with modern technology it doesn't take long to warm up your home once you return. This will help cut your energy bill by up to 70 percent.

Check your fireplace:

Before you build your cozy fire and start entertaining guests, be sure to check for animal nests or creosote buildup, which can be hazardous. You should be doing this regularly if you use your fireplace often.

Protect your plants:

It's easy to forget our little friends that live outside, so make sure your plants are protecting by bringing them into your home before the first real cold snap hits. This is usually before temperatures dip to lower than 45 degrees overnight.

Maintain your outdoor equipment:

Outdoor power tools like lawn mowers need to be cleaned before you try to store them. Leaving them outside is not a good idea and will shorten their lifespan greatly.

Trim nearby trees:

This probably doesn't seem super important, but trust us, you'll be thanking us for this tip. Snow and ice easily cause trees to break down, especially in the Chicago wind, so make sure none are near your home or vehicles. With a little work, you can avoid a nasty insurance disaster this holiday season and cozy up with your family instead.
ServiceMaster Restoration By Simons is a MBE/WBE certified firm and family-run company serving Chicago, Oak Park, River Forest, and the North Shore.  ServiceMaster Restoration By Simons provides disaster restoration services including Water & Flood Damage Restoration, Fire & Smoke Damage Restoration, Mold Remediation and a wide range of interior specialty cleaning including Hoarder & Clutter Cleaning, Post-Construction Cleaning, Carpet Cleaning and Upholstery Cleaning to residential and commercial customers residing in Chicago, Oak Park-River Forest and the North Shore.  For more information, give us a call at 773-376-1110 or visit servicemasterbysimons.com