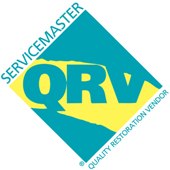 ServiceMaster Restoration By Simons Quality Restoration Vendor – IICRC Master Water & Fire Restorer – Restoration Industry Association (RIA)
Quality Restoration Vendor ServiceMaster Restoration By Simons stands among a select group of ServiceMaster disaster restoration & recovery franchisees as a Quality Restoration Vendor (QRV). The QRV Program ensures consistent, high-quality standards in our response to commercial losses.
As a QRV, we will arrive in 2 to 4 hours to begin Water & Flood Damage Restoration or Fire & Smoke Damage Restoration for your property. Our quick response and pre-authorized costs save you time and money.
Established in 1991, the ServiceMaster QRV Network has been a solution for insurance industry professionals in identifying franchisees committed to providing superior, consistent disaster mitigation services.
ServiceMaster closely monitors all members of the QRV network to ensure complete adherence to its requirements:
Employ the utmost integrity in estimating and billing practices.
Complete, and commit to continue, employee training programs that keep ServiceMaster on the cutting edge of effective restoration techniques, products, and technology.
Use the proven ServiceMaster equipment, processes, and products.
Perform all services in compliance with ServiceMaster specifications.
Meet or exceed the ServiceMaster requirements for General Liability Insurance and Worker's Compensation Insurance.
Resolve customer service issues swiftly and professionally. Guaranteed.
Commit to the ServiceMaster principles of environmental stewardship.
Demonstrate the ability to competently deliver every aspect of the ServiceMaster service guarantees including accessibility, response time, communications capabilities, quality results, and conscientious safety controls.
ServiceMaster Restoration By Simons is a proud member of ServiceMaster Restore's QRV Network. We're also proud to provide our customers with professional, IICRC Certified Master Water & Fire Damage Restoration services in the Chicagoland area. As an IICRC Master Fire & Smoke Restorer and a Master Water & Flood Restorer, and as a proud member of the Restoration Industry Association (RIA), you can rest assured that you are receiving the very best and latest restoration and remediation services for your property.
Call us today at 855-9-SIMONS or contact us through our website for more information or to schedule your emergency restoration services.