Dear Bathroom: Spring Cleaning Came Early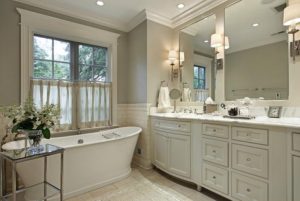 It may still be winter, but bathrooms could always use a little "spring cleaning!"  Adults use the bathroom an average of four to seven times per day. With that heavy daily usage, plus the very nature of bathroom visits, it's no wonder that they're loaded with germs and bacteria at any given time.
To prevent the bathrooms in your business, home, condo, or apartment from becoming a nasty health hazard, have your bathrooms professionally cleaned by ServiceMaster Cleaning by Simons. Our teams of cleaning professionals have the tools, solutions, and expertise to not only make your restrooms shine from top to bottom, but to make them healthier for everyone who uses them. After we're finished thoroughly cleaning your restrooms, they'll look and smell terrific and harbor fewer illness-causing germs and bacteria.
What is it about dirty bathrooms that pose health risks for everyone who uses them? They have several surfaces that are touched by many, many hands throughout the day. These surfaces, known as touch points, include light switches, door knobs, toilet and shower handles and faucets. Regular restroom or bathroom cleaning eliminates the germs on common touch points, greatly decreasing the germ load in residential bathrooms. Your family and guests will be healthier and much happier knowing they're using bathrooms that are clean and well-maintained.
Our bathroom cleaning services include the following satisfaction-guaranteed services:
Cleaning and disinfecting all common touch points.

Emptying all trash receptacles.

Dusting or vacuuming vents, corners, and baseboards.

Cleaning and sanitizing all vanity counters, sinks, toilets, tubs, and showers.

Hard surface floor cleaning, which includes sweeping, mopping and vacuuming.

Polishing mirrors, faucets, and other chrome surfaces.

Cleaning in, around, and behind all toilets and other hard-to-reach surfaces.
High-quality bathroom cleaning in your home can be bundled with house-wide cleaning packages for your residence. Give us a call today at 773-376-1110 for a free estimate on our residential cleaning packages and additional details on how we can make your restrooms gleam. In addition to West Town, ServiceMaster Cleaning by Simons serves an additional 18 Chicagoland neighborhoods. Be sure to check out our website for more information on how we can help you.
ServiceMaster Restoration By Simons is a women-owned and family run company serving Chicago, Oak Park, River Forest, and the North Shore. The business provides disaster restoration services for damages caused by water, fire, flooding, mold remediation, and a wide range of interior specialty cleaning (hoarder/clutter, post construction, carpet & upholstery) to residential and commercial customers residing in Chicago, Oak Park, River Forest and the North Shore. For more information, visit servicemasterbysimons.com.