Commercial Water Damage: What do I do if a pipe bursts at my business?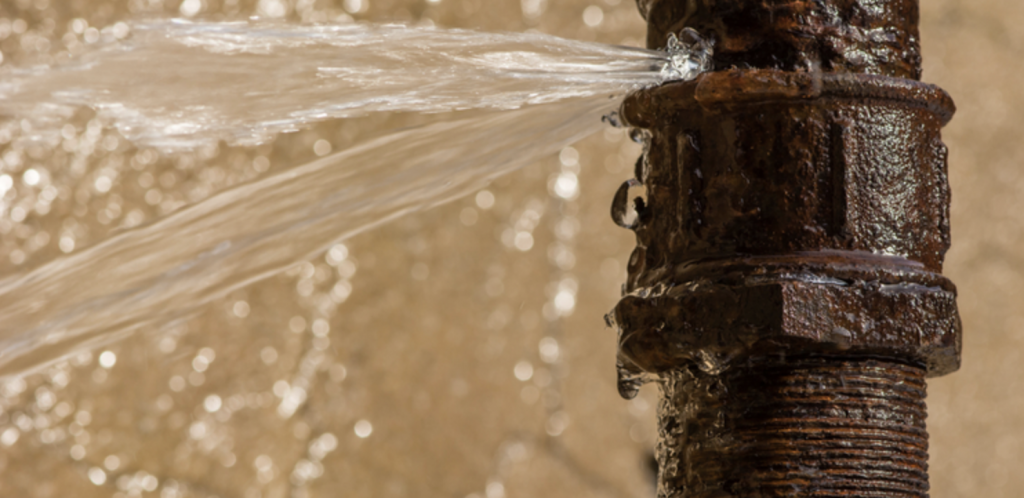 I've got a burst pipe! Now what?
During the Polar Vortex at the beginning of this year, many Chicagoland business owners experienced pipe bursts at their properties due to the plunging sub-zero temperatures across the state and the rapid warm-up that followed. Water damage in office buildings, churches, schools, multi-family residential buildings and homes caused by burst pipes is an enormous inconvenience and hazard to property managers, homeowners, and landlords alike.
Why do pipes burst in cold weather?
Cold weather can result in serious issues if your pipes are affected in your office building. Although cold temperatures generally cause things to contract, ice has more volume than water. This means that when water freezes inside a pipe, it expands and increases in pressure. The building pressure must escape, causing the pipe to eventually burst. This can sometimes occur at a weak joint in the pipe, but pressure can also burst right out of the side of the pipe wall as well. One way to prevent water pipes from bursting during extreme cold is to turn on your faucets occasionally to allow a slow but steady stream of water to escape. Be sure to not let out too much water — you only need to release a trickle for this trick to work. When done correctly, this tactic will keep water moving through your pipes and prevent pressure from building up inside them. 
What steps should I take after a pipe burst?
After realizing one of the pipes in your building has burst, you must immediately shut off the water main. Next, contact a plumber to immediately identify the location of the burst pipe and to repair the burst pipe. Remove important personal items, papers and wet furniture from the area if you can reach them safely and let them dry. Never enter a flooded basement, since they represent a high risk of electrocution. After the pipe(s) is repaired, contact an IICRC certified restoration company such as ServiceMaster Restoration By Simons to bring your property back to its prime.
Why Choose ServiceMaster Restoration By Simons?
As an IICRC Certified Firm, ServiceMaster Restoration By Simons follows IICRC S500 Standards for professional water damage restoration. Our IICRC certified technicians will assess the water damage on site and determine the best course of action to restore your damaged property. For example, clean water damage from a burst water supply line pipe on your property is considerably different than water damage from a sewer backup. As leading experts in the field, we will quickly determine the best course of action so your business can get back to normal as soon as possible.
The different water damage restoration services we perform include:
What is our Water Damage Restoration process for a burst pipe?
Upon ServiceMaster Restoration By Simons's arrival to your property, our trained IICRC Certified project manager will begin the assessment of any damage and will plan the mitigation of the water's damage to the property.
Some of the burst pipe assessments we perform include:
Identifying the specific location of the burst pipe(s) and the subsequent water damage to your property.

Determining the water's path throughout the property using thermal imaging equipment.

Determining areas in the property affected by the water damage, such as ceilings, walls, flooring, fixtures, and mechanical damage.

Determining the best plan of attack. We will determine the best way to dry your property and what equipment we'll use to do it.
D.I.Y. – Can I handle cleaning up any water damage or a pipe burst myself?
Simple drying techniques are often not enough when drying water in the aftermath of a leak, spill or flood. Carpets, walls, paneling, baseboards, and floor coverings are porous, which means extensive water damage cleaning is required. Surface cleaning only removes visible contamination, but microorganisms are often left behind, which can potentially cause health problems, unpleasant odors or, worst of all, mold growth! All surfaces affected by water damage must be thoroughly cleaned, dried, disinfected and deodorized by a trained professional like the ones at ServiceMaster Restoration By Simons in order to properly eliminate disease-causing bacteria, fungi, and viruses.
What are the 3 basic categories of water found when water damage strikes?
Category 1: Known as "clean water," this type of water originates from a sanitary source and poses no substantial risk from dermal exposure, ingestion, or inhalation. However, it may not always remain clean after it comes into contact with other surfaces or materials. Some examples of "clean water" are broken water supply lines, tub or sink overflows or appliance malfunctions that involves water supply lines.
Category 2: Known as "grey water," this type of water contains significant contamination and has the potential to cause discomfort or sickness if contacted or consumed by humans. It may contain potentially unsafe levels of microorganisms or nutrients for microorganisms, as well as other organic or inorganic matter (chemical or biological). Examples of this category of water include toilet bowls filled with urine (but not feces), sump pump failures, seepage due to hydrostatic failure, and water discharge from dishwashers or washing machines.
Category 3: Known as "black water," this water is grossly contaminated and may contain pathogenic, toxigenic or other harmful agents. Such water sources may carry silt, organic matter, pesticides, heavy metals, regulated materials, or toxic organic substances. A sewage back-up will typically include category 3 water. Other examples of this type of are toilet bowl water (with feces), sewer back-up, seawater, rising water from rivers or streams, ground surface water or standing water.
What kind of equipment will we use?
ServiceMaster Restoration By Simons uses state-of-the-art equipment and technology to get your properties' structure dry. Our advanced technology is necessary for the efficacy and efficiency of the drying and restoration process of your property.
Some of the equipment used for structural drying includes:
Dehumidifiers

Air Movers

Negative Air Fans

Thermal Imaging Cameras

Moisture Meters

Wood Floor Drying Systems

Desiccants

Anti-Microbial Solutions

Truck-mounted Water Extraction Units

Portable Water Extraction Units
How much does water damage clean-up cost?
The average cost of drying out your property, performing restoration services from a "clean" water leak (not grey or black water) can be costly and average anywhere between $3,000 and up. Reconstruction work to correct the damage done to areas like drywall, baseboards, paneling, carpeting, and padding range from $5,000 and up, depending on the size of the affected area.
Will ServiceMaster Restoration By Simons guide me through the insurance process?
As a QRV or Quality Restoration Vendor, ServiceMaster Restoration By Simons is part of the elite group of national ServiceMaster franchises chosen to take part in the national contract agreements with most major insurance companies. Some of the insurance companies we work directly with include State Farm, Allstate, Liberty Mutual, Hanover, Chubb, Asco, Progressive, Travelers, USAA, Farmers, Nationwide, AIC, Zurich, American Family, and Erie, among others. That means that we prescribe to the strict guidelines and to the required estimating software administered by these insurance companies and provide a direct pipeline to your insurance company. It also means that you don't have to be the middle person in the process. We work and communicate directly with your insurance provider to ensure your property is correctly restored after water damage, bringing your property back to its pre-loss conditions.
ServiceMaster Restoration By Simons is a MBE/WBE certified firm and family-run company serving Chicago, Oak Park, River Forest, and the North Shore.  ServiceMaster Restoration By Simons provides disaster restoration services including Water & Flood Damage Restoration, Fire & Smoke Damage Restoration, Mold Remediation and a wide range of interior specialty cleaning including Hoarder & Clutter Cleaning, Post-Construction Cleaning,Carpet Cleaning and Upholstery Cleaning to residential and commercial customers residing in Chicago, Oak Park-River Forest and the North Shore.  For more information, give us a call at 773-376-1110 or visit servicemasterbysimons.com.